Use CRM to harmonise Finance and Sales departments for major business benefits
What do you think of CRM?
Here are a few common views of CRM:
Software for sales and marketing.
A black hole of useless customer details.
An over-glorified contact database.
A drain on time and resources.
What CRM really is:
"CRM, or Customer Relationship Management, is a company-wide business strategy designed to reduce costs and increase profitability by solidifying customer satisfaction, loyalty, and advocacy." – DestinationCRM.com
"In cases we have reviewed, sales increases arising from advanced marketing and sales information technology have ranged from 10% to more than 30% and investment returns have often exceeded 100%." – 'Automation to Boost Sales and Marketing' (Harvard Business Review).
CRM offers a joined-up view of every single client.
What CRM could be:
"True CRM brings together information from all data sources within an organization (and where appropriate, from outside the organization) to give one, holistic view of each customer in real time." – DestinationCRM.com
What's the benefit of joining Sales and Finance?
You can automate:
New customer account creation
…direct from the CRM at the Sales end of your company pipeline.
So…?
Automated paperwork. So what?
Less manual intervention = time and cost savings.
Less manual intervention = less room for human error.
Less manual intervention = more accurate finance data.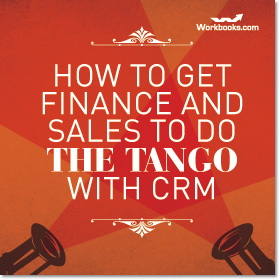 But wait, there's more!
Having data piped direct from the sales team allows you to:
Reduce the workload of the accounts payable department.
Stop chasing reports and data from the sales team.
Your senior management team will love joined-up CRM:
Marry finance and sales with CRM for:
Accurate data = accurate financial forecasting.
Accurate data  = accurate budget assignment and monitoring.
Accurate data = better business decisions.
CRM also offers cost savings and increased profits:
Increased customer satisfaction allows your business to benefit from:
Reduced price sensitivity.
A reduction in customer defections.
Increased customer referrals.
Increased repeat purchases.
It takes two to tango…
Getting Sales and Finance dancing to the same tune means that:
Sales staff are immediately notified of clients "on stop" – less risk of non-payment.
Most valuable clients can be identified and prioritised increasing opportunities for sales and profit.
Marketing efforts can be carefully targeted based on existing financial metrics.
Dancing the light fantastic
A good, company-wide approach to CRM benefits everyone, not just your sales team. So get on your dancing shoes and enjoy the benefits!
"Once sales and finance are on the same system with a 360 degree view and a shared Opportunity to Cash process flow, everyone gains a holistic customer perspective and can work efficiently as a cohesive team, appearing as one company to the customer." – Jeremy Roche, BusinessComputingWorld.co.uk