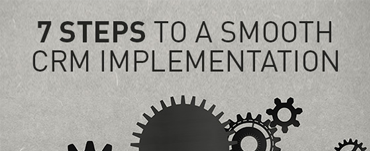 Take the fear out of CRM implementation by following these basic steps and choosing a CRM partner who understands your business needs.
If you've got as far as thinking about CRM implementation, the chances are you're already feeling overwhelmed by the number and range of CRM platforms out there. And it's probably left you with some deep concerns about complexity, not to mention doubts about how quickly you might be able to realise a return on your investment.
The first thing to realise is that you are not alone. According to a recent Gartner report (Market Share Analysis: Customer Relationship Management Software, Worldwide, 2012), 40% of all CRM systems purchased between 2011-2012 were supplied via the Software-as-a-Service (SaaS) model. In other words, the Cloud is increasingly the preferred method for implementing CRM software.
As Forbes points out, this suggests that people like you want a CRM implementation that doesn't come with a lot of embedded legacy baggage, and can deliver the benefits of constant evolution and refinement as cost effectively as possible.
The second thing to realise is that by joining forces with the right CRM partner – and following some basic steps – you can implement a CRM system quickly and simply, and see an immediate return on your investment. This will help you to avoid some of the main reasons why CRM projects fail.
1. Preparation is key
Put your project team together carefully. Consult IT, but don't let them lead the project. You will need buy-in from all the teams and managers who are going to be using the new CRM system. So make sure they are well represented.
And don't forget your sales people. If you don't have their support from the start, their lack of familiarity with the system could incur delays and underlying resentment down the line.
2. Who should be on your team?
An evangelist – preferably a senior figure such as the president, CIO or CFO who can drive awareness and generate support from the top down.
Key executives.
Departmental managers, including sales, marketing and customer service.
Subject matter experts, who can identify relevant data sources and business processes.
IT managers.
CRM technology experts, who can bridge the gap between IT and the ultimate users.
A project manager, to manage the scope, time, budget and quality of the CRM implementation.
3. What do you want from your CRM implementation?
Don't be mean with your research. Identify the requirements of the project's key stakeholders and build a common set of expectations. Once you have your requirements lined up, prioritise them – and be prepared to drop any that could disrupt the project's key focus.
Don't be too ambitious.Consider an initial pilot project involving one or two critical departments. That way you can manage the business's expectations more effectively.
4. Configure your system
If you've picked the right partner, they will help you modify the CRM system to match your requirements, helping to avoid user backlash caused by any delays in its ability to address requirements.
5. Personalise your database
You'll need to import all the relevant data from different sources across the business. This is your chance to ensure consistency, remove duplicate references and consolidate your records.
Be thorough but don't migrate irrelevant data or you will simply be recreating the complexity and confusion that your CRM project is probably designed to address! Then test your database extensively.
6. Train your people
An effective CRM partner will provide a range of in-house, online and virtual resources to help your users achieve the most productive levels of competence in the new system.
As with any critical business application, getting people to use the system can be a big challenge. Non-technical users need jargon-free explanations that will help them see the relevance of the CRM implementation to their business processes. Referring them to manuals or assuming that they will just start using the system simply won't cut it.
7. Go live
But just before you do, rerun your data migration to make sure that the system is using the most complete and up-to-date information. And don't leave the new system's users to their own devices. Support them from the start and your CRM implementation will deliver a return on your investment from day one.
Takeaways
Spend as much time as you can on preparation.
Make sure you have all the right people on your project team.
Match the relevant business processes with your CRM implementation requirements.
Consider departmental or phased implementation.
Configure and customise your system.
Populate it with clean, relevant data.
Test your database before you go live.
Rerun your data migration to ensure that the system will be up to date before you hit the launch button.