Ask some key questions before you buy Salesforce and you might discover that Workbooks is a more cost-effective and transparent CRM partner.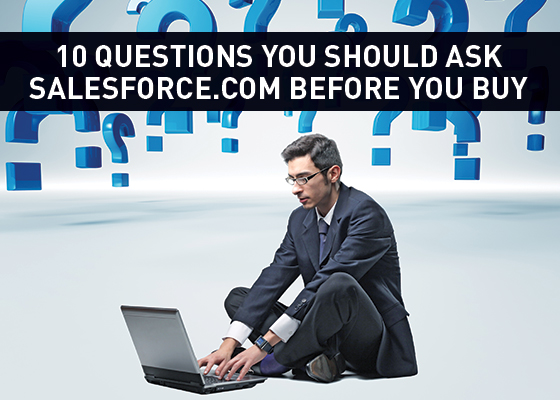 Market leader
Nobody's arguing that Salesforce is the biggest selling CRM system. For the time being, anyway. As Forbes recently reported, Gartner estimates Salesforce's global market share at 14 percent ($2.5 billion worth of sales) in the year 2011-2012 ahead of those traditional enterprise software vendors that have moved into CRM (SAP, Oracle, Microsoft and IBM) and the emerging breed of Cloud CRM vendors.
Not so fast
But look a bit closer, and you'll find a more complex picture. Two reports – the G2 Crowd CRM analysis and the Gleanster CRM for Small and midsize businesses report – put Workbooks ahead of Salesforce in several categories, suggesting that it is easier to use and deploy, delivers better overall value and is Salesforce's equal in terms of features and functionality.
What users say
There is also plenty of anecdotal evidence a recent report in the New York Times is typical – that businesses deploying CRM can end up going through a number of suppliers, including Salesforce, in quick succession because after the initial purchase they find the system requires too much complex customisation. That incurs costs, delays and even project failure. Even something as fundamental as Salesforce's reporting tools has attracted criticism.
Hold fire
So if you're about to embark on a CRM project and Salesforce seems like the most obvious first port of call, it might be a good idea to think again.
Here are ten questions to ask before you commit your CRM strategy to the current market leader:
1. What is the real cost going to be if I need to upgrade the Professional or Enterprise Editions to get the features that my business really needs? What if I just want extra features for individual users or small groups of power users?
Remember that with Workbooks, you can mix and match licences across different editions so you're certain to benefit from a more flexible approach to pricing. If you only need additional functionality for one or two users, there's no need to upgrade your entire user base.
2. Can I deal directly with Salesforce when it comes to implementation, or am I obliged to work with third-party partners at additional cost?
Workbooks provides end-to-end services and support as part of your service, so you won't find any unexpected costs following implementation.
3. Where will my CRM data actually be stored?
All Workbooks data is held in UK data centres – reassuring as far as the security of business-critical information is concerned.
4. What generic Service Level Agreements do you provide?
Workbooks guarantees 99.5 percent service availability to all its clients, regardless of your company's size.
5. As I am not an enterprise client, how can I be sure that Salesforce is committed to a long-term business relationship based on realistic costs and no unexpected price hikes further down the line?
Workbooks provides a transparent pricing model and has a strong, specific pedigree in meeting the needs of mid-sized organisations.
6. Will I have to upgrade to a more expensive package if I just want some basic CRM features such as Workflow, Advanced Security, Content Libraries and Campaign Management?
Workbooks includes some of these features in its core editions, or can provide them as add-ons for just £3 extra, per user, per month – no need to upgrade all of your users to a more expensive edition at a significant cost.
7. Is there a simple way for me to track orders and invoices along with my customer information, without getting bogged down in building my own apps, or buying an expensive third-party app?
The Workbooks Business Edition allows you do this out of the box for just £42 per user, per month.
8. If I want to integrate Salesforce with my website and back office systems, or develop my own apps without resorting to third-party products, how much will it cost me to use your API framework?
Workbooks has an open API, making it easy for you to develop your own standards-based apps.
9. My users will need different page layouts, fields and record types. Will I have to upgrade to the Professional Edition for every user just to do this?
Every paid edition of Workbooks comes with customisation tools which empower you to tailor every aspect of the system to the specific needs of your individual users.
10. If all my employees and customers are already on Skype, Twitter, Facebook and LinkedIn, why is there so much focus in Salesforce on the internal collaboration tool Chatter?
Workbooks has a feature called iFrames, which allows you to see social media profiles from within your CRM system so it integrates fully with your business's use of all the most popular social networks in employee and customer engagement.
Takeaways
Don't take any CRM vendor's claims at face value

Look for a transparent pricing strategy

Check out the true cost of upgrades, additional features and app development

Find out what customisation will cost

Make sure the vendor itself can meet all your CRM needs

Satisfy yourself that your data will be held where you want it

Get the complete lowdown on SLAs