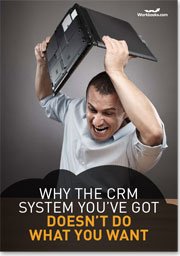 Are you within the 82% of businesses which haven't seen their sales increase since investing in a CRM system, according to CSO Insights' 2012 Sales Performance Optimization (SPO) study? Well if you are, at least you have plenty of company.
This is a shocking statistic, but when you consider that many businesses are using CRM systems that are over four years old, it's not really a surprising one. There have been a lot of revolutions going on in that time – one of the biggest being the digital revolution, which has changed the way people work, communicate and play.
The Cloud has given small and medium businesses everywhere access to the latest software tools and applications without any of the capital investment that used to be needed to get them. Old CRM systems just tell you about customer engagement and sales pipeline – and in the world we live in now, that's just not enough.
If you'd like to bring your business into the 21st century and learn how you can streamline and join up your business processes to generate more leads and increase your profits, then you need to download 'Why the CRM system you've got doesn't do what you want'.