Drilling into Summary Views
When creating a Report with a Summary View it is possible to drill into specific aspects of the Report. You will have the option to drill into the Column itself or drill into the selected column with a criteria applied to only see information from the selected Row.
This is a great way to look at the breakdown of data, while the Summary View gives you the ability to look at data at a high level understanding trends or overall performance, drilling into the Report allows you to see the finer details that make up the Report.

In the example above, selecting the drill arrow for John Saunders in May - you have the options to either Drill into 'May' or to Drill into 'John Saunders' and 'May'.
Selecting either option creates a new window showing the Details tab with the appropriate Filters applied. When drilling in to May you will see all Opportunities assigned to all Users that have the Close Month equal to May.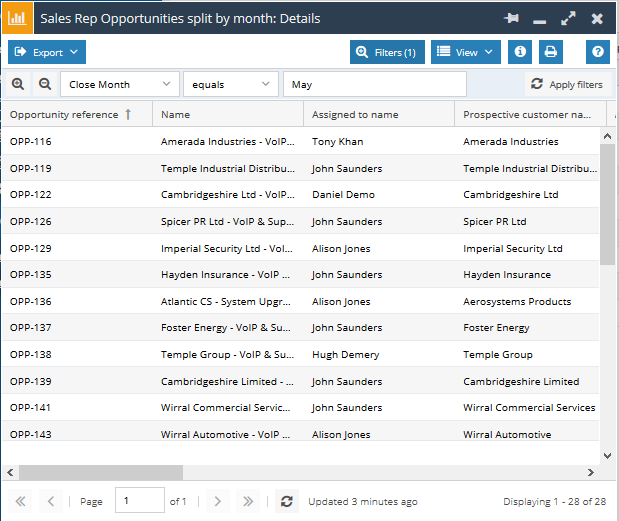 When you drill into 'John Saunders' and 'May' two filters are applied; the "Close Month" is equal to "May", and the "Assigned to Name" equals "John Saunders".
Why can I not drill in to my Report?
If you are looking at a Report View and are unable to drill into the view, this is due to the View that the Report is based being visible. This can be configured on the Report tab while editing the Report.
If you want to be able to drill into this View you will need to check the box on Visibility so that the data is accessible.
NOTE: You may need to check with the Report owner before checking this box, as this view may not be visible for a reason.