Enabling Custom Records
By default, the Custom Records extension will not be activated on your account after it is first purchased, but it can be activated by a System Administrator through Start > Configuration > Users & Security > Licences & Modules > Modules. The module is called Custom Record Types.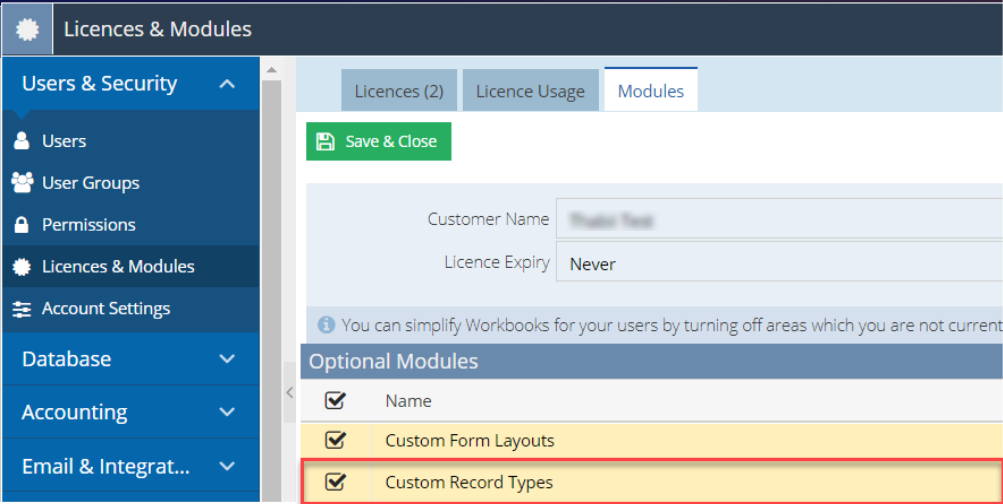 This will turn the Module on at the Account level, meaning it will be enabled for all databases. However, it will still need to be activated for each User that will need access to Custom Records. This can be actioned via Start > Configuration > Users & Security > Users. Pick the Record of the User in question, scroll down to Allocated Extensions and select Custom Record Types:

Additionally, there are two Capabilities that will be initially created within the database to control Custom Records. These will need to be added to the relevant User Groups, but will be part of the System Administrator group by default.
View Custom Record Types - Allows Users to view Custom Records Types.
Modify Custom Record Types - Provides Users with the ability to create, modify and delete Custom Record Types
Note: To create Custom Record Types users will also need access to the Customisation within the Configuration Menu
For each new Custom Record Type that is created, a further two new Capabilities will be created, allowing you provide View & Modify Capabilities to Users for each Record Type.