Creating a DocuSign Document with a Workbooks PDF
Please note, our DocuSign Integration is still in a Beta stage. For more information, please contact support@workbooks.com
This Knowledge Base Article will cover in detail how to setup your first DocuSign Template. The DocuSign integration allows you to use either Workbooks PDFs or DocuSign Templates. If you are unsure of which Integration type to use we have documented the features of each method here.
This example will run through how to create a DocuSign Template from a Workbooks PDF.
Step 1 - Introduction
The DocuSign Menu can be accessed from Start > Configuration > Email & Integration. When opening the DocuSign Menu for the first time you will be presented with the following screen that will allow you to start customising the document setup and integration.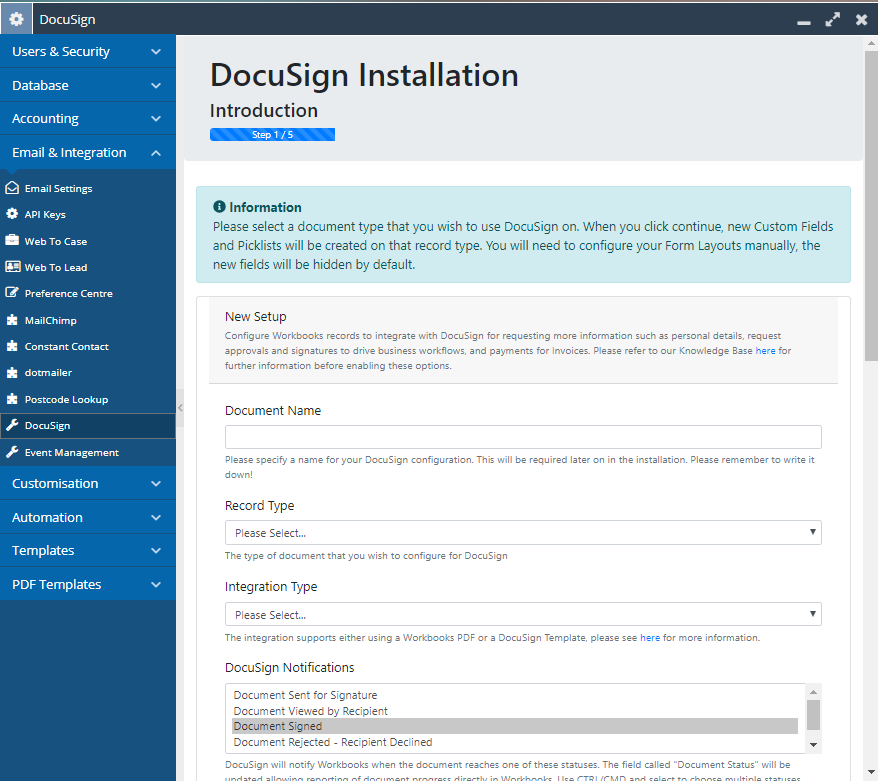 A description of each of these settings can be found on this page.
Step 2 - Configure AutoPlace Mappings
This step allows you to configure fields from your selected Workbooks record type to populate fields on the DocuSign document. The integration has the capability to default the field values on the DocuSign document to the value held within Workbooks. When the document is signed, the updated information can be reflected back in Workbooks: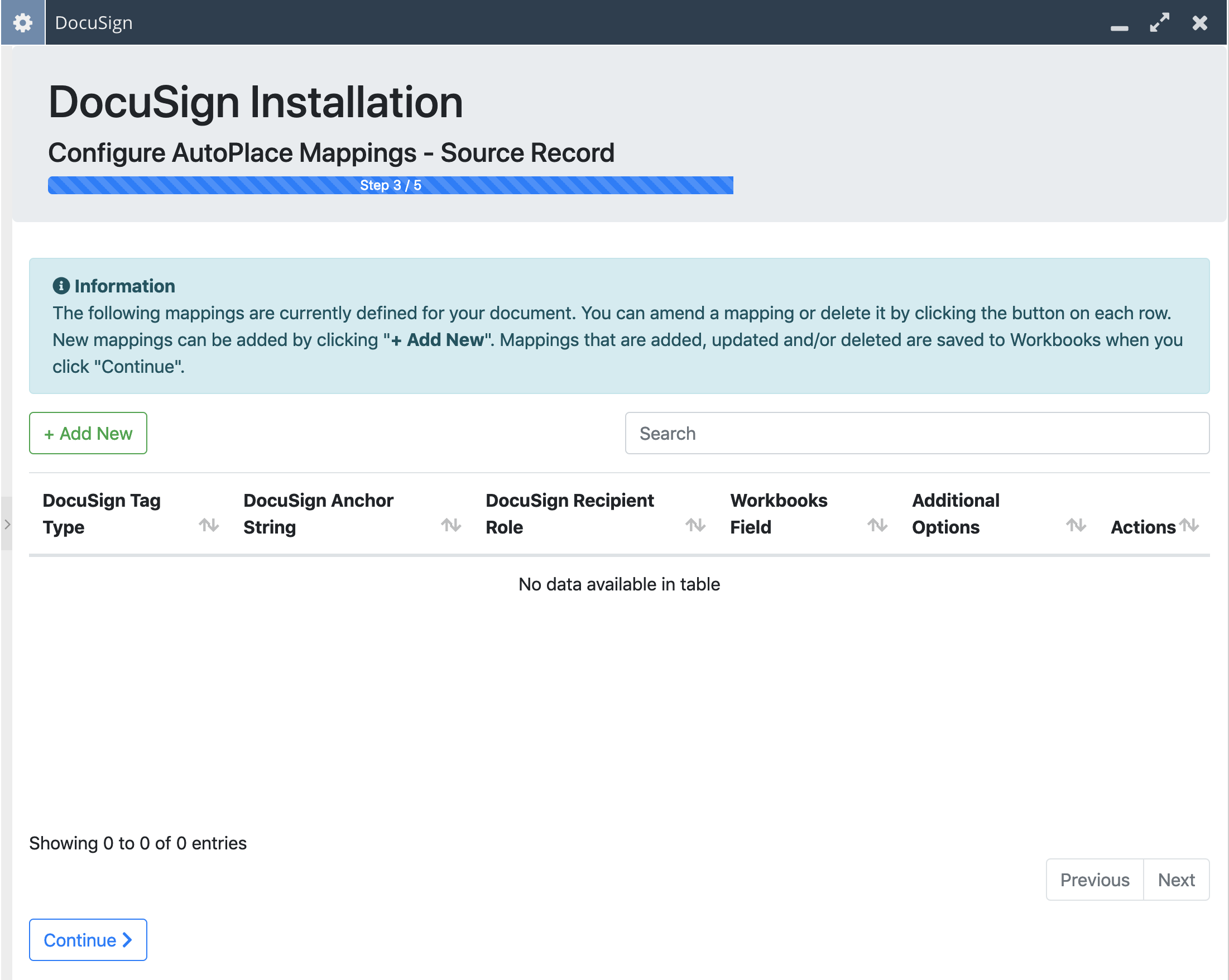 To set up a new Mapping select the Add New Button. In the dialogue box, populate the following information to create a new field mapping
Docusign Tag Type: The DocuSign Field data type that will be updated from DocuSign (Text, number, checkbox etc.). The Tag Type can affect how data is displayed on the Document, more information can be Found on DocuSign's Support Site.
DocuSign Anchor String: This defines where on the document the tag will appear if the tag is found by DocuSign. See here for DocuSign's help page on Anchors. For Workbooks PDFs, these need to be added to the underlying PDF code. Please contact support@workbooks.com for more information.
DocuSign Recipient Role: This is a list of relationships available on the selected record type under the "People" tab. This field mapping will be assigned to the selected person with a matching role when the envelope is sent for signature and will not be visible to other signers or cc recipients.
Workbooks Field: Select the field which will be used to initially pull through a value to the DocuSign Field. This field can then be updated if the field is made editable in the below setting. Otherwise, ensure you select Read Only below.
Additional Options: These options apply to the field when the recipient receives the document. Fields can be made: Editable, Read Only, Required, Hidden or Optional.
Once you have added a mapping, it can be edited or deleted using the Actions button beside each row. 5 mappings are shown per page. A search feature is provided if you have several mappings - you can search by DocuSign tag name, DocuSign field type or Workbooks field name. Mappings are not stored until you click Continue.
Step 3 - Related Record Mappings
If you turned on the Update Related Records setting in Step 1, then a 2nd Mappings screen is shown. This screen allows you to configure mappings for fields that are on records related to the source record via a DLI field. For example, you may have a Contact DLI which relates a Person to your source document - this screen can be used to
The process for adding mappings is the same as Step 3. However, there are two slightly different options:
Workbooks DLI Field: This is a list of all DLIs on the selected record type set in Step 1
Workbooks Field: A DLI is driven from a report based on a record type. Once you select a DLI, this list will be populated with the fields from that record type.

For example, if you have a Contact DLI, the report will be based on People and thus the fields shown here will be for People records.
This feature only allows you to drill through to one record. You cannot subsequently drill through to another record related to the first.
Again mappings can be edited or deleted using the Actions menu. They can also be searched. Changes will not be applied until you click Continue.
Step 4 - Configuration Complete
The integration configuration for this document is now complete is ready to be generated and will now need to be added to the appropriate Form Layouts via a Button Process. This is documented fully here.