How to Enable the Event Management Module
By default, the Events extension will not be activated on your account after it is first purchased but it can be activated by a System Administrator through Start > Configuration > Account Settings > Licences & Modules > Modules. The module that needs selecting is called 'Event Management'.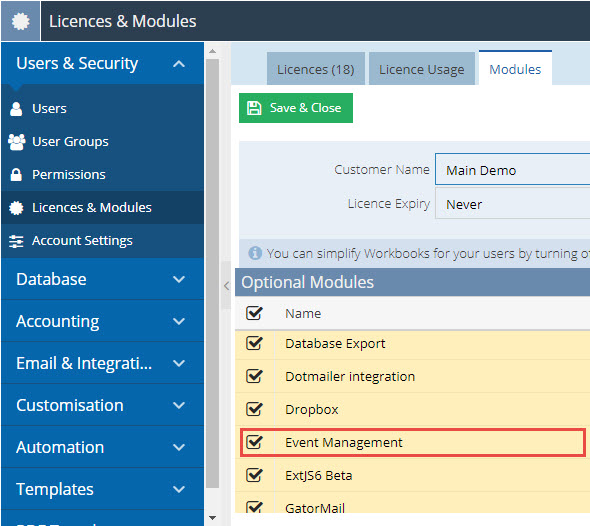 This will turn the Module on at the Database level; it will still need to be activated for each User that will be using the Events records. This can be achieved through Start > Configuration > Users & Security > Users. Select the User Record and scroll down to Allocated Extensions: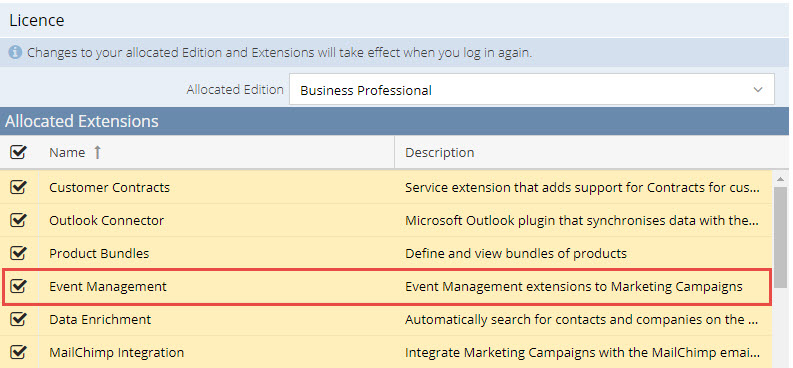 Additionally, there are four Capabilities that control Events these should be added to the relevant User Groups, but will be part of the System Administrator group by default.
View Events - provides Users with view-only access to the Event record.
Modify Events - allows Users to make create or make changes to an Event record.
View Tickets - provides Users with view-only access to Tickets already created.
Modify Tickets - allows Users to create or edit Tickets for the Event.
Note: Users will also need the View & Modify Products and Product Bundle Capabilities in order to create Products for Tickets.