Setting up the DocuSign Integration
Please note, our DocuSign Integration is still in a Beta stage. For more information please contact support@workbooks.com
The DocuSign integration runs from a Plugin that can be easily installed from the Script Library to make it accessible for all Users. To install the Plugin, go to Start > Configuration > Automation > Plugins. From this menu select Add Plugin.

This will show a new dialogue box and allow you to select the DocuSign script for installation. In the Plugin picklist, select Script Library and then DocuSign in the second picklist. Once this has been done, click Install to begin the DocuSign installation.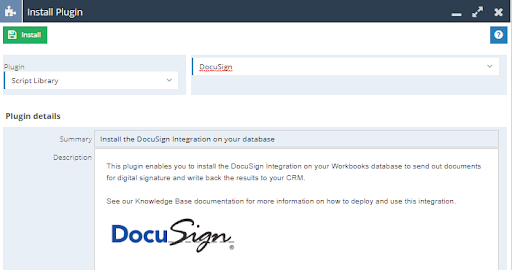 The installation process for DocuSign is very straightforward as the Plugin will create the necessary configuration required by the Integration behind the scenes and require no input from a user.
Select the Continue button to trigger the start of the installation.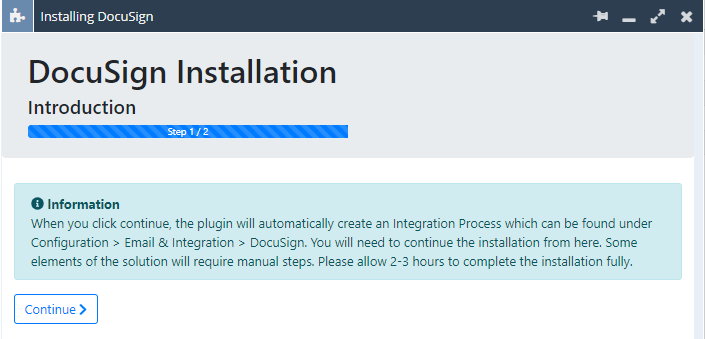 This will install all of the Processes used throughout the DocuSign Integration
DocuSign Listener (Web Process) - This Web Process is called when an update occurs within DocuSign, updating Workbooks Records with the details from DocuSign including the signed document.
DocuSign Maintain Fields (Scheduled Process) - When the integration is configured, field mappings are setup to populate Workbooks data in DocuSign when a document is sent for signature. These fields are created automatically in the background periodically. The Process has a sync limit of 100 field mappings per hour, meaning that Customers with a large number of Fields on a Record may notice a delay in some of their fields appearing in DocuSign.
DocuSign Retry Failures (Scheduled Process) - If the DocuSign Listener Process fails to communicate with Workbooks, the notification will be queued up in DocuSign to be retried later. This Scheduled Process runs hourly triggering any failures to try and update Workbooks. A notification will try a maximum of 10 times.
DocuSign (Integration Process) - This Process controls the DocuSign Plugin, allowing you to configure new documents and amend the settings for existing setups within the Workbooks Configuration menu under Email & Integration > DocuSign.
Note: The DocuSign option in Configuration will not be immediately available. You will need to close the Configuration menu and reopen it for the menu to appear.

When you open the DocuSign menu for the first time, it will be blank. A new tab will open in your browser requesting authorisation for Workbooks to use your DocuSign account on your behalf. Depending on your browser settings, this may be blocked as a potential popup, so if a login tab does not immediately appear, check the browser bar for blocked pop-ups, and select "Always allow pop-ups" or go directly to the link specified.
You will then be asked to sign into your DocuSign Account and allow Workbooks access to create and send Envelopes on your behalf as shown below: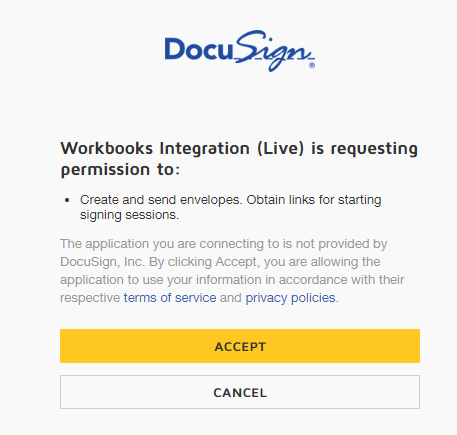 You must click Accept to use the integration. Once you have done so, click the DocuSign menu item again to start configuring the Integration.
After the initial authorisation, you should not need to authorise Workbooks again. The integration will manage authentication on your behalf each time you send a document for signature.