January 2018 Release
Release date: 6th January 2018
Products
Several new fields have been added to Products
You can assign a Maximum Quantity to a product and Workbooks will automatically track the quantity which is available and allocated as sales orders are posted.
There is now a new "Token" field which can be revealed and contains an automatically-generated and hard to guess unique token which can be used to identify a product to your customers, to be used for example as a Coupon code.
It is now faster to create new products
The product code field is filled by default by the unique token and this can be overwritten as required.
Product Bundles are now available
Customers using the Business Professional edition gain the new ability to define bundles of products such that a product can have multiple components, each potentially with components of its own. For further information about how to use Product Bundles, please visit our Knowledge Base.
New Modules - Coming Soon
This release also focuses on preparing new extensions to Workbooks which will be available as additional modules over the next few months:
Event Management
Sales Tax Rules
Event Management will allow you to manage your events through Workbooks, including the option to provide your customers with an online portal where they can register and purchase tickets. To achieve this we will be adding a new set of record types including Events, Speakers, Sponsors, Attendees and Tickets.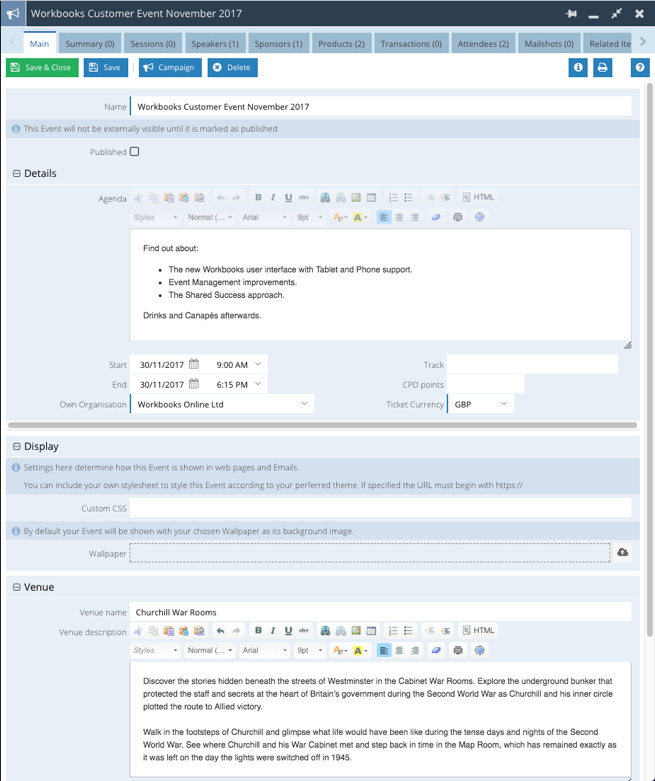 Sales Tax Rules provides flexibility to define and use location-specific Sales Taxes so that the correct taxes are applied considering the location of the customer and where the product or service is delivered.