Sometimes it makes sense to see your records in the context of a calendar rather than a grid. Activities are frequently displayed as a calendar, showing their Due Date or, in the case of Meetings, their Start and End Dates, but Workbooks allows you to display any Landing Page or Report as a calendar view, providing that the Landing Page or Report contains at least one date or datetime column. For example, Opportunities have a Close Date field, Transaction Records have a Document Date field, Campaigns have Start and End date fields, and so on. You can also add your own custom date/datetime fields.

When using a Calendar view you can:
display a month at a time (as shown in the screenshot below) or change the display to a week or just a day.
apply filters to limit the records shown in the calendar (just as you would in a grid view).
arrange the records in the calendar based on any of the date/datetime fields in your grid.
categorise the display by a field of your choice so that, for example, different activity types show in different colours, or records assigned to different users show in different colours.
display a date range as a bar spanning the relevant days. This only applies when displaying a report as a calendar, except for the activities Landing Pages, which automatically show meeting start and end dates as a span.
choose which fields display on the calendar for each record.
NOTE: To display a report as a calendar, showing a date range, the date/datetime field used must be displayed in its default way. If you've amended the date field using the advanced settings in reporting, the calendar view will not work correctly. For more information on formatting dates in reports click here.
Switching to Calendar Views
Switching from a grid view to the calendar view is easy. Click View on the top right of the Landing Page or Report then select View as Calendar.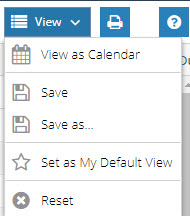 Day/Week/Month View
When you first switch to a calendar view, it will open in Month view as shown below. This can be switched to a Day or Week view using the buttons above the calendar grid. You can set the calendar view as your default, or save it and give it a name so that it appears in your list of views in the left-hand column, just as you can with any Landing Page view. You can click on the records in your calendar to open them.
In the Month view of a calendar records will show in ascending order based on the field that you select to arrange/categorise your view by, so 9am will show before 3pm.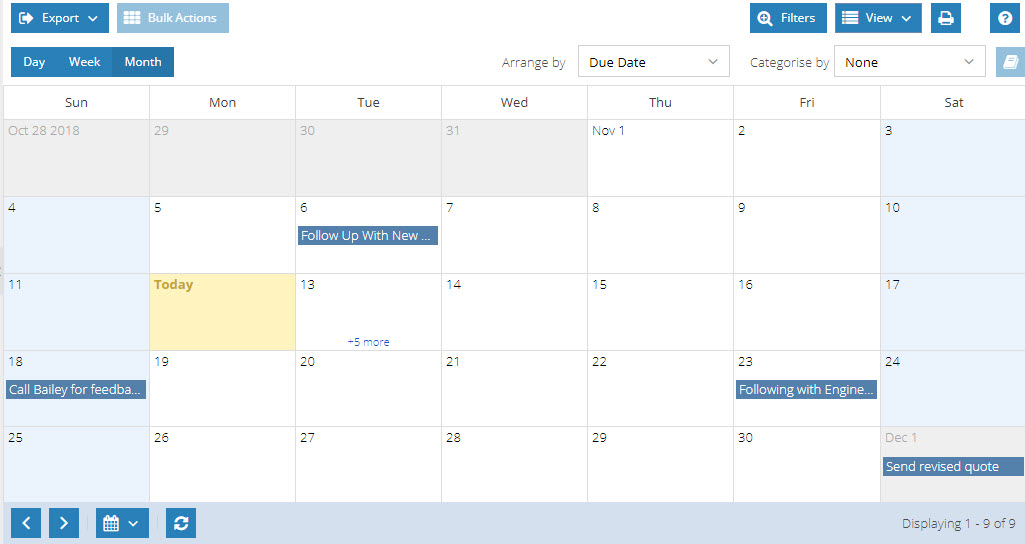 A Week view of a calendar Landing Page in Workbooks will appear as below: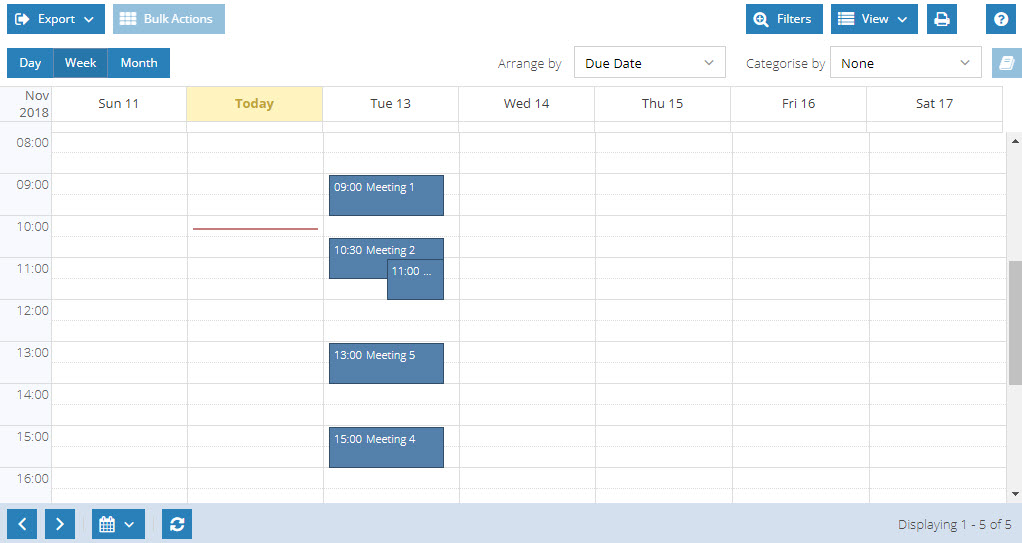 The Day view of a calendar Landing Page in Workbooks will appear as below: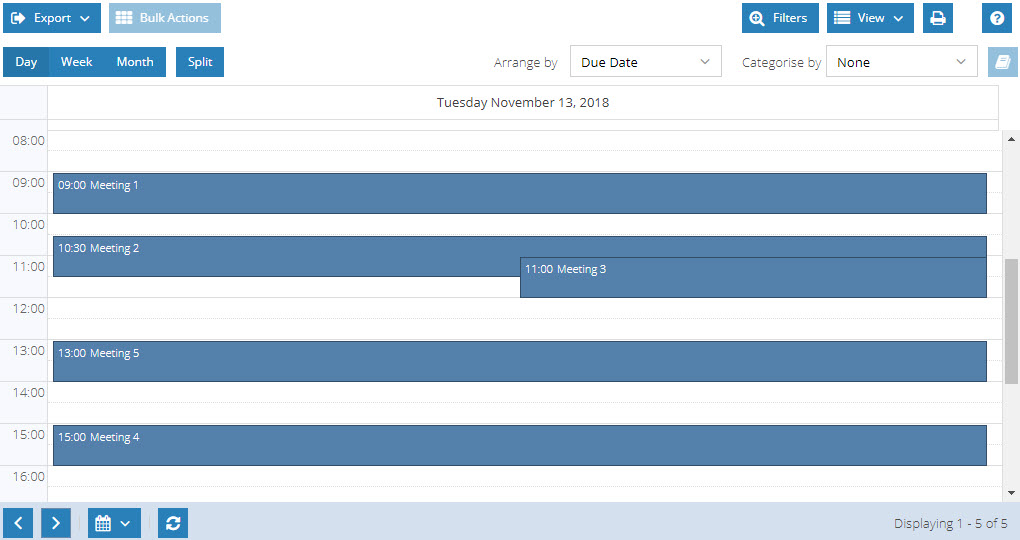 Within the Week or Day view, you will see an hour by hour breakdown of your records. This is particularly useful when arranging meetings, as the view allows you to see your availability quickly.

You can page forward to the next day, week or month by clicking the right arrow at the bottom of the page. It is also possible to select the date you wish to view using the date picker. Either way, the calendar will display in whichever mode you have selected on the top right of the Landing Page.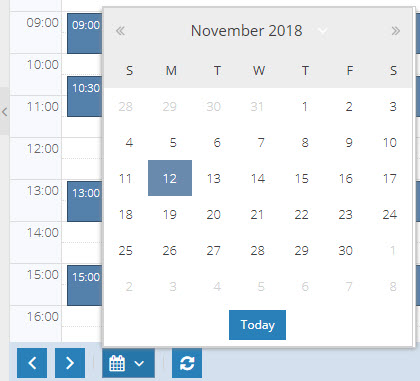 NOTE: Today's date will be highlighted. Workbooks will give that day's date and the current time. The time will update automatically.
Customising your Calendar View
A calendar view in Workbooks has several useful features, such as:
A calendar can be set as the default view for a Landing Page just as you can for a grid view. This means that when you open a Landing Page, you will see a calendar view of your records without having to switch to it manually each time. For more information on how to do this, see here.
You are able to customise the records that are shown on the calendar by adding a filter in the same way as you can for a grid view. For example, you may not be interested in Activity records that are assigned to a particular user. Using the filtering functionality, you can omit these results from your calendar view. See here for more information.
Arranging your Calendar
The calendar view allows you to arrange your records by a date/time field. This list will change depending on the record type you are working with. For example, when looking at the Activities Landing Page you can arrange records by their Due Date whereas if you were working with Opportunities, Due Date is not present on this record, thus is not available. You could however arrange your view by the Close Date when looking at Opportunities.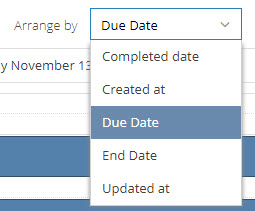 If your records include Custom Fields with a data type of Date or Date & Time, you will be able to arrange the calendar based on these fields too.
Categorising your Calendar
To make it easier to differentiate between records on your calendar, you can colour code (categorise) them, based on any field on that record type with a data type of Picklist. By default, the list contains the following fields:
Assigned to
Priority
Show Time As
Status
Type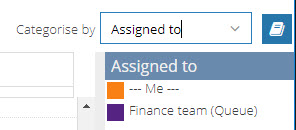 Selecting a field to categorise your calendar by, automatically assigns a colour to every record with that value. By default there is a colour legend that is shown to the right of the calendar view to identify the meaning of each colour. For example, selecting Assigned To, will assign a colour to all records that are assigned to a particular user.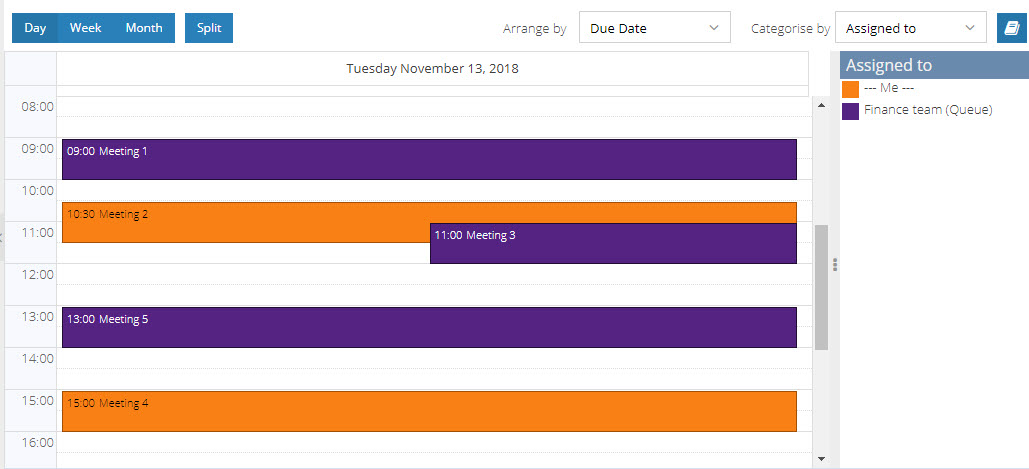 This can vary from database to database and may not necessarily be the same colour each time. When looking at the colour legend, you are able to filter your records by clicking the down arrow. The menu displayed gives you the option to hide/show records that are not relevant.
NOTE: You can temporarily turn the colour legend off while you are looking at the calendar but this will be turned on again automatically the next time you visit the Landing Page.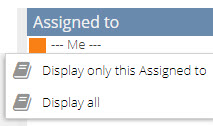 NOTE: When you select a new field to arrange your view by, or to categorise your records by, Workbooks dynamically updates the calendar view and does not require you to reload the page.
Choosing which fields to display on a calendar entry
You can choose to display any values from fields in your underlying grid. For example, on an Activity Landing Page you might choose to display Status or Priority (or any of the other values) and on an Opportunity you might like to display, say, the Stage, Close Date and Amount. If you've generated your calendar from a Report rather than a Landing Page, you can only display values from the columns in your Report. The video at the foot of the page shows you how to set this up but if you prefer written instructions, read on.
For example, imagine you want to display the Name, Stage, Close Date and Amount on a calendar view of Opportunities. Navigate to your Opportunities Landing Page and click View > View as Calendar. Click View again and this time select Edit display text. The dialogue box that opens is where you can specify which columns from your grid to show in your calendar. By default, Name will appear but if you don't want to include it, use the cross on the far right to delete it. Use the Add button in the bottom left-hand corner and in the row that appears, start typing the name of the field you want to add. Repeat this until you have all the ones you want. You can drag and drop the rows to change the order in which they appear.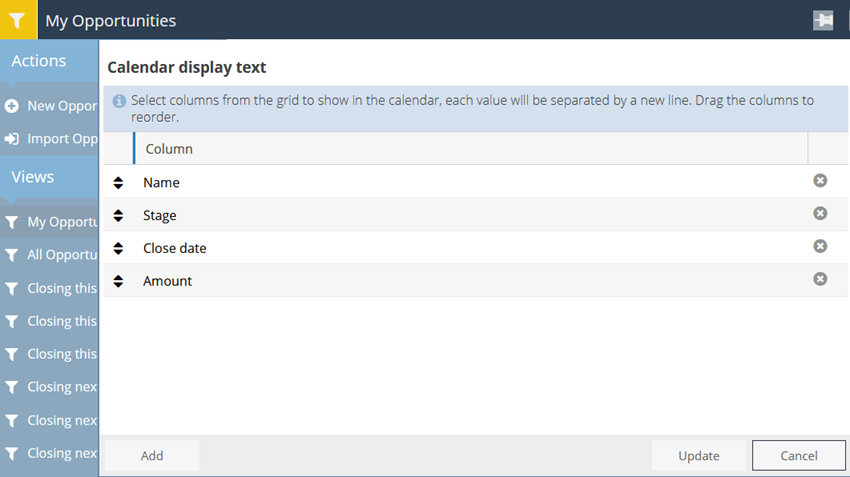 When you've added all the fields you want to see, click Update. When your calendar is displayed as a month view, you'll see the text values you added when you hover over the calendar entry. If you change the calendar to a Day or Week view, the information you added will be visible. Remember, if any of the records on the calendar view do not have a value for one or more of the fields you've added as display text, nothing will appear so some calendar entries might 'appear' to have less information on them than others.

Display date ranges on calendars
When you have a record that includes more than one date/datetime field, it can be useful to see the 'from' and 'to' dates displayed on a calendar as a horizontal bar, spanning the appropriate date range. You can achieve this in Workbooks by creating a report that includes the dates, pairing the dates and displaying the report as a calendar view. The video at the foot of the page describes how to do this and written instructions are below.
For this example, imagine you want to display your Marketing Campaigns on a calendar showing how long each one spans, so you can easily see any overlapping dates. You want to generate something similar to this:
Marketing Campaigns already include Start and End date fields but if the records you want to display don't, you could add custom fields to achieve the same outcome as long as you've created either date or datetime fields.
Create a report that includes columns for the dates you want to pair. In this example it's the Start and End date fields. Open the Start date column and then the Advanced tab. In the End range column field select End date. The picklist here will only ever show columns in your report that are date or datetime fields. You don't need to do the same thing with the End date field as Workbooks will automatically join the two together now that you've specified the End range column for the Start date. Save & Close the Start date column and Save & Run your report. Use the View button in the top right to select View as Calendar. You'll now see the relevant records with a horizontal bar representing the two dates you paired. You can pair more than one set of dates in a report but you can only ever pair one date with one other, not with multiple others.
The video below shows you how to display date ranges on calendars and how to control the text that appears on calendar entries.