February 2019 - Event Management Release
Release date: 21st February 2019
We have added further features to enhance and improve how our Event Management Portal functions, making it easier for you and your customers to use.
Free Events
This update to Event Management introduces the concept of a Free Event. An Event is considered to be a Free Event when all of the Items for an Event are free, or you have not configured a payment gateway to be used for Ticket purchases.
We have then simplified the Event signup process for Free Events to three simple steps allowing users to signup for Free Events much more easily:
Step 1
Register for the Event, either as a guest or login to your account. We have now removed all references to prices and tax on this step.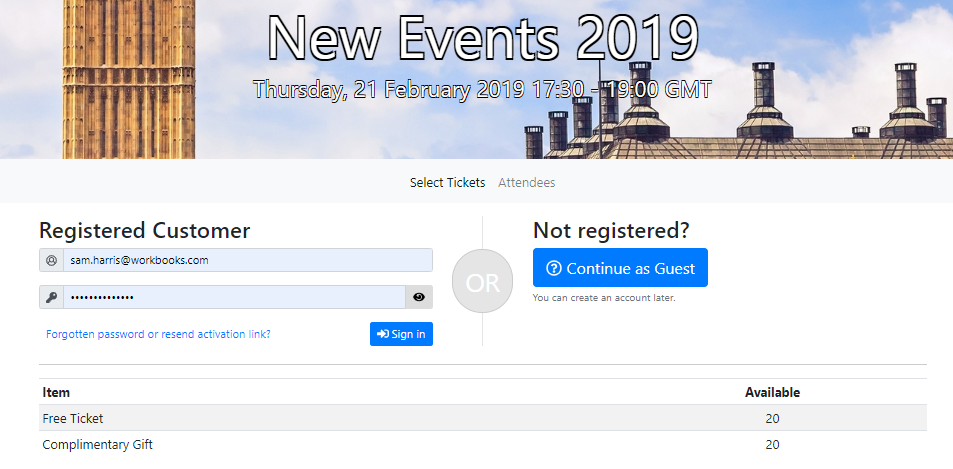 Step 2
Select the number of Tickets or other Items you want to sign up for. As before, all mentions of prices and tax have been removed and the Checkout button has been changed to "Continue".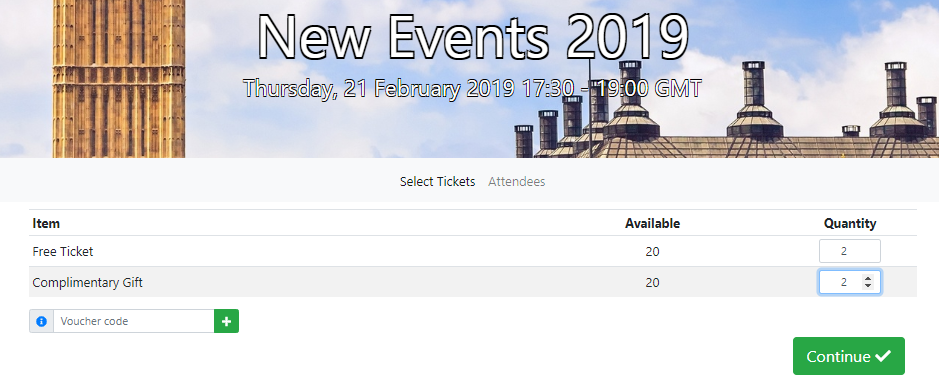 Step 3
Enter your contact information as well as information for any additional attendees.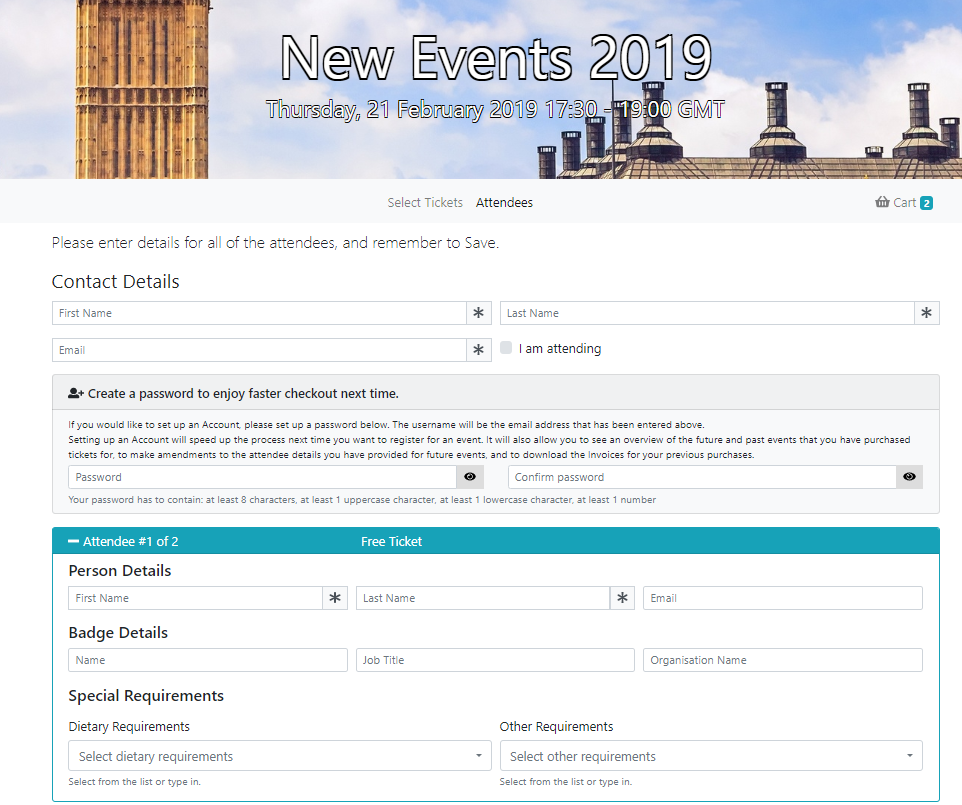 When completing Step 3 there are now some additional features available to make this step simpler.
Once you have filled out the Contact Details, there is now a checkbox to say "I am attending" this will copy the personal details into Ticket 1. As a result customers signing up for a single ticket now only need to enter their information once.

Password Fields are shown on this page so guests can sign up for accounts.

When signing up for additional tickets you are only required to provide the attendee's name.

Users will be unable to Save and Finish until they have provided details for all attendees.

Just like Paid Events, Free Events will generate and post Customer Orders in Workbooks, but an Invoice will not be generated because there is no purchase.
Order Details layout changes
The Order Details page has now been simplified to make it easier for users to submit their required information. It is now divided into two distinct sections:
Contact Details was previously named Personal Details.
The Organisation and Address sections have been merged into a single section and renamed as Invoice Details.
These changes have been made to help make it clearer to users that information they are submitting will be used when generating the Invoice.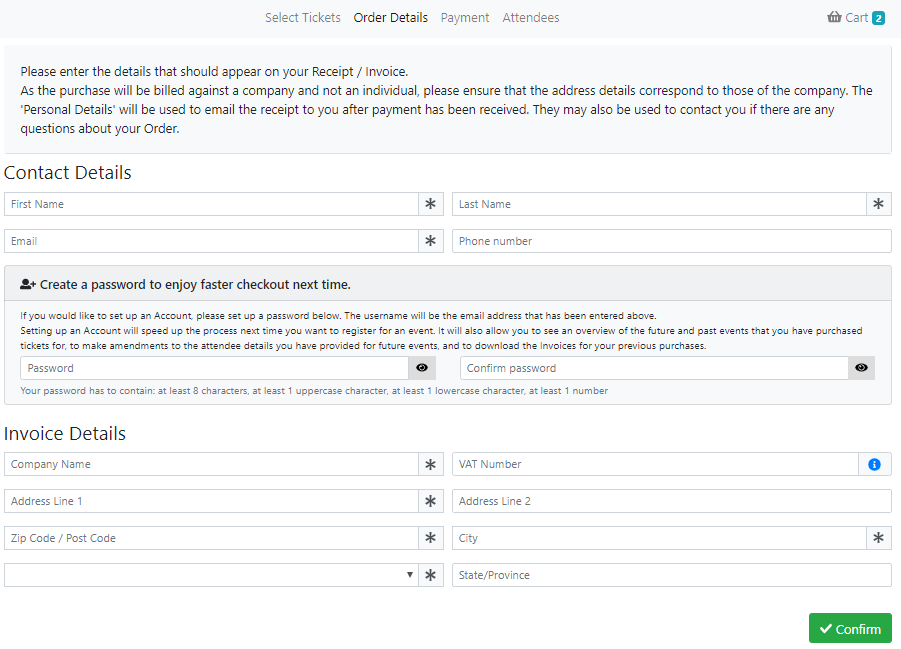 When hosting Events for People & Organisations, the radio buttons for where to send the invoice are now in the Invoice Details section. Selecting the employer will then trigger the Organisation Field to become required and the VAT No. field will appear.
Improved Attendee Matching
We have made a number of changes to the matching criteria used when attendee information is submitted to Workbooks for both People and Organisation Records. This will reduce the likelihood of duplicate records being created in the database when people are creating Orders or purchasing Tickets.
Configurable Error Messages
Error messages are now configurable within the Event Portal Parameters, these can be set on the initial install or at a later date. For example it could be used to tell attendees who they can contact for support should any errors be encountered.

Sold out Events
We have made it easier for attendees to see if an upcoming Event is sold out of Tickets. This can be seen from the Event's details page as well as on the Ticket Registration Page.

Terminology Changes
Event Products will no longer be referred to as Products when registering for an Event, but as Items. This is to reflect the fact you may be offering more than just tickets at your Events.
Dietary & accessibility requirements
You can now control whether attendees will be asked for their dietary and accessibility requirements when signing up for an Event. This is controlled by two checkboxes on the Event Record itself so they can be hidden for events where it is not necessary to know this information, such as webinars.

Login button on the Events Homepage
Users are able to login to their account and access their tickets and invoices from the Upcoming events page. This page now displays a 'Login' button in the top right hand corner of the screen.

Return to Events home page from Accounts
The account screen has also been updated to include a button to allow users to navigate back to the Events home page using the "Events" button.

Password reset redirects users back to Events
Once a user has completed a password reset, they will be now redirected back to the login page where they originally requested the password reset. This means that if a user requests a password reset while trying to register for a specific Event, they will be returned to that Event once the password reset is complete, rather than having to find the Event on the homepage.