Using Domain Names and Online Activities
Web Insights uses two additional record types to enable the integration to work. These are listed below;
Domain Names
Domain Name records are used to record the Domain Name for an Organisation. An Organisation can have multiple Domain Names, such as workbooks.com, workbooks.co.uk.
Note: A Domain Name record cannot be assigned to a Lead and an Organisation record (it has to be one or the other).
How are they populated?
Domain Name records will be automatically created when the Domain Name field on an Organisation or Lead record is populated. The Domain Name field is also automatically populated based on the website address completed on the Organisation or Lead record. Therefore, it is important that the website address is populated for as many records as possible.

How are they used?
Web Insights uses the Domain Name records to determine whether a Lead being brought in from GatorLeads already exists in Workbooks. Therefore, it is important to ensure that the Domain Name field is populated on Leads and Organisations. Otherwise, new Leads will be created for already existing Leads and Organisations in your database, creating duplicates.
If the Organisation already exists in Workbooks (and the Domain Name is completed), it will list all of the pages they have visited on your website within Online Activity records (below).
What if the Domain Name is wrong or linked to the wrong record?
The Domain Names are populated automatically based on the website, but if it is wrong, then you should manually amend this to be the correct one. If a new Lead has already been completed for an Organisation that already exists, then you should open the Domain Name record associated to that Lead, remove the Lead Name, and select the Organisation it actually belongs to.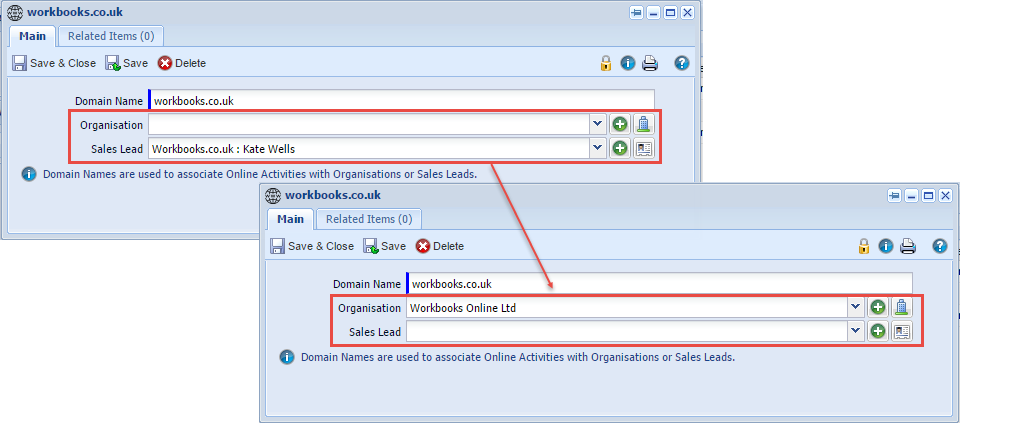 All future Online Activities will then be recorded against the Organisation rather than the Lead. It is up to you what you do with the Lead record created, you can either Delete it, or Convert it and then merge it as a Duplicate with the existing Organisation.
Online Activities
A new Online Activity is created for every page visited on your website and will include various Insights data such as:
The type of Activity (page view, download, web form submission)
The Referrer URL (which page or website was used to get to this one)
Which page was visited
The Score for that page
Which record it has been linked to
If you have added the additional tracking code to track individuals on your site, the Online Activity will display the email address for the Person who has been on your site, and link it to that Person record too. If the Person record doesn't exist, a new Lead record will be created for you.
Alternatively, if you have not added the additional tracking code, the Online Activity will display the Domain Name of the organisation that has been on your site, and it will be automatically linked to that Domain Name record, and to the Organisation or Lead record.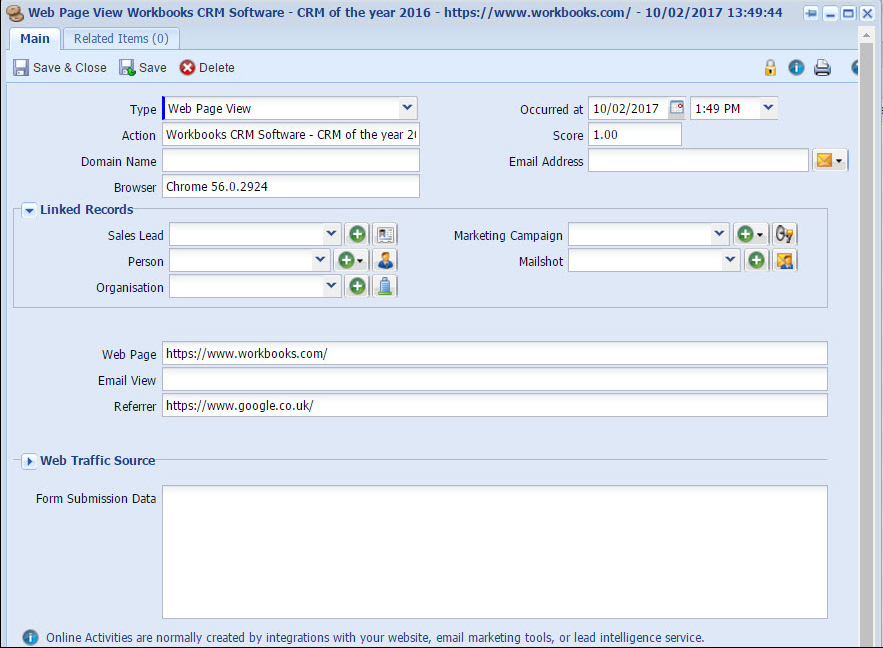 Similar to other record types, Online Activities have a Landing Page view, where you can filter and save new Views. You can find this within Start > Marketing > Online Activities.