Accounting Periods in Workbooks are used for setting specified periods (e.g. financial years). These are important because they allow you to generate Forecasts or Quotas and you won't be able to generate Reports based on specific Accounting Periods, so make sure you set yours up before starting to use Workbooks.

Within Workbooks an Accounting Period is assigned to financial records, such as an Invoice which will enable you to track and report your financial performance by period and groups of periods.
 
Tip
If you have more than one Own Organisation in the same database, they must all share the same Accounting Periods.
Remember to set your future Accounting Periods far enough in advance to cater for the typical length of your sales process.
Setting up your Accounting Periods
To set up your Accounting Periods click Start > Configuration > Accounting. Then click on Accounting Periods > Add.
Workbooks will populate all the fields for you except Period style BUT check that the Year Name and Start and End Dates are correct and in line with your Financial Year.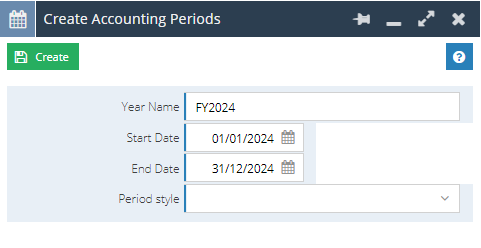 In the picklist for Period Style you will be given 3 options:
Calendar Months
4-4-5 week pattern
Quarters
When you're happy that the data is correct, click Create.
If you want to delete the Accounting Period you have just set up, click Edit and delete the appropriate periods.
NOTE: As soon as an Accounting Period has been 'used' within a Workbooks record (in a Transaction Document, for example), the period cannot be amended or deleted. Unless, you follow the guide here or contact Workbooks Support (support@workbooks.com).
Related content
An overview of what the Accounting section within Configuration allows you to control.
How to control the Exchange Rates that are used on Transaction Documents, and an overview as to when an exchange rate will be updated on a document.
An overview of what Sales Tax Regimes are and where to find the in Workbooks.