Configuring the Advanced Security Module: Segmenting Users by function
Below is an example of how the Advanced Security Module can be configured for Users with different functions within an Organisation. This is a common use of the Advanced Security Module as it allows you to restrict the access of what a User may be able to do and what Management can do.
The rules will be as follows:
Users will be able to only Read & Modify Items that they own.
Managers will be able to Read, Modify & Delete all items.
Before configuring the Permissions, you need to make sure that you have User Groups in your database for Users and Managers.
Note: You do not have to give these User Groups any Capabilities unless they are required. If it is purely for segmenting your data, it is not required.

Once you have done this you need to set up the Permissions for these Groups (Start > Configuration > Users & Security > Permissions).
The first thing you will need to do is create a new Ruleset, to do this select Manage Rulesets:

And then select New Ruleset: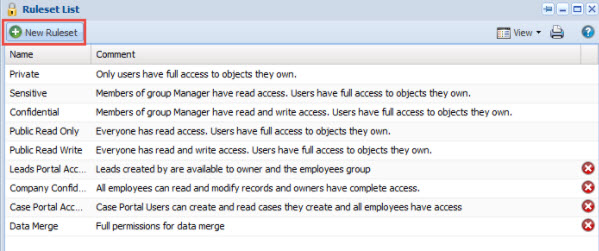 You only need to create a single Ruleset to create this capability:

You can now Save and Close these Rulesets, and then add a sharing Policy, by select Add Sharing Policy:

From this view you will need to fill out the Form and apply the new Ruleset. In this example, Organisation Records are being used, so you will need to create a New Sharing Policy, that will look like below: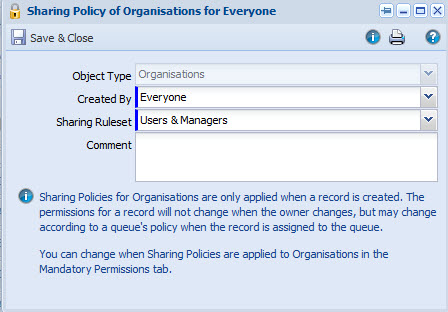 This means that any Organisation created by anyone will have the sharing permissions of the Users and Managers ruleset, and depending on their User Group they will have different Permissions.
Now the Ruleset and Sharing Policy has been created, you need to update the Sharing Permissions. This is done through a Bulk Action on the Organisation Landing Page: