Creating Charts
To create a Chart you will need click on Chart this View to the left of the Report grid.
Note: Charts can only be generated from a view that contains numeric values or calculated columns that are recognised as outputting a number rather than a string.

This will allow you to select the type of Chart you want to create from the Report View.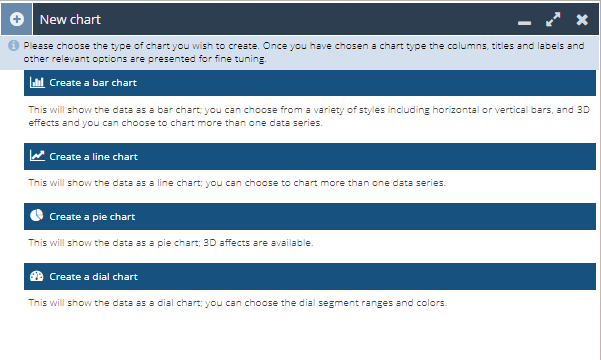 Once you have selected the type of Chart you need, you can set up and customise your Chart. All of these settings can be later edited once setup has been completed.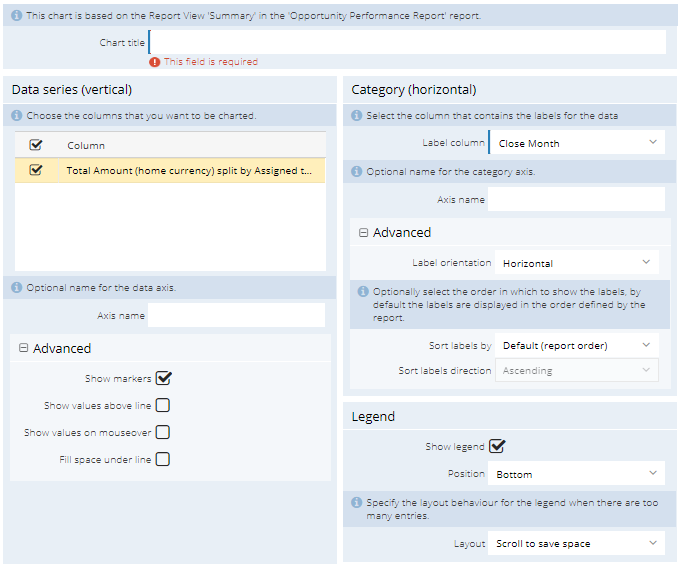 Chart settings will vary depending on the Chart type; you can find these on the following Knowledge Base pages specific to each of the Chart types: Bar Charts, Line Charts, Pie Charts or Dial Charts.
Editing a Chart
Once you have generated a Chart, you are able to open and amend the view as needed. The Chart can be opened from the Report that it was generated from and found under the Views section.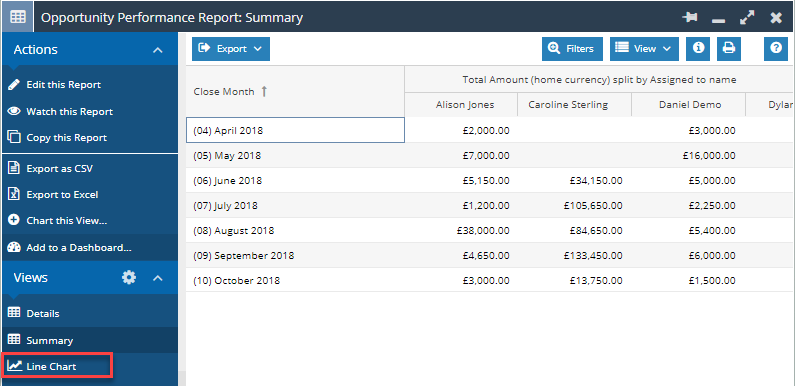 Once you have selected the Chart from the Views section you will see a menu bar along the top of the Chart that provides you with an Edit option.

Selecting the Edit option opens the settings menu that was used to initially configure the Chart; these settings can now be amended as required.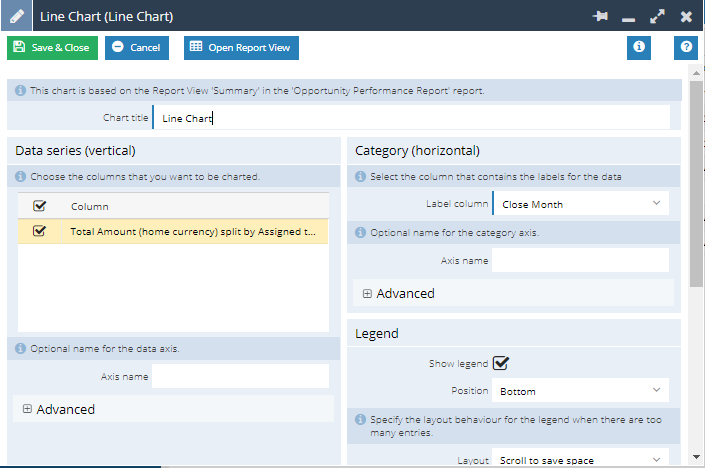 Filtering Charts
When viewing a Chart you can reduce the data down further by applying a Filter to any Column within the Report View. All Charts come with a Filter button that can be applied in the same manner as a Landing Page or Report.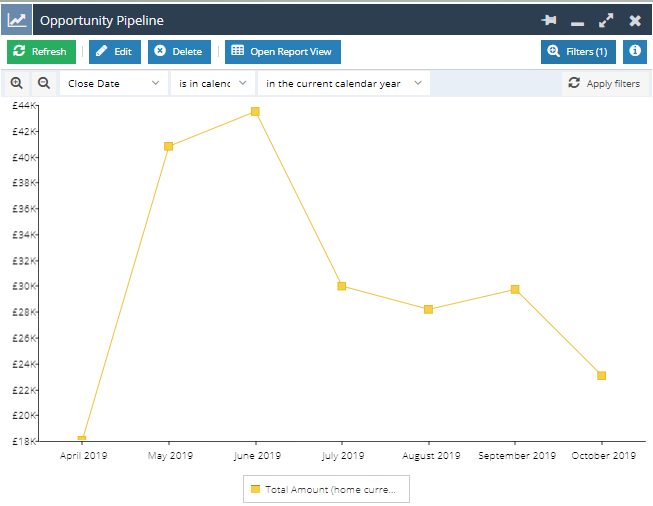 Using the Legend
For Bar Charts, Line Charts and Pie Charts it is possible to have multiple sets of data based on the grouping columns of your Report. This can create multiple bars, lines or segments in your Chart that will be coloured accordingly with the colour palette selected when setting up the Chart.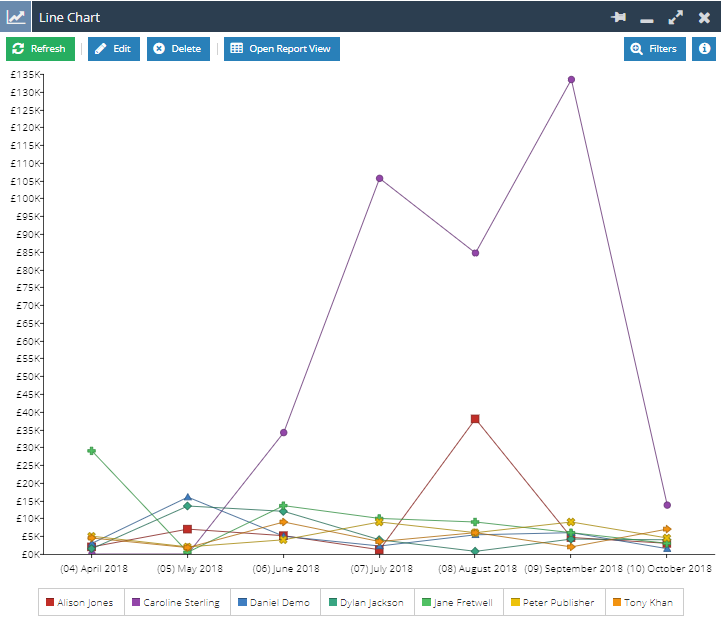 It is possible to hide these sets of data from the Chart by select the value in the legend, for example, clicking on 'Alison Jones', 'Caroline Sterling' and 'Jane Fretwell' in the legend above hides the red, purple and light green lines to give the view below. This makes it easier to read and compare the data.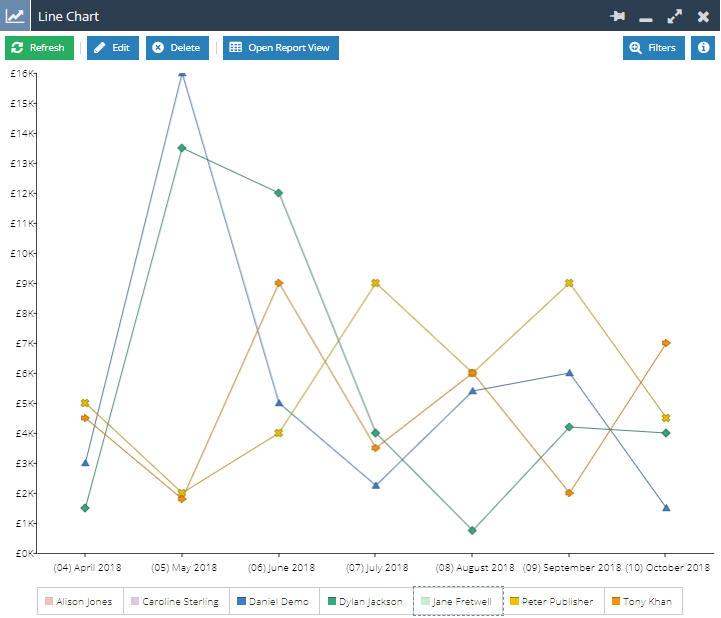 Note: These changes are not permanent and will reset back to the default when the Chart is next loaded.
Drilling into Charts
Similar to drilling into a Report, it is possible to drill into a specific part of a Chart. By selecting a marker or segment of the Chart, a new menu will appear, providing you with the option to drill into the data for that specific section.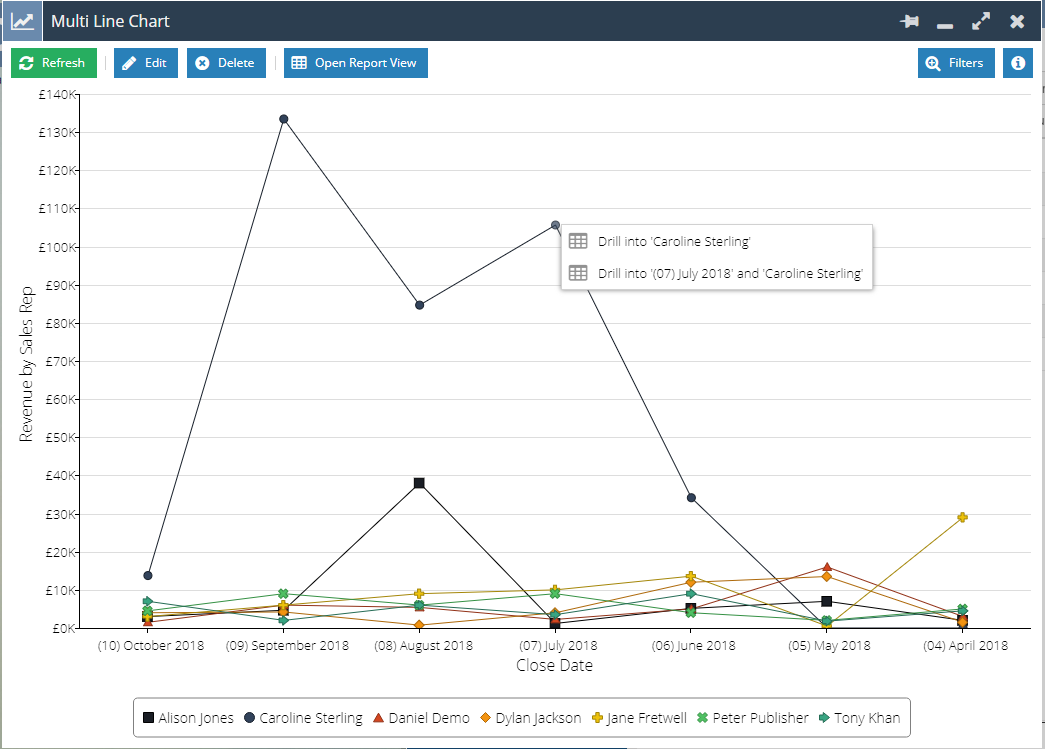 Selecting this will cause a new Report window to open, displaying the Report View that the Chart is based on, with the appropriate filters applied to the show you the data you are drilling into in grid form.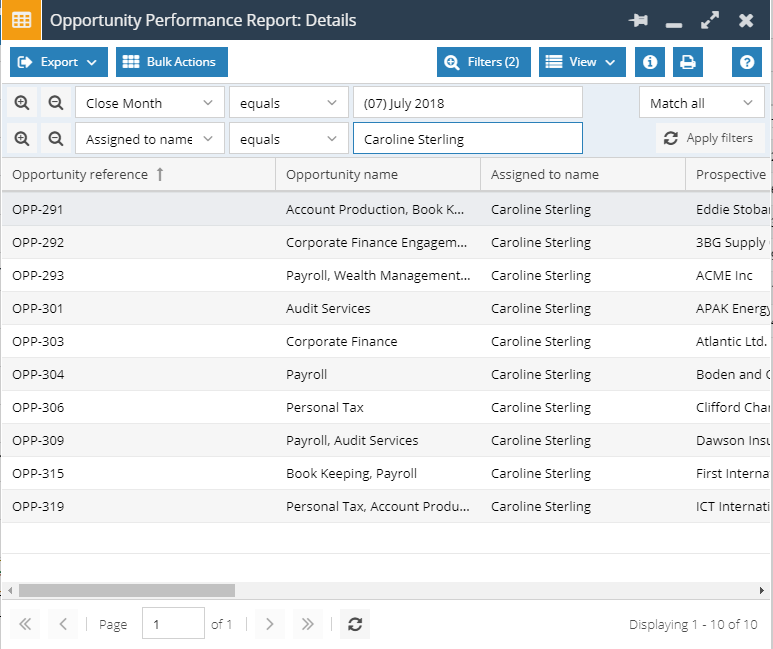 Related content
An overview of what Charts can be created based on other reports in Workbooks.