Form Layouts
Tip
Custom Form Layouts control what the Users see on a form but remember this does not prevent access to the fields that aren't displayed on the form - these can still be accessed within Landing Pages and Reports.
To facilitate adoption and the ongoing use of Workbooks, it's important that the data shown on records and the order in which it's presented is correctly customised to suit your business, your terminology and your processes.
Customising Form Layouts gives you a great degree of flexibility to change the appearance of Workbooks records and share the appropriate views with the right groups of users at the relevant points in your workflow.
For example, you might set up a version of a Customer Order that the Sales team use but a different one, with more accounting information on it that the Finance team use. Alternatively, you may have multiple versions of an Organisation record - perhaps the Marketing team see profiling and preference information but the Customer Support team see information regarding products and contract dates. In addition, you can set up rules that control which Form Layout is invoked. For example, you might want Organisation records for companies defined as Head Offices to include fields about the overall business, when it was created, their turnover and so on, but records for Organisations defined as local branches to show different fields.
Forms consist of a number of Sections and Sub-sections, and you can specify which section your fields appear in as well as the order in which they are displayed. You can also control which tabs show on the form and the order in which they appear.
In addition, when customising an existing Form Layout or creating a new one, you can:
create new Sections and control the position of these and any existing Sections.
set up Card Sections that display data in a space-saving, read-only format.
choose to display/hide Fields.
make Fields, mandatory, read-only and set default values. These behaviours will only apply to the specific Form to which you've applied the controls.
add Information Messages relating to aspects of the form, and position them on the form layout.
show information from related records in read-only format, using Reference Fields.
add information messages to provide guidance to users on what type of data they should add or when.
control within editable grids, what columns are shown, hidden or excluded, the order in which they appear and the default values for each.
customise what tabs are displayed and in what order.
define a set of Process Buttons (in the Automation tab) to allow you to automate common processes.
Once you've set up a new Form Layout you can publish the view and share it with other Users and/or User Groups.
The Form Layout menu can be reached by going to Start > Configuration > Customisation > [select the record type you wish to edit] > Form Layouts.
NOTE: If you're happy with the default layout but need somewhere to capture some extra data you can simply create Custom Fields rather than creating Custom Form Layouts.
Custom Form Layouts are based on existing standard form layouts and include any Custom Fields you've created (along with their related Picklists, where appropriate).
When using Form Layouts, you can categorise them to ensure that only relevantly categorised email/PDF templates appear when dealing with the specific record type. Information of how to do so can be found in the screenshot below.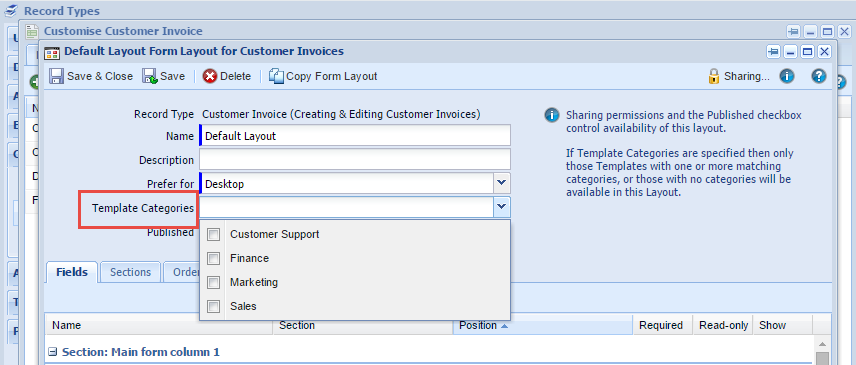 NOTE: Using the 'Shared with' column, selectable in the Form Layouts tab of the Customise Record window, it is possible to quickly check which groups and Users a Form Layout is shared with. In the below image we can tell that we need to share both Desktop Form Layouts with the other Users that are not in the System Admin Group.

Information Messages
Information Message fields allow you to display relevant and useful information next to the fields. To add an Information Message field, click the button highlighted below.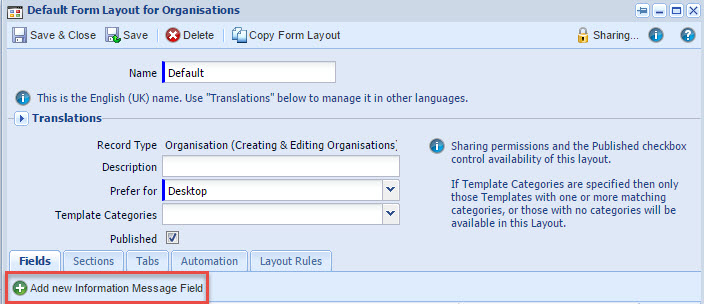 The field can contain up to 255 characters and can include a hyperlink.

Name the Information Message field that explains clearly what the help text is for. The Field Name is visible to System Administrators when amending form layouts, but isn't visible on the forms themselves.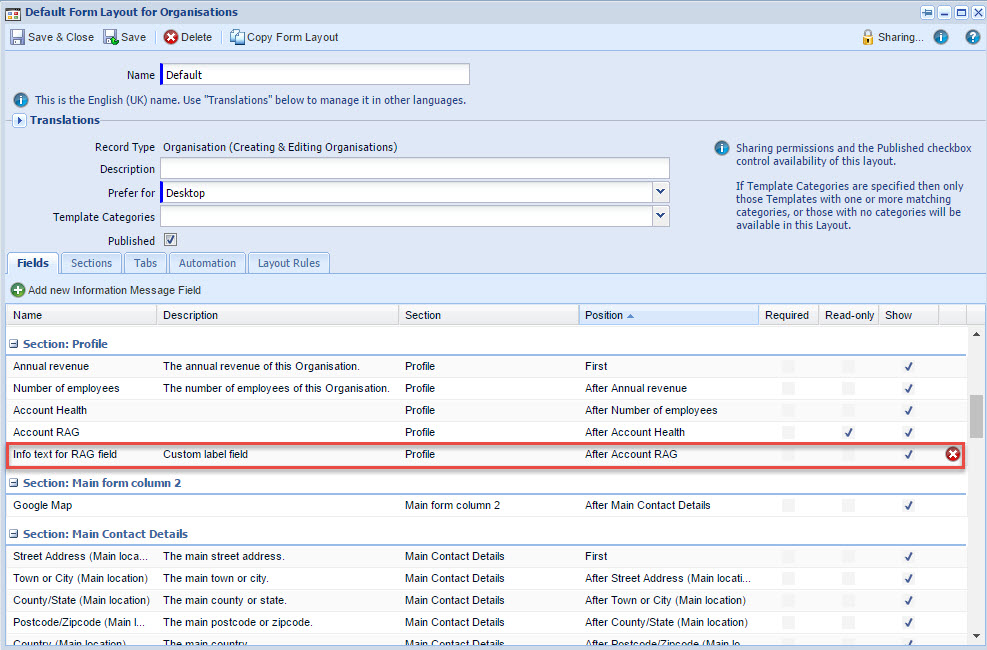 The example below shows how Information Messages can be used to make it easier for users to know what fields represent and how they should be used.

It is possible to add hyperlinks into the Information Message using the format: <a href="URL">text</a>. For example,
<a href="www.workbooks.com/knowledge_base">Knowledge Base</a>
would display the words 'Knowledge Base' which would hyperlink to the URL that is between the double quote marks.