Managing DocuSign Documents
Please note, our DocuSign Integration is still in a Beta stage. For more information please contact support@workbooks.com
Once a DocuSign Document has been set up you are able to return to the Introduction Stage and change any of the Settings or amend any of the tags. If you are using a Workbooks PDF you will also be able to edit any of the existing AutoPlace Mappings, as well as add in new mappings. If you decide that a Document is no longer required you are also able to remove this completely from Workbooks.
Editing a Document
To amend an existing Document go to Start > Configuration Email & Integration > DocuSign and select the Document you wish to edit from the Picklist: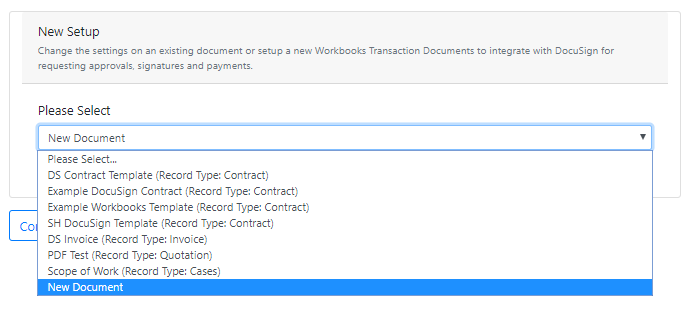 This will allow you to reconfigure any of the settings as you wish, any settings then changed here will take effect once you have finished the setup again.
Deleting a Document
Documents cannot be deleted from within the Integration, instead you will need to remove the API Data that configures the Document. This is accessed from Start > Configuration > Automation > API Data then apply a filter so that the Key equals docusign_document_settings. We would also then recommend adding the Key 5 Column to the Landing Page, as this contains the name of the Document Templates.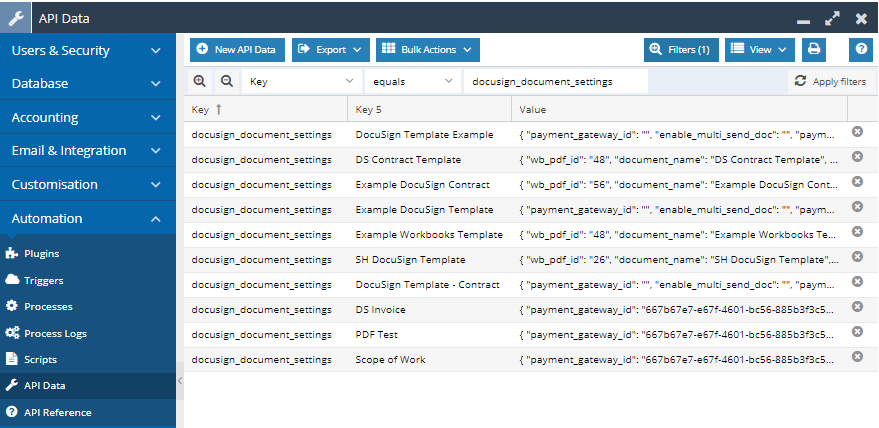 You can then select the Document Templates you no longer need and delete them from the Database. If you are not going to be recreating the Document Template you will also want to remove the Button Process from any Form Layouts where it is configured, otherwise users may try to run the Process and receive an error.
Note: API Data is not kept in Deleted Items, so once it has been deleted you will be unable to retrieve it.