Emailing Scheduled Reports
Workbooks allows Users to define a schedule on which reports and charts are run and emailed to one or more recipients. The recipient doesn't have to be a Workbooks User so it is a great way to share data held within Workbooks. For example, weekly sales reports can be sent to a manager every Saturday morning, thus allowing them to review the week's sales and plan for next week.
A single report, or a combination of reports and charts, can be sent in the same email. Reports can be sent inline (a list/grid within the email body) or attached as CSV (Comma Separated Values) or Microsoft Excel files. If your report does not contain any data at a time it is due to be sent, rather than receive a blank email, you can tick the Send if Empty checkbox to prevent the email from being sent.
NOTE: For scheduled emails to work, the sender of the email MUST have at least Read permissions for the Report(s) being sent. In addition, to use this functionality, the user must have the following capabilities: View Scheduled Email Reports, and Modify Scheduled Email Reports
To schedule a report click Start > Reporting > New Scheduled Email. There are 3 tabs:
Main
Define the schedule on which you want the reports to be run and emailed.
Reports
Add the required reports and charts.
Emails
The history of the sent emails.
Existing Scheduled Emails are displayed in the My Scheduled Emails and All Scheduled Emails views.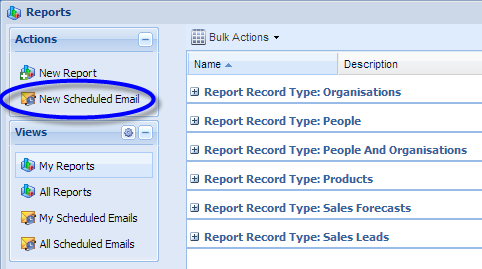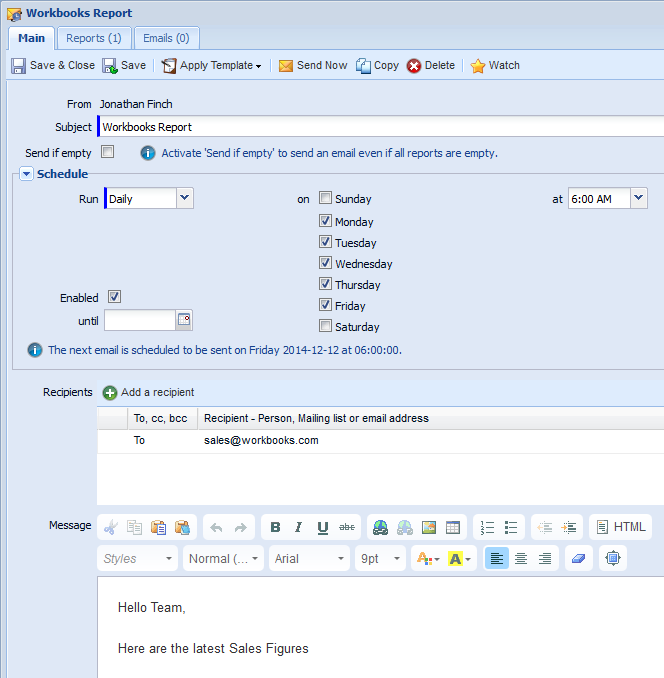 TIP: To test the Scheduled email click "Send Now"
Adding Reports and Charts:
Add Report
Select the report then the report View. As mentioned earlier, you can include the report inline within the body of the email, or as an attachment.
Add Chart
When adding a chart, select the report on which the chart is based, then add the report. There is also a Format option. If required, you can test PNG (Portable Network Graphics) versus SVG (Scalable Vector Graphics) by adding the same chart in both formats and comparing the results in your email.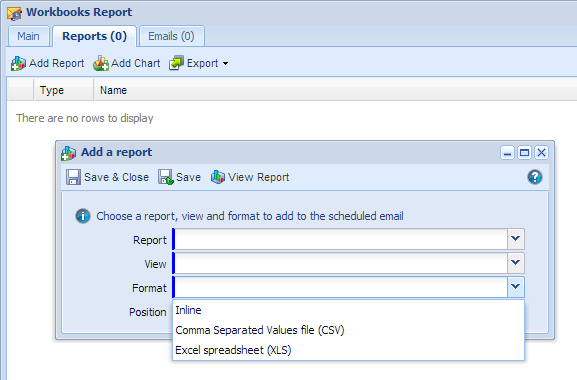 Related content
An introduction to what Capabilities are and how they are used to grant permissions to Users in Workbooks.