Copying Transaction Documents
Tip
Using the Copy Document function can save you time, and will create a Transaction Document based on the previous document.
For example, from an existing Quotation you can print an Invoice in just 5 mouse clicks.
To simplify the creation of customer documents it's possible to copy any customer document to create another one of the same or of a different type using the Copy Document button at the top of the document.
This functionality is particularly useful for managing your Sales Order Process, since a Quotation can be used to create a Customer Order and a Customer Order can be used to create an Invoice. In addition a Customer Invoice or Customer contract can also be the basis of a Credit Note. A document can be copied multiple times as you may, for example, require multiple invoices based a single order.
NOTE: If you have created any Custom Fields on a Transaction Document that you also want to appear on other types of Transaction Documents when you use the Copy Document functionality, make sure that the Custom Field has been created (with exactly the same details) on every document type. This way, any values in the Custom Field will be copied across to the new document.
When copying Transaction documents any relationships created via Dynamically Linked Items will be copied from the source document automatically, however for other relationship types this is not the case. Workbooks gives you the ability to choose the other types of relationships you wish to copy. After pressing the Copy Document Button and choosing the Transaction Document type to Copy to you will be presented with a menu where by changing the options you are also able to decide which Related items (Relationships) are copied across to the new Transaction Document;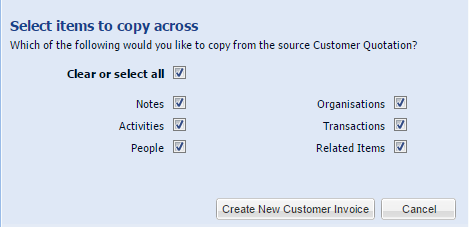 The copied document is initially created in a DRAFT state so that any edits can be made including date changes and adding or removing line items before it is POSTED.
NOTE: When a Transaction Document status changes from DRAFT to POSTED any standard fields become un-editable. However, Users with the appropriate Capability are able to edit standard fields on Quotations and Customer Orders (but not on Invoices or Credit Notes) after these documents have been POSTED. In addition, those users who've been granted the Capability to edit Custom Fields can amend Custom Fields on a Transaction Document after it has been POSTED.
Template Quotations or Orders can also be made which, when used with the copy function can help create standard transactions. If you have a regular repeating Invoice requirement, for example, copying an Invoice to create the next Invoice might prove useful.
NOTE: When copying an existing Transaction Document to create a Contract, remember to activate and populate the Line Items Start Date and End Date columns, otherwise the Line Items won't appear on the Contract.
Related content
An overview of how to create new transaction documents or view existing ones.
What each of the fields are used for within Transaction Documents.
What each of the columns in the Line Items section of Transaction Documents are used for.