Dial Charts
To generate a Dial Chart you will first need to create a Report that can be broken down into segments easily, such as the Total Amount of Opportunities won this Year.
Once you have run the Report you will have the option to Chart this View, selecting this will generate a new window.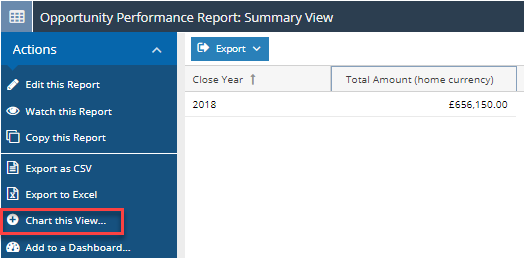 From this window you can select the type of chart you wish to create, to Create a dial chart select the Create a dial chart option.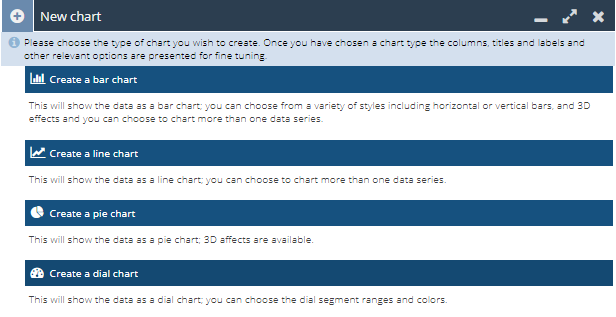 Settings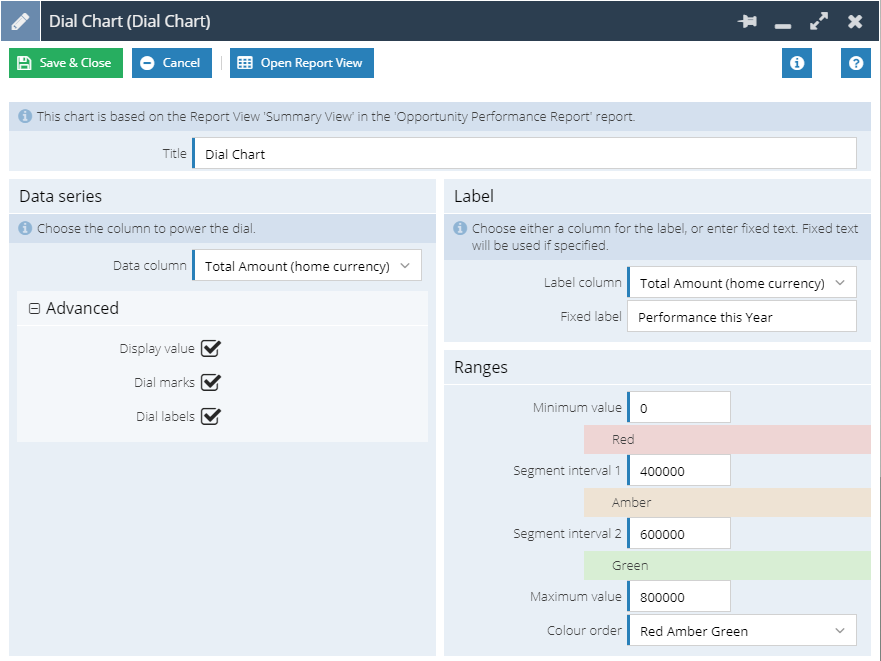 Data Series
Data column - The column from the report that will be used in the chart, this will be a numeric value column.
Advanced
Display value - Choose whether you want the value from the report to be displayed in the centre of the dial.
Dial marks - Choose whether marks appear around the edge of the dial.
Dial labels - If 'Dial marks' are enabled you are then able to show labels which display the numeric values at each of the marks.
Label
Label column - Choose a column that will be used as the label on the chart, this label is what is used to inform Users of what the dial indicates; this will likely be the same as the 'Data column'.
Fixed label - If a 'Fixed label' is specified it will be used instead of the 'Label column' value.
Ranges
Minimum Value - Select the minimum value of the dial, this is where the dial will start.
Segment interval - the 'Segment interval' values determine when the dial changes from red to amber, amber to green or vice versa.
Maximum Value - This is the target value that your dial is working towards
Colour Order - Select whether you want the colours goes Red Amber Green or Green Amber Red depending on how you are using the chart.