March 2017 Release
Release date: 25th March 2017
Web Insights - out of beta
After a successful beta period, the new Web Insights module is now generally available to all customers. If you would like to trial the feature, please email sales@workbooks.com.
Web Insights is primarily a lead generation module which allows you to not only track the digital footprint of prospects in your sales funnel, but also of your existing customers. You can easily see who is visiting your website, which pages they're reviewing and how often.
This page-view information is brought into Workbooks and populated in a new Online Activity record type, and can be viewed on a Landing Page or reported on like other records in Workbooks.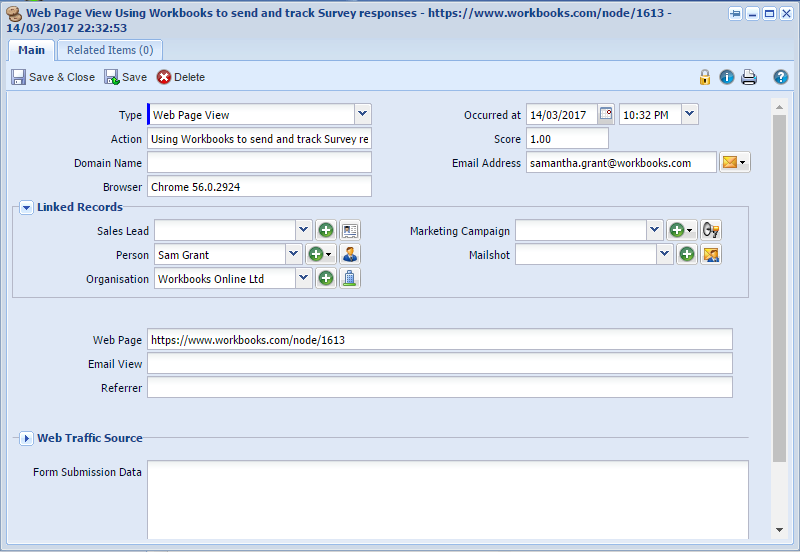 The records are created via an integration with GatorLeads (from CommuniGator) and then linked to existing Workbooks records or even used to create new records (i.e. Sales Leads).
Using the Workbooks reporting functionality, you can build efficient reports that will help you make the most of your website traffic data, which in return, can help you prioritise your resources where they will have the biggest impact and drive revenue growth.
To read further about Web Insights, including more information about how it works, and getting set up with it, please visit our Knowledge Base.
​​​​​Note: As this is a chargeable add-on, in order to access the features for this module, you will need to email sales@workbooks.com to request a trial.
Emails
If you work in a team and you normally send from a shared email address rather than your personal one i.e. support@ or sales@, then you can set a default From email address on your signature so it automatically populates the From address on any email you apply your signature to. This will also apply to any other email templates you use.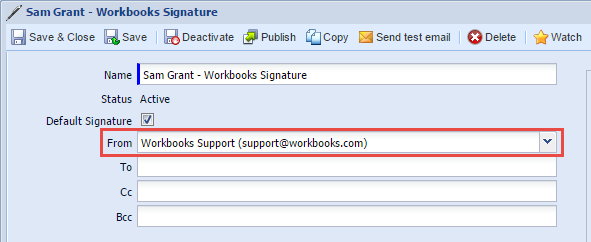 When replying to an email, you can now use email templates that are relevant to the record type that the original email was related to. For example, if the original email was attached to a Case, you can use record templates relevant to Cases on your reply email. This means that you can take advantage of using placeholders in these emails rather than entering names or other text manually.
Reporting
When adding columns to a report, typeahead will now match columns that contain the characters rather than just columns that start with the characters, so it is easier to find the column you are looking for.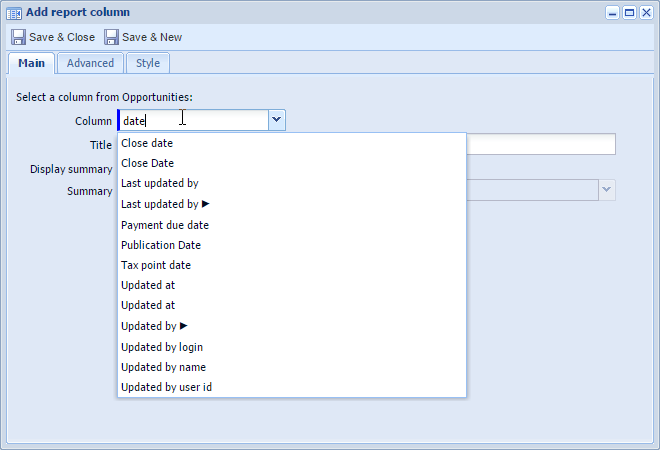 Configuration
We've built in an option to run processes using an "Automation" option rather than assigning to a licensed User. The option to select Automation will be available to select as the "Run as" user when you edit a process. Automation can also be selected as an option when creating API keys. This means that you no longer need to run the process as one of your own Users, when you run the risk of the User's password expiring or their licence being removed.

You can now configure a Grid Process to run as a specific User, like a System Admin, or as the User that is currently logged in. Processes that run as the 'Current User' are restricted by the Capabilities of that User, so setting it to be a different User with full Capabilities allows an unprivileged user to perform a limited set of actions that require elevated capabilities or permissions on a record.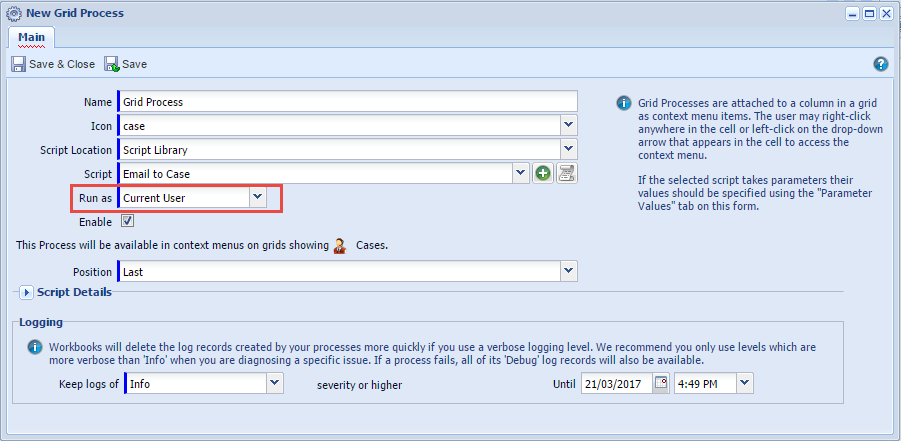 API clients now receive the set of the activated extensions and editions for the logged-in user within the login response.