Uploading your data
To start the Import Wizard click Start > Import and from the list in the left-hand column choose the type of records you want to import. If you're simply importing one type of record with no related records it should be fairly easy to choose.

For information on the type of records you can import along with your main record, click here.
Import - Stage 1 - Upload File
Stage 1 of the Import Wizard is where you select the CSV file you want to upload for your import.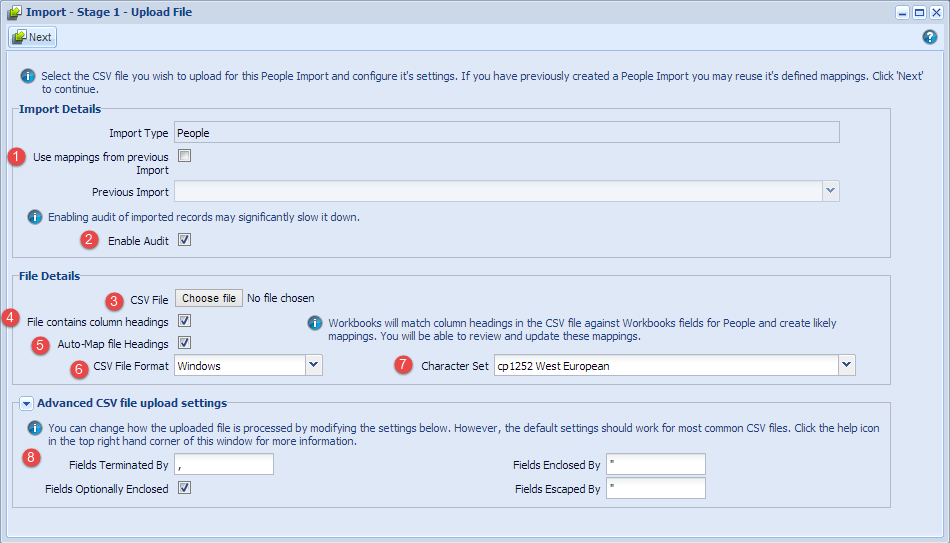 Use previous settings
If you've already imported similar data and want to re-use the mappings used in a previous import, tick the checkbox next to Use mappings from previous import. This will activate the picklist at number 2 where you can specify which previous import mappings you want to re-use.
Activate the picklist
Imports can be audited in Workbooks just like any other record type. This is providing that you have purchased the additional licence for the Audit module. If you are regularly updating records via Import, you may wish to audit your changes to keep track of what fields were updated.

The audit module in Workbooks creates an additional record when a field is updated, because of this enabling Import auditing can significantly slow down the time it takes to complete your Import.
Find your file
Click on Choose File then navigate to the CSV file you want to import.
Use column headings
We recommend that you use column headings in your CSV file (and ideally, use names that match the field names used in Workbooks).

However, if your CSV file doesn't have column headings, remove the tick from the box next to File contains column headings. In this circumstance, Workbooks will automatically name the columns headings for you, starting from Col 1.
Auto-Map file headings
Leaving the tick in the checkbox next to Auto-Map file Headings will prompt Workbooks to create likely mappings for the imported data, which you should review and refine if required. If you don't want Workbooks to do this, remove the tick.
Choose an applicable file format
The Import Wizard defaults to expecting your CSV file to be in Windows format as this is the most common format. You should change this to Unix/Linux if you are using Linux or Mac OS X 10.0 (or newer). Alternatively, if your Mac is older than this you should use the Mac option in the picklist.
Choose applicable character set
For a 'Windows' based CSV file Workbooks defaults to expecting your data to use a West European character set, which is likely to be suitable for most needs. However, if your data is in another character set you can use the dropdown picklist to select the appropriate one.
For CSV file format of 'Mac' and 'Unix/Linux' the default character set is 'UTF-8 Unicode'.
Advanced upload settings
The default settings for how your CSV file is uploaded are likely to work for most files. However, if you need to change these settings open the reveal next to Advanced CSV file upload settings and make the required changes.
When you're happy with the first step click Next.
Import - Stage 2 - Review Uploaded Data
Stage 2 of the Wizard is where you can check that the uploaded file contains the amount of data you expected and, if required, rename the import.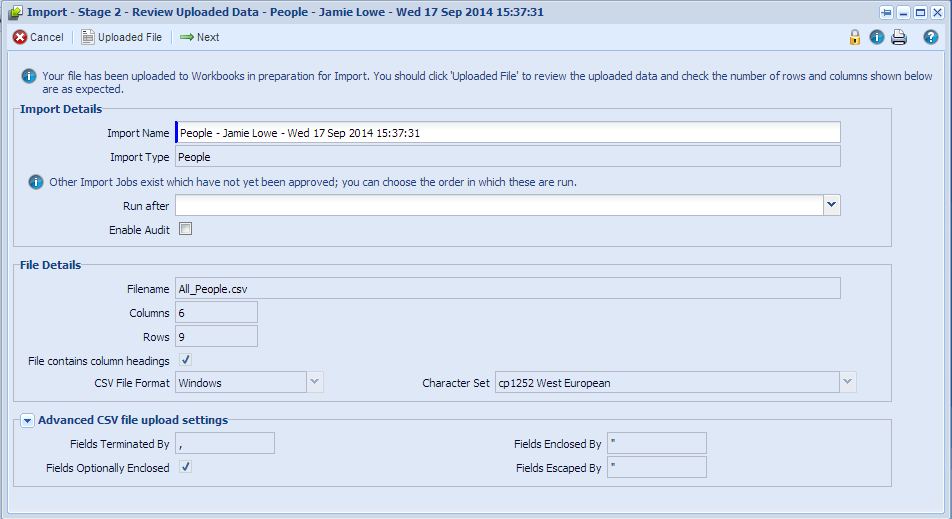 NOTE: Workbooks automatically names your import but you can overwrite that. This is especially useful if you want to create a 'template' of import mappings to be re-used later as you can give it a name that you'll remember.
Click on Uploaded File to check that the number of columns and rows in your import match the number that Workbooks has uploaded.
If the data isn't as you'd expected you can cancel the import, revisit your source data and start the import again.
Imports can be queued up in Workbooks so that as soon as you have approved your first Import job, the next one will then start as soon as the service has available resources. The Run After picklist will display a list of created import jobs that have not yet been approved.
This is an optional field but if you choose to populate it then your import will not start until you have approved the import that is selected here.
NOTE: Do not select the name of the import that you are currently running from this picklist. If so, your import will never run and it will have to be aborted.
When you're happy with this stage click Next.
Related content
Hints and Tips to reduce errors on Imports.