Why is GatorLeads recording online activities in a foreign language?
Periodically Spotler will perform a refresh of the alias of your webpages to determine whether they are still correct. This is so if for example you have changed the alias of your pricing page from "2017 Prices" to "2018 Prices". All page visits are captured as "2018 Prices" rather than showing you the original Alias of the page.

This refresh is performed on the current visitor's browser. This means that if they are browsing from another country or have their browser language set to another language then when the refresh is performed it will use this translation of your page alias.

This will be updated next time the page alias is refreshed and providing that the visitor is using English as their browser language then it will re-apply the English translation to the Action.
Can I change the Alias back to English?
Yes this is possible to do, if you manually update the page alias it will not refresh from the User's browser in the future.

To do this you will need to go to the GatorLeads Portal and select Admin > Page Admin > Page Scores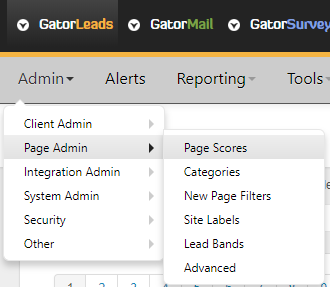 Now search for the URL, either fully or partially to find the page in question and select the Edit button.

Change the Alias back to English or rename it entirely and save the changes. Online Activities will now appear in English again.