Creating a Document with a DocuSign Template
Please note, our DocuSign Integration is still in a Beta stage. For more information please contact support@workbooks.com
This Knowledge Base Article will cover in detail how to setup your first DocuSign Template, the DocuSign integration allows you to use either Workbooks PDFs or DocuSign Templates. If you are unsure of which Integration type to use we have documented the features of each method here.
This example will run through how to setup a new document using a DocuSign Template from a DocuSign Template.
Stage 1 - Creating a Template in DocuSign
Before configuring a document in Workbooks you will need to create a blank Template within DocuSign. To do this you will need to login to your DocuSign Account.
Once logged in, select the Templates option from the toolbar at the top of the page.

This will show you any existing Templates within DocuSign as well as giving you the option to create new ones. Select the New button at the top of the toolbar on the left side of the screen.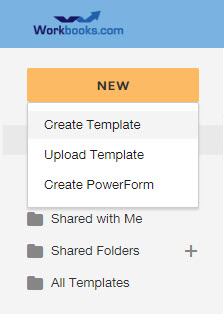 In the new template, set the following fields:
Template Name: This is the name that will appear in Workbooks when setting up a new document
Template Description: Provide a brief description so it's clear how this template is being used.
Finally, provide an upload of your chosen design to be used in the Template. Documents can be uploaded from your computer or uploaded from a number of file sharing sites.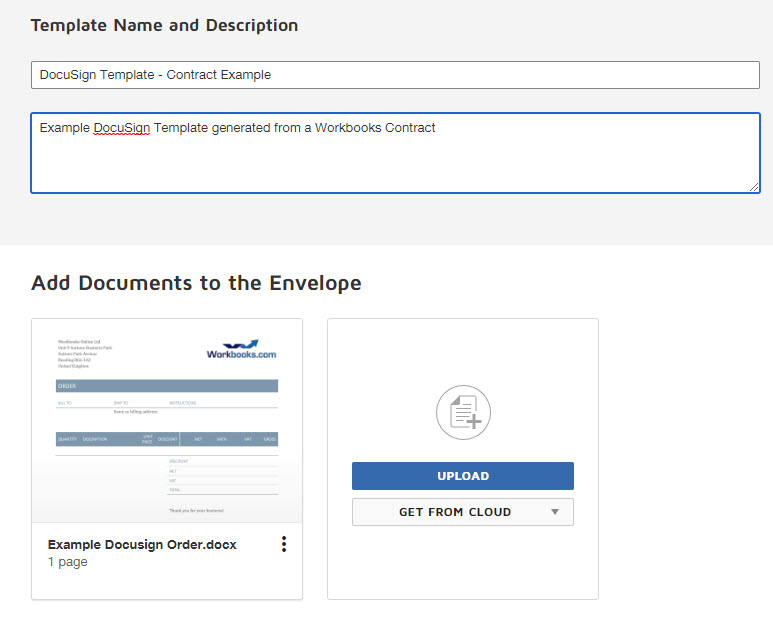 Once you have set up the basics of the Template, you will need to define the Recipients for this Envelope. In this example, we will add one Signer, where the Template Role is a Primary Contact. Multiple signers and CC recipients can be added as required.
NOTE: The DocuSign integration only supports Signer and CC Recipient role types. Other role types are available, but will not be added automatically.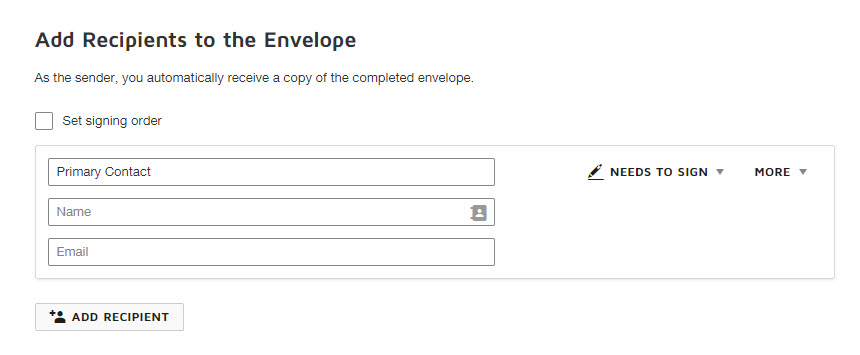 Once you have configured the above, be sure to save the Template by clicking Actions > Save and Close, otherwise it will not be available within Workbooks in the following steps.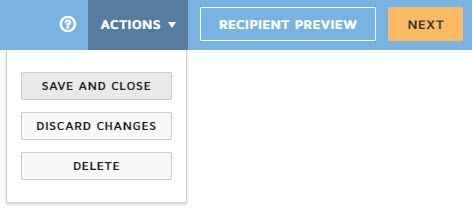 Note: It is important to ensure that no DocuSign tabs are added at this point. There are some additional steps required in Workbooks prior to doing this.
Stage 2 - Set up the Template in Workbooks
Return to Workbooks to configure the synchronisation between the Fields in Workbooks and DocuSign. The DocuSign menu can be accessed from Start > Configuration > Email & Integration then select New Document.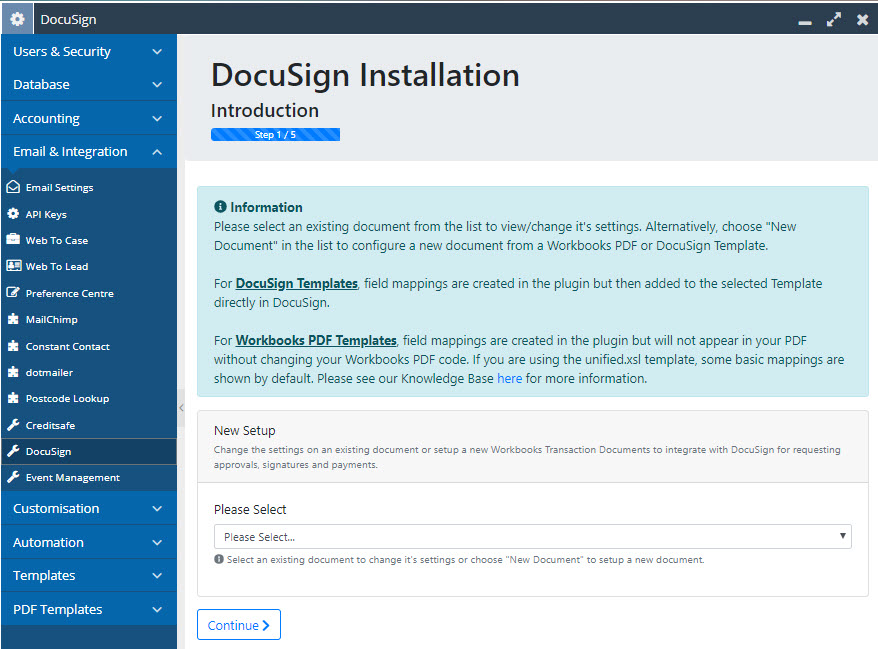 Step 1 - Introduction
You will need to work through the Settings configuring them to your DocuSign Template as required.
New Setup
Document Name: A unique name of the document configuration. We recommend that this is something that includes the function of the Document so it can be easily identified later. The record type that you choose below, will be automatically appended to the name.
Note: This will be required later on in the installation so be sure to make a note of it.
Record Type: A picklist of all available record types that the integration can be used with.
Integration Type: Select "DocuSign Template". The "DocuSign Template" field will then appear below.
DocuSign Template: Select the Template which you wish to use for this Document as configured in Stage 1.
DocuSign Notifications: DocuSign records an event when something happens with your document. This event is then pushed to Workbooks and the record updated with a new status. By default the "Document Signed" option will be checked, however we recommend that all available options are selected for maximum visibility of your document progress in Workbooks.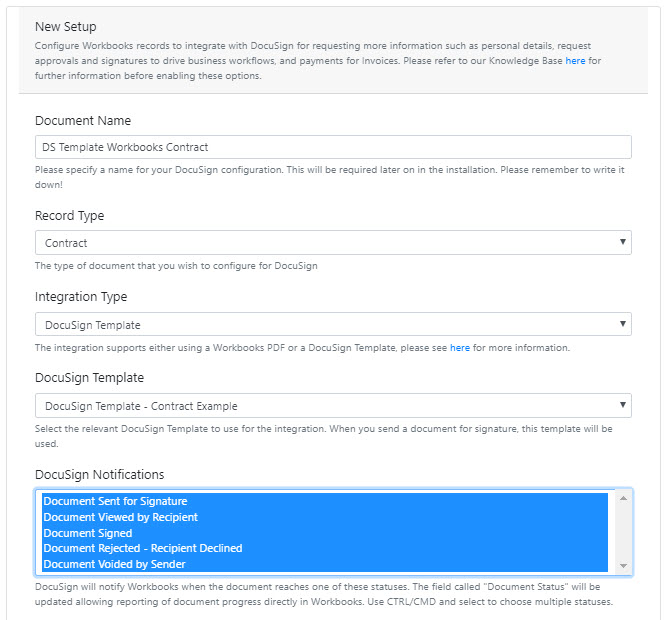 Create/Update Workbooks Fields in DocuSign: Turning this setting on will create a field in DocuSign which can then be used as a Document Tab to capture data on your document and update the Workbooks record on document signature. Custom Fields are not created in DocuSign straight away. They are placed in a queue and processed at the rate of 100 per hour using the DocuSign Maintain Fields Scheduled Process.
If you have lots of Custom Fields, we advise that this setting is used with caution. DocuSign imposes a limit on how many fields can be created across a 1 hour period, across all Record types. Therefore, customers with a large number of Custom Fields may have to wait some time until all of their Fields are available in DocuSign.
Would you like to exclude any of these fields from DocuSign: A Multi-Select Picklist that allows you to exclude any Custom Fields from being sent to DocuSign, this is especially useful for customers that only want to sync a small number of Fields to DocuSign.
Store DocuSign Certificate of Completion: Choose whether you want DocuSign to send an additional file when a document is signed, which details an audited timestamp breakdown of all of the actions against a given document. This file is stored on the Files tab in Workbooks against the record.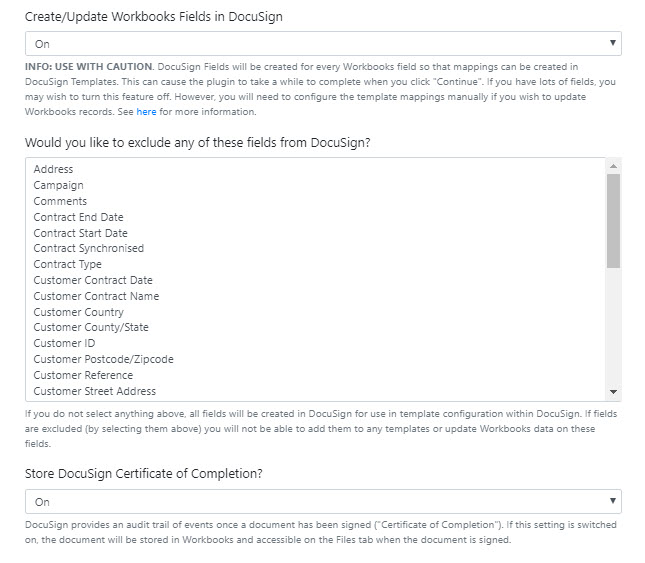 Invoice Specific Fields
If you selected Invoice in the Record Type field above, additional Fields become available for you to further customise the behaviour of the document.
DocuSign Payments: It is possible for payment to be taken for invoices through DocuSign itself. Turning this setting On provide recipients with the option to make the payment specified in the Document. More information on this can be found on our Knowledge Base

Which role should complete Payment in DocuSign?: Select the Relationship that the Person making the Payment will have with the Invoice Record, this may be the Primary Contact or you may have a specific Finance Contact.

Payment Gateways: Select the Payment Gateway that you would like the recipient to use. Payment Gateways need to be configured within your DocuSign Account in order to appear here, DocuSign allows Payments through Stripe, Authorize.net and Paypal (via Braintree).
Note: You will require a specific DocuSign Licence in order to use DocuSign Payments. For more information please contact support@workbooks.com.
Signer/CC Recipient Setup
Which relationship roles should be used as Signers?: When the Template was configured in Stage 1, Template Roles were defined in the Template. For this field, select the same values as defined in your DocuSign Template. The integration will look for these selected values when it creates your document for sending.
The values shown here are controlled and configured in the Picklist called "Document People Roles".
If a Person with the selected relationship is not added to your document, then you will not be able to send a document for signature.
If a Person is related to the Document with a relationship that is not selected in this screen, then they will be ignored by the integration and not receive the document for signature.
Allow Contacts as CC Recipients in DocuSign: When this setting is enabled another multiselect will be shown, allowing you to add additional Recipeints to the document as a CC by specifying the Relationship that they will need with the Document. As above, ensure that you select the Role that was used in your template.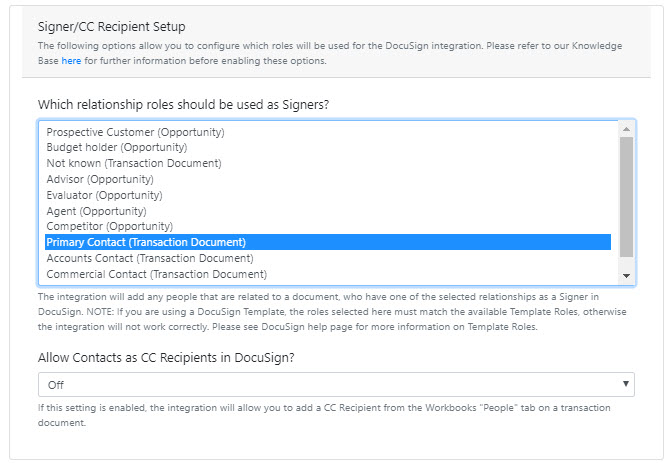 Advanced Options
DocuSign Interactive Send Mode: By default, this is set to On. When sending a document for signature, Interactive Send Mode will allow the User to preview/change what the document will look like to the end user. If this setting is turned off, the document will be sent straight away, without allowing the user to preview/change anything first. It is not advised that this setting is ever turned off except for a few specific circumstances.
Enable DRAFT document sending: By default, this setting is set to Off. DocuSign Documents cannot be sent from a DRAFT Transaction Document (DQTE, DINV, DORD, DSOR and DCON, DCRN). If you would like to override this feature and allow your users to send out DRAFT documents (not recommended), then select On in this picklist.
Enable Multiple Send: By default, this setting is set to Off. Enabling this feature will allow you to send out a document for signature again, regardless of whether it has already been signed. This setting is useful in some scenarios such as an Approvals process where you may wish to send an internal document before sending out a copy to the customer. Please see our forum post on this topic. Other than this, we recommend that this feature is switched off.
Step 2 - Complete
The DocuSign document is ready to be generated. However, you will now need to add a Process Button to the appropriate Form Layouts so you can send the document out. This is documented fully on this page: Knowledge Base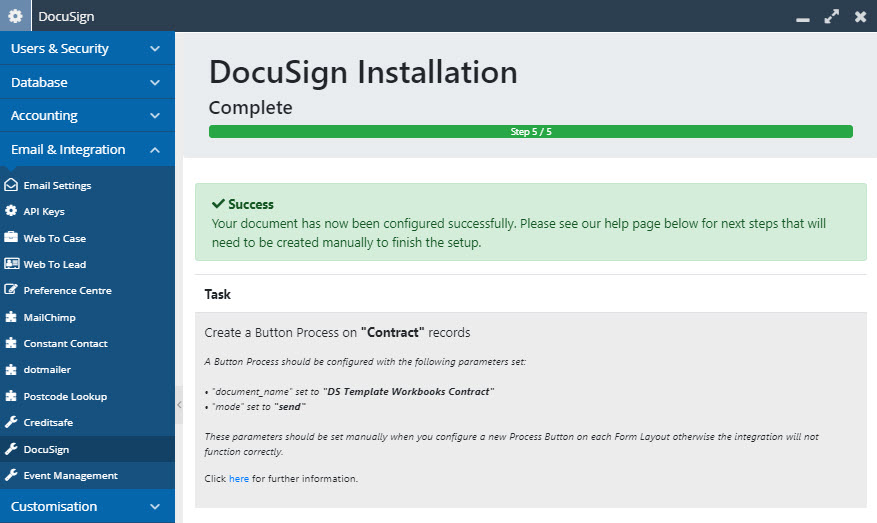 Once you have completed the configuration screen, and the DocuSign Maintain Fields Scheduled Process has run, you will now be able to add the required fields on to your DocuSign Template, directly within the DocuSign Portal.
Stage 3 - Configuring DocuSign Fields
Log back in to your DocuSign account and select the Template that you have configured within Workbooks, then click Edit.

In Edit mode, you can make any final amendments to the Template. However, if the Template Roles change at this point, you will need to repeat Step 2. When you are happy with your Template, click Next Button to generate the Template and add the DocuSign Fields.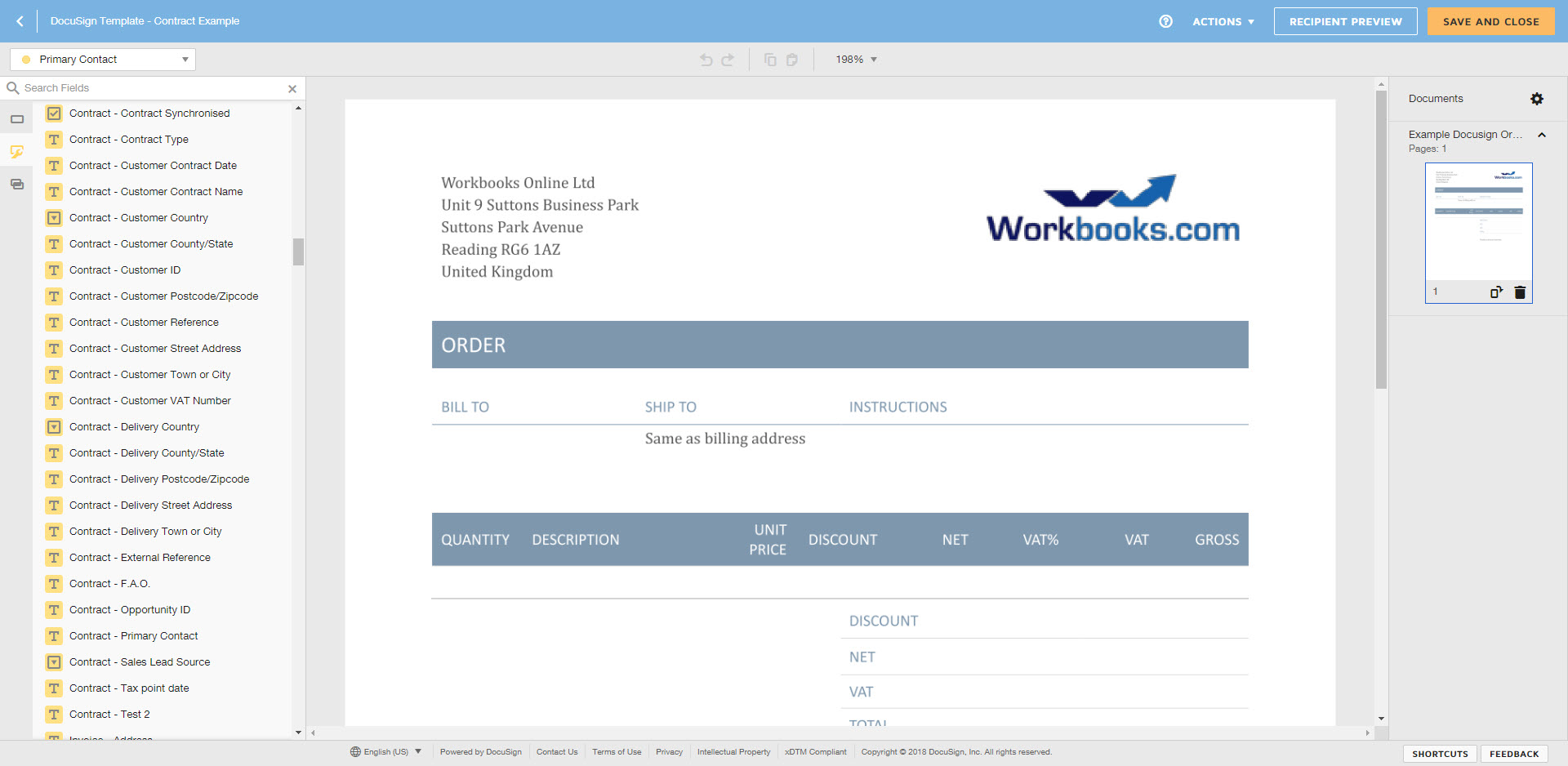 From this page you are able to add Standard DocuSign Fields to the Template, using the Picklist at the top of the left hand column to dictate which Document Role they refer to: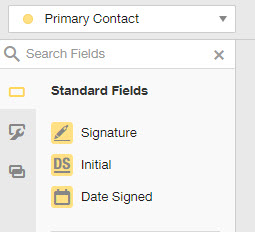 Once your Workbooks Fields have synced you will be able to access all of the Custom Fields you synced to DocuSign from Workbooks in the Custom Field Menu. Each field is prefixed with the Record Type and then has the Field Label so you can easily identify which fields to include in your document.
These fields are automatically mapped back to the corresponding Workbooks field when the document is signed. You should not create any new Custom Fields directly in DocuSign as these will not map back to Workbooks automatically without some additional steps.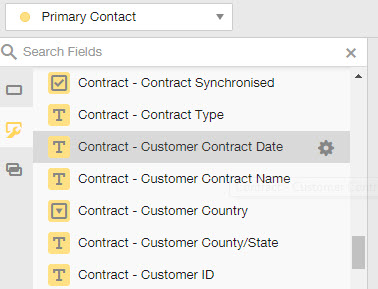 Note: Fields may not be immediately available as the Process runs once an hour and is limited to created 100 Fields each hour, we do not recommend that the frequency is changed or the process is forced due to a DocuSign imposed API Limit.
Once you have configured the Fields the Record can be saved and is ready to send. Due to the limitation in Field creation we recommend that you set up all of your DocuSign Templates at the same time in Workbooks so that they can be queued overnight and available the following day across all required Records.