Event Sponsors
This allows you to store your Sponsor's information for the Event. It includes the level of Sponsorship they are offering as well as additional information about the Sponsor and your relationship with them.

Like the Speaker Form Layout this is fully customisable within Workbooks, the form Layout by default is very similar to that of the Speaker, only Sponsors can link through to Organisations rather than People Records.
Look up Organisation: If the Sponsor exists within Workbooks you are able to search for them in the Look up Organisation field, this will then populate information on the Sponsor Record.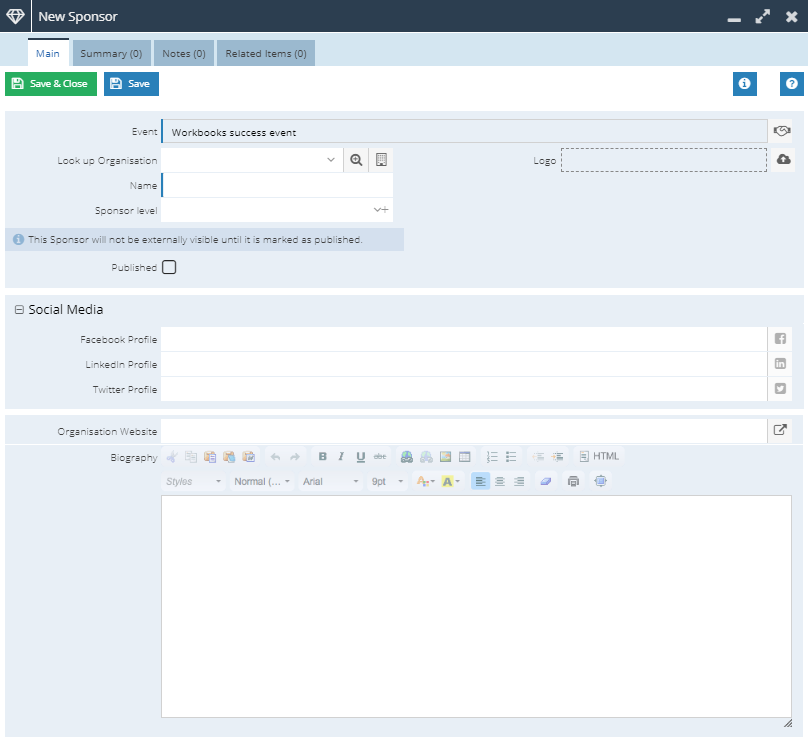 Name: The Sponsor's name that will be shown to Event Attendees - will be populated by Look up Organisation field but can be overwritten
Sponsor Level: An Unrestricted Picklist that can amended from looking up the Picklist of "Event Sponsor Levels", allowing you show whether they are Bronze, Silver or Gold Level Sponsor or similar.
Logo: You are able to upload the Sponsor's logo - will be populated by the Look up Organisation field if Logo on Org record but can be overwritten.
Published: Once checked the Sponsor will appear in the Event Portal for Attendees to see.
Social Media: You are able to add URLs to the Sponsor's Facebook, Twitter and LinkedIn Profiles, allowing Attendees to further research your Sponsor or look at the content they are putting out onto the web.
Biography: An overview of who your Sponsor is, why they are speaking at your event and their relevant background. This will be populated by the Look up Organisation field if biography on org but can be overwritten