Set up and configuration of the Workbooks Exchange Server Sync (WESS)
Purchasing the Exchange Sync licence
The WESS licence must be purchased as an add-on module per user – more information on the pricing of this can be found on our website here, or you can contact our sales team.
Activating the WESS module
Once the licence has been purchased, the corresponding module must be enabled in Workbooks. Go to Start > Configuration > Users & Security> Licences and Modules and navigate to the Modules tab. Tick the checkbox next to 'Exchange Sync' and click Save & Close.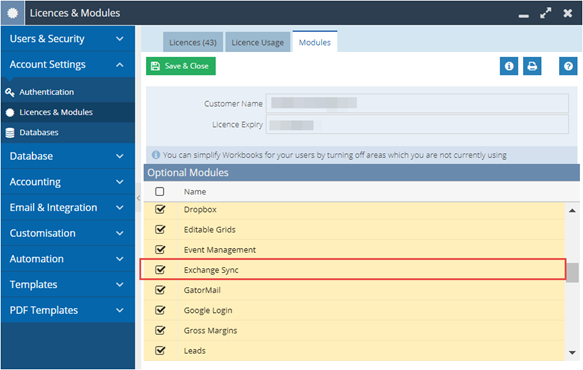 Allocating WESS licences
Allocate licences to the relevant Users by going to Start > Configuration > Users & Security > Users and ticking the checkbox next to Exchange Sync.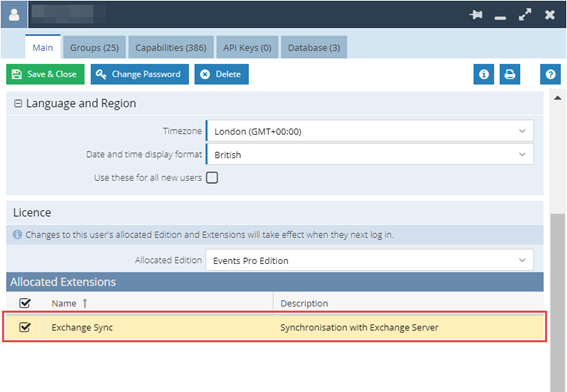 Enabling the Exchange Sync
After allocating one of your WESS licences, a new section will appear named 'Exchange Sync'. If the Exchange Synchronisation has not been enabled for this User yet, either by them or you, then you will be presented with the following message:

You can now enable synchronisation for this user. There are three ways you can do this:
By ticking the 'Enable Synchronisation' checkbox from where you are in Configuration.

By the User themselves by going to Start > Preferences > Exchange Sync, and ticking the checkbox.

By going to the main Exchange Sync section in Start > Configuration > Email & Integration > Exchange Sync and selecting the User.
As a System Administrator you can select the database that the user will synchronise with and change their username and email address. This should not need to be changed often, if at all, as the 'Exchange Email' must be the Outlook email address they use.
Instructions for IT
Checklist
Here is a summarised checklist of actions/information that are required of your IT Partner/Team in order to setup the WESS. Further details about the contents of this checklist can be found later on within this Knowledge Base page if required:
Exchange Server Details

You must obtain your Exchange Email Address, Exchange Mailbox, and Exchange Password. These will be used to autodiscover your Exchange server details. If the autodiscover does not work, you will need to obtain your Exchange Web Services URL. If you are running Office365 this is most likely to be: https://outlook.office365.com/EWS/Exchange.asmx.

Impersonation or Direct Authentication

You must decide if you will go via the Impersonation or Direct Authentication Route. We strongly recommend the use of Impersonation, as this simplifies set up of each User, and will prevent Users from having to re-authenticate with your Exchange Server if they change their Exchange Password.

If you choose to use Impersonation, the Impersonation user needs to be setup by your IT Team, and Users' mailboxes need to be setup to authenticate via the Impersonation User. You will need the Impersonation User Email and Password.

If using Direct Authentication, you will need the individual Users emails and passwords of each User that will be using the WESS (or you need to prepare each User to enter these themselves).

Configure your Exchange Server

If you are running on premise Exchange you will also need to whitelist the following IP address range(s) from any intervening firewalls, mentioned in the 'Configuring your Exchange Server' section of this guide:

23.97.212.108 (legacy)

104.45.14.249 (legacy)

20.67.154.92/30

20.73.199.196/30

Multi Factor Authentication

The WESS does not currently support multi factor authentication. If you have this configured, then anywhere where 'Password' is mentioned above, use a Microsoft generated 'App Password' instead.
Configuring your Exchange Server
Please configure your Exchange Server and any intervening firewalls to accept connections over HTTPS (TCP port 443) from these IP addresses: 

Legacy
23.97.212.108 (The sync service, wess.cloudapp.net)
104.45.14.249 through 104.45.14.253 (The provisioning system)
New (from January 2021)
20.67.154.92/30 (Primary, North Europe location - Ireland)
20.73.199.196/30 (Fallback, West Europe location - Netherlands)
Supported Exchange auth methods:
Direct: username and password are required.
Impersonation: username, impersonation-admin-mailbox and impersonation-admin-password are required.
NOTE: When using "Domain\Username" format please ensure to use a back-slash, as shown, a forward-slash will not be recognised and will result in a failure to communicate with the Exchange provider.
Finding your Exchange Web Services URL
Method 1: Automatic detection
Workbooks has the capability of running an automatic detection of the EWS URL built in and is the default method of entering the EWSURL. When initially setting up the WESS simply add your main Users login credentials and Workbooks will automatically locate the EWSURL:
Go to Start > Configuration > Email & Integration > Exchange Sync and enter the Main Users Login details.
If successful, a new window will appear confirming the User's details and the newly discovered EWSURL:
Email - The email address used for autodiscovery.
Password - The Exchange password for the User Mailbox, used to perform authentication on Exchange server.
UserName - The User name used to perform authentication on the Exchange server. This is usually the same as the Mailbox email address, e.g. user@company.com, but for some Exchange servers it may be the domain\user format.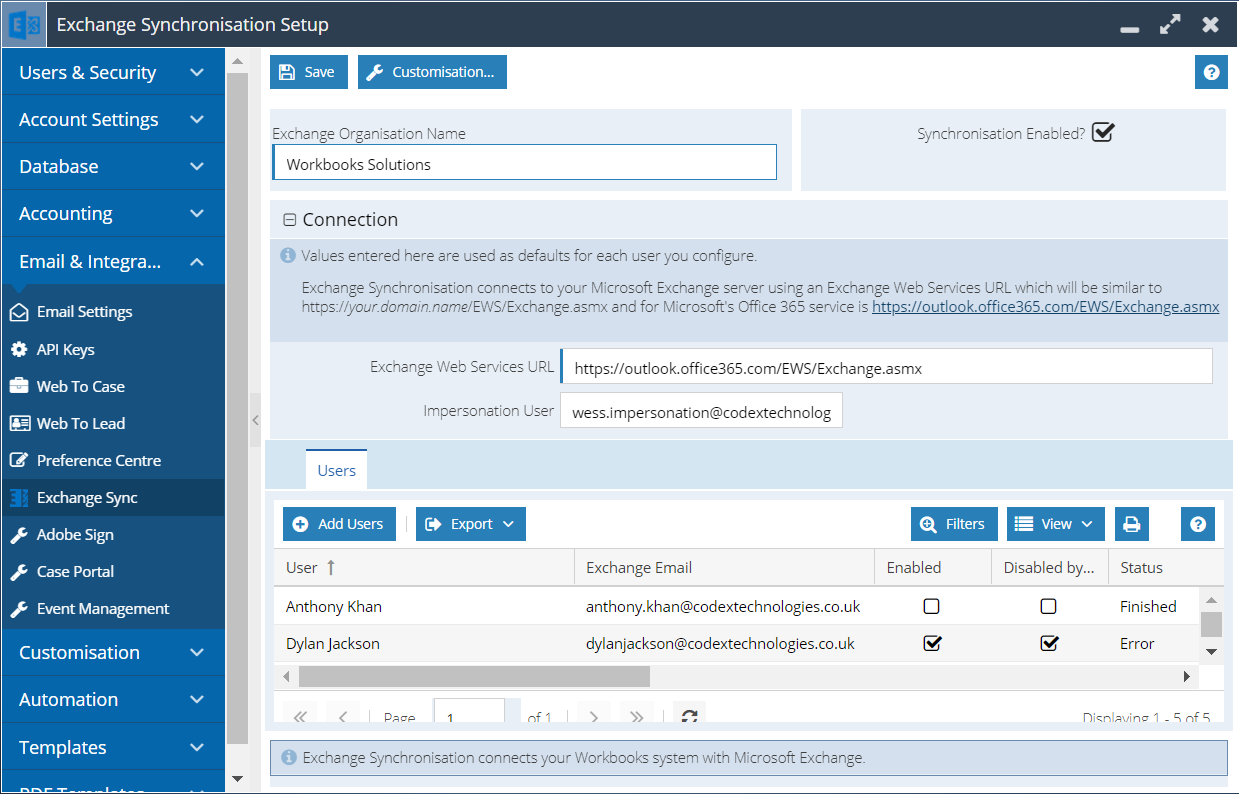 If the Automatic detection was successful then this means that the Exchange credentials entered were valid for Exchange validation. If not, you may see one of the following errors;
AutoDiscoverFailed - The autodiscover service did not manage to obtain Exchange Web Service URL. If this occurs we recommend using Method 2 (Manual Configuration) as opposed to autodiscovery.
Unauthorized - Either the Username or Password is invalid.
ErrorNonExistentMailbox - The email address provided is invalid
NOTE: The Autodetect can take some time but this check will run in the background allowing you to continue with other work as the checks take place.
Method 2: Manual Configuration
Go to Start > Configuration > Email & Integration > Exchange Sync.
The first piece of information to obtain and input is your company specific 'Exchange Web Services URL'. This will only need to be entered once and should only be changed under special circumstances. If the value presented is not the correct format an error will appear.
The IT department at your company should know this information. If this is not the case, and you have auto-discovery set up then you can go to https://testconnectivity.microsoft.com/ and select 'Outlook Autodiscover'. You should look for the value "EwsUrl" in the results you are provided with.
The URL you need will look similar to https://your.domain.name/EWS/Exchange.asmx.
Configuring usernames, passwords and Impersonation Users
Microsoft have a support article containing detailed information on Impersonation and how to configure this. The basic premise behind it is that an Impersonation user will control all of your User's emails yet send them as if they have been sent from the mailbox owner. This is ideal for applications that connect to Exchange such as Workbooks as this one Impersonation User handles all emails, with the recipient completely unaware and the need for only one username and password.
If you do have an Impersonation User set up, then you should input your information into the corresponding field, shown below. This will now work for all users who enable their synchronisation
User Preferences
If you do not have an Impersonation User for your Microsoft Exchange then each user must enter their own password. This should be done by the individual User themselves.
Go to Start > Preferences > Integration > Exchange Sync.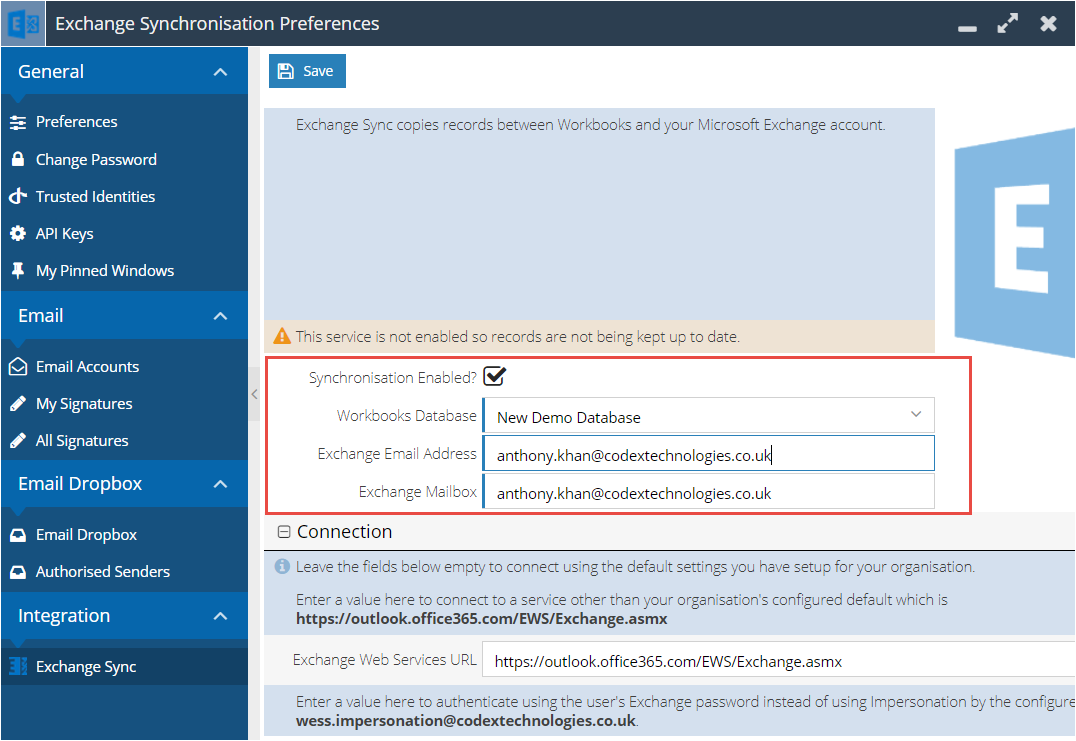 The email 'Exchange Email' and 'Exchange Password' are the credentials they use to log in to Outlook or any other Exchange service.
This information can also be viewed and changed by a System Administrator, however, the password will be encrypted to protect your Users.