Tracking and managing members (People, Leads or Organisations) that are being targeted by a specific Marketing Campaign can be extremely time consuming and complicated. Creating the list of members, understanding their status in respect of the Campaign and carrying out follow-up Activities can be a costly process and therefore efficient management of this will help improve anticipated ROI.
Within Workbooks it is very straightforward to identify members for a Campaign using the reporting mechanism and to associate them with a Campaign. Members can be associated with a Campaign one at a time, either from the Campaign screen using the Members tab or directly from within the Lead, Person or Organisation record using the Campaigns tab. If you want to associate members en masse, i.e. from a report, you need to do this from the Members tab in the Campaign screen.
Open the required Campaign, select the Members tab, and click the Add button. You'll be presented with a choice of adding a member one at a time using the Add People, Add Organisations or Add Leads options, or adding members en masse using the Add Members Selected from Report, Add members from a Mailing List or Add members from a Marketing Campaign options.  NOTE:  Only reports based on People, Organisations or Leads can be used.
When adding members from Marketing Campaigns, Mailing Lists and Reports, you can tick the checkbox called Update Status, to update the existing member campaign status to the selected status of the current campaign. You can also find this Update Status checkbox in the search window when adding individual members to a Marketing Campaign.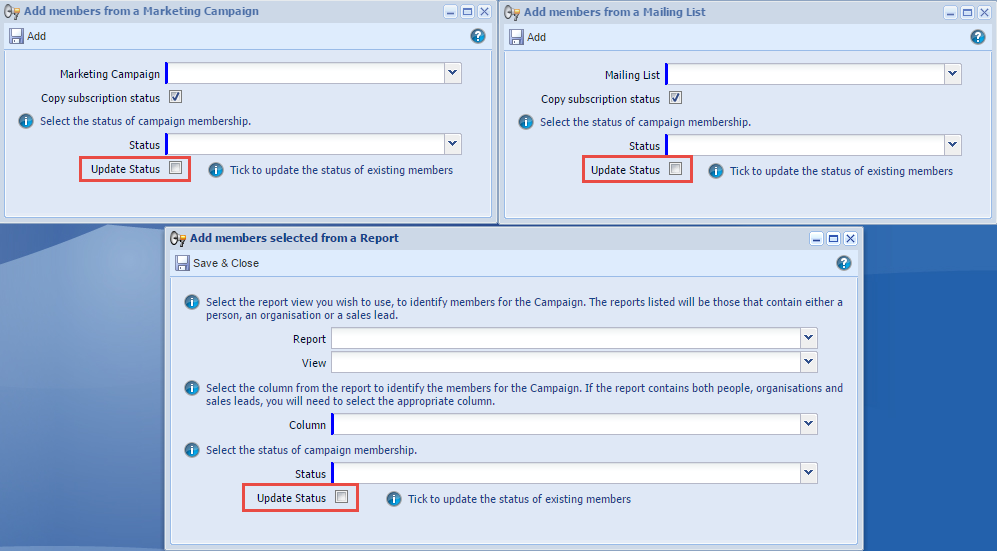 Creating a membership report can be done using the standard Workbooks reporting mechanism and once saved it will be available for selection from within the campaign membership module. 
A member of a Campaign will always be assigned a Membership Status specific to that Campaign. This can be used to record the member's response to the Campaign communications or perhaps to record that they've accepted or declined an invitation. The list of possible statuses for a given Campaign is set up in the Member Status tab by clicking Add Status. To change the status of a member, click the member status in the Members tab and amend accordingly.
You can also add custom fields to the members, to enable better segmentation and categorisation for your Marketing activities. These fields can be set up through the Configuration menu, after which they can be edited within the campaign by clicking on the Member Status value, and selecting Edit membership

You can select and edit the relevant custom fields that you have added in here, which allow you to record more specific data that is relevant to the member for this Campaign, such as the Media Formats that the member is interested in, in the example below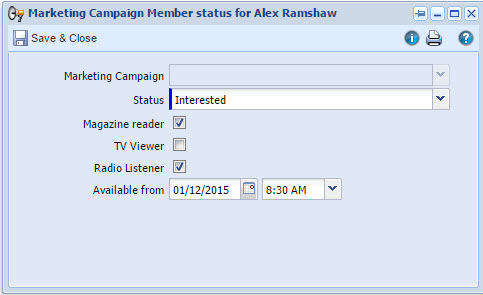 After creating these fields, they can then be added as columns in the Members View, which you can use to either filter against, or sort by depending on your requirements

You do not need to individually update the Member details, since these fields can be modified and filled in through the use of a Bulk Update.
You can make the Assigned To column visible and apply a filter to this, which makes it easy for the relevant user(s) to focus on following-up with the accounts that they 'own'. The follow-up activities of a Campaign could be a telephone call, a personal email, a meeting or potentially a follow-up email as part of an email Campaign. All of these activities can be managed from the Campaign itself. A Mail Shot can be sent from within the Mail Shots tab.