This page provides information on:
NOTE: Users of the free edition cannot send emails via the Workbooks server and so must first configure their database to send email via their own external mail server.  If you try to send email before the configuration has been set you'll see a dialogue box prompting you to make the necessary changes.  Click here for more information on configuring these settings.
Create your Email
Click Start > New > Email or from within a record, open the Emails tab and choose Send Email.  If any Email Templates have been created that can be used with the type of record you've opened, you'll be offered a choice of them at this point.
Recipients
If you're creating the email from a Person record (and there is a valid email address for that person), their name will automatically appear in the To field.  You can add more people to the To, Cc and Bcc fields by typing the recipient's name or select it using the dropdown picklist that appears as you start to type a name. Workbooks will dynamically update the list as you type to ensure that relevant results are returned. You can add People, Leads and Mailing Lists to any of the recipient columns. To send an email to a Mailing List simply type the name of the list into the Recipient field as you would for a Person or Lead.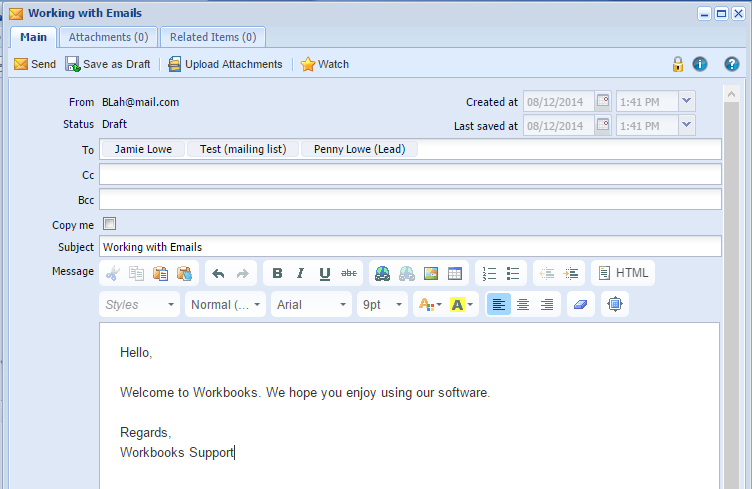 Right-click context menu
View that recipient's Person/Lead/Mailing List record – The recipient or Mailing List must already exist on your Workbooks database to see this option.
View that attendee's Employer (Organisation) record – This Organisation must already exist on your Workbooks database and be linked to this attendee via the Employer field on the corresponding Person record to see this option.
Call them directly from Workbooks using stored numbers – There must be a phone number stored on the Person or Lead record for this attendee otherwise this option will not be present in the list. You must also have Telephone Integration configured such as Skype.
Email them directly from Workbooks using a stored email address – There must be an email address stored on the Person or Lead record for this attendee. NOTE: It isn't possible to add a Person/Lead as an attendee if they do not have an email address. You can however enter in just the email address.  When you click enter Workbooks will  give you the option to add that email as a record to your database as a Person or Lead.
Remove them from the recipients list.
Writing your Message
If you've applied a template to your message, the Subject and Message fields will be populated, but you can still modify them if required.
If you aren't using a template, enter a Subject for your email and then enter the content of your Email, either straight into the Message field (where you can use the formatting toolbar to format your message) or click HTML to build your Email via HTML.
Your default Email signature (if you've set one up) will appear in the Message body.
Links
You can include links to URLs or to files stored within your Upload Library.  To do this, highlight the word(s) you want to be the link and click on the Link symbol in the formatting toolbar.  In the dialogue box that appears, choose your Link Type and Protocol using the dropdown picklists and fill in the information for the email address or URL.  To link to a file within your Upload Library, click Browse Server. Click to select the file you want to link to, then click OK.
Images
To include an image in your email, click on the Image button in the formatting toolbar.  Enter the URL for where the image is hosted or click Browse Server to select an image from your Upload Library.
You can control the appearance of the image by editing the Width, Height, Border, HSpace, VSpace and Align fields.  (HSpace and VSpace control the horizontal and vertical space between the image and the surrounding text.)
Including Attachments
To attach a file (or files) to your email, open the Attachments tab and click Upload Attachments.  Click Browse and choose the file you want.  To add another file, click the plus symbol.  When you've identified all the files you want to attach, click Upload.
Note: This Forum article explains the Size limits of Emails and Attachments.
Sending your Email
When you're ready, you can send your Email or save it in draft format and return to complete it later.  You'll find the Save as Draft and Send buttons on the Main tab, or you can click on the Email icon in the top left-hand corner and choose from the options that appear.
The only templates you can apply will be those that are relevant to the record type you have open.
If you want a copy of the Email to be sent to your email client Inbox tick Copy me.
Viewing Emails
Your Email will be stored within the Email tab of the record against which you created it as well as being accessible from the Emails Landing Page.  In addition the Summary and Email tabs on an Organisation record show any Emails sent to or from Employees of that Organisation.