Introduction
Tip
Watch our 'Getting Started with Workbooks' video at the foot of this page to get a head start with using Workbooks.
Unlike many other CRM solutions, Workbooks is intuitive and simple to understand. Workbooks provides a "windows-like" desktop interface.
When you login, you'll see the Desktop and the Welcome Message (5), as shown below.
Use the Start button (1) to access your records and other parts of Workbooks.
Use the Search icon (2), or search bar to find the records which you're looking for quickly.
Click the Training Videos icon (3) to access our current short training videos.  These are added to regularly so remember to revisit this page from time to time.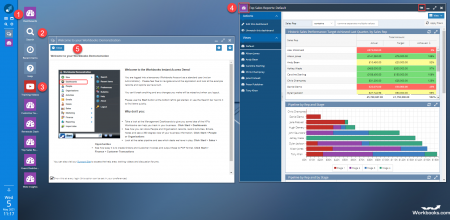 You can control which, if any, windows open automatically when you login, by 'pinning' Landing Pages and/or records using the pushpin symbol when clicking on either of the highlighted boxes (4). Clicking on this symbol causes the Landing Page or record to open when you first login. 
NOTE:  The window will appear the same size and in the same position as it was when you pinned it.  You can stop the window from opening on login by clicking on the pushpin again or by deleting the option from the My Pinned Windows section within Preferences.
Clicking Start opens a menu from which you can navigate to records.  For example, clicking Start > People opens the My People Landing Page, seen below.  From here you can choose to show other views, open records, customise the appearance of the grid, create new records and manage queues.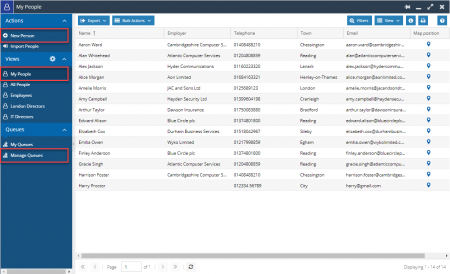 Read more about this functionality in the page on Landing Pages.
To help you get started, visit our End User Training Video page here.
Related content
An Introduction to what settings Users can change themselves, such as their pinned windows, welcome messages etc.
What Landing Pages are, what you can do within them and how to modify the display/results to display only the information you want to see.