Using the Outlook Connector
The Workbooks Outlook Connector is simple to use but there are lots of features that may not be immediately obvious after first installation. Below, you will find our usage video which runs through how to use the Connector and its functionality. If you have not yet installed the Outlook Connector, you can find instructions on how to do this in our Outlook Connector Installation guide.
Alternatively, please find the written guide below. Click the links to navigate to a specific section:
Once the Connector is installed, items in Outlook have one of the following 'sharing states':
Native - these are items which have been created in Outlook, but have not been converted for or shared with Workbooks.
These items are identifiable in the contact list view within Outlook by the standard contact card icon as shown below:

Unshared - these are items which have been converted into the format which allows them to be shared with Workbooks, but have not yet been shared.
These items are identifiable in contact list views within Outlook as they use the Workbooks icon but it's greyed out as shown below:

Shared - these are items which have been converted and shared with Workbooks, and will therefore appear both in your Outlook and your Workbooks account.
These items are identifiable in the contact list views within Outlook as they use the Workbooks icon.

Taking into account the three possible states of an Outlook record once the Workbooks Outlook Connector is installed, it's relatively simple to convert a record at a later date so that it can be synchronised across to Workbooks.
Within Outlook, open your contact list and click once on the contact that you wish to convert: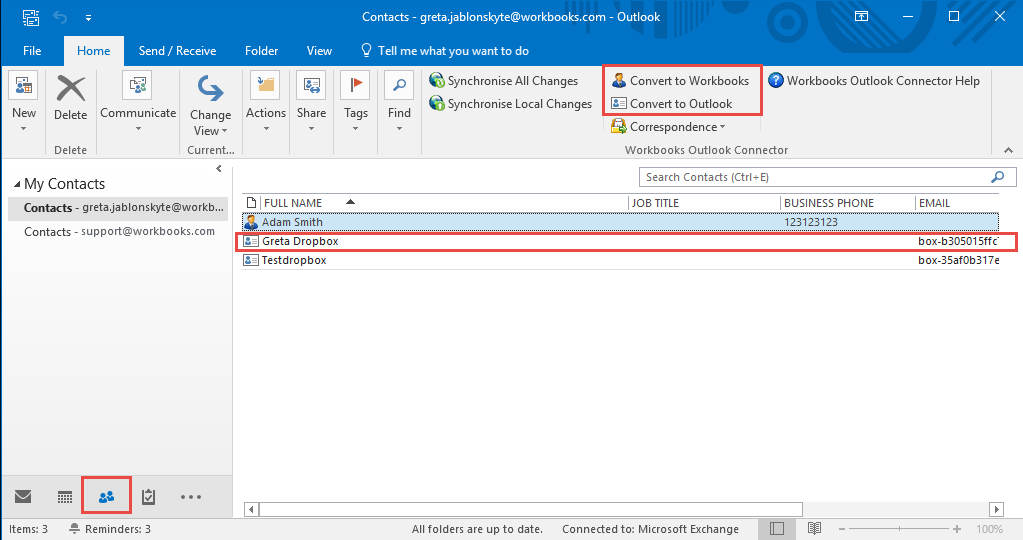 You will see buttons within the Outlook ribbon to ''Convert to Workbooks'' or ''Convert to Outlook''. Once either button is pressed the icon will change accordingly as previously mentioned. This doesn't mean that the item will be shared with Workbooks when the next synchronisation takes place. If you want it to appear in Workbooks you must share the item as described below.
When you accept an invite to a Meeting or Appointment in Outlook, it will not be synchronised into Workbooks by default. In order to achieve this synchronisation, you need to convert the meeting into a Workbooks format, and then let Outlook know that you want the meeting to be shared with Workbooks.
Find the meeting that you wish to synchronise in your Outlook calendar and select it.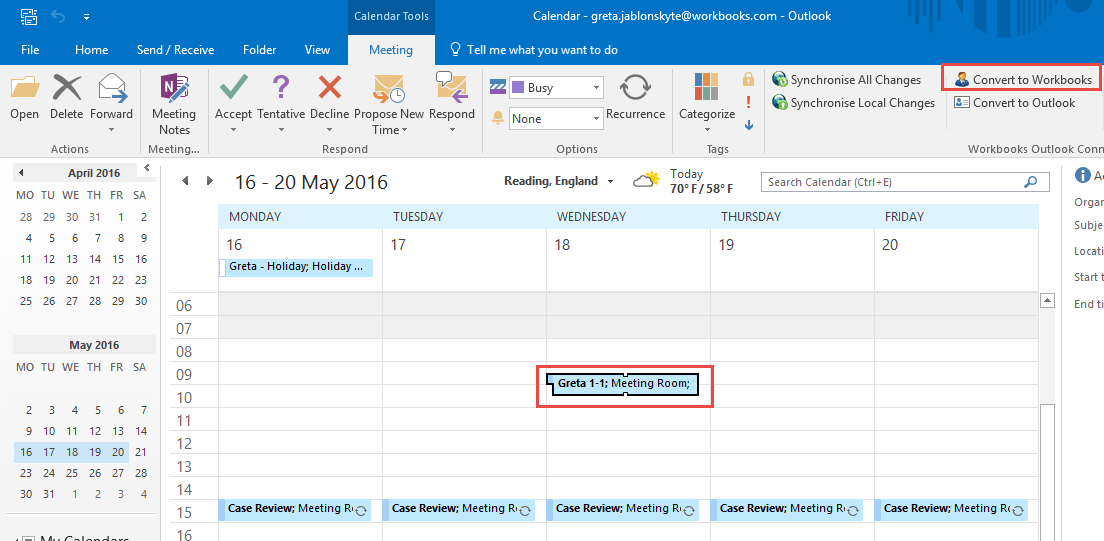 You will see a button on the Outlook ribbon called "Convert to Workbooks". When you click this button the icon will change as mentioned previously. However, this doesn't mean that the meeting will be shared on the next synchronisation. In order to make it appear in Workbooks you must share the item as described below.
NOTE: When completing the First Run Assistant if you checked the box to always share new Appointments, Contacts and Tasks, you won't need to manually share items.
If you create an email within Outlook that you want to appear in Workbooks, just click the grey ribbon at the top of the item, where it says ''Share this email with Workbooks after sending''. This will change the ribbon text to ''This email will be shared with Workbooks after sending''.

You can populate the rest of the email as normal, including any attached files, if appropriate. Similarly, if you have an inbound email that you want to share, open the mail and click on the grey ribbon which says ''Share this email with Workbooks''.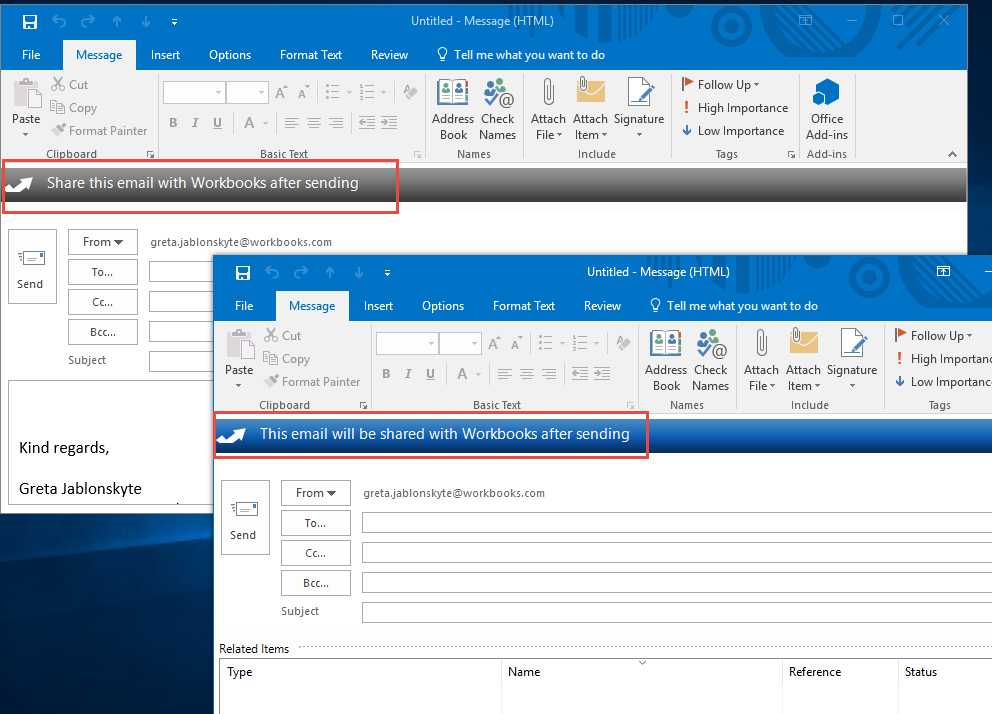 The next time the synchronisation runs, the email will appear in Workbooks. If you do not want to wait for the next scheduled synchronisation, a manual sync can be run at any time. If you forget to share an email, you can locate the email in your sent items, open it, and click the sharing ribbon to share it.
If you create a Task or a Meeting in Outlook, you'll see a similar grey ribbon at the top of the item saying either ''Share this task with Workbooks'' or ''Share this meeting with Workbooks''. Meetings and tasks differ slightly to sharing emails, when the record is shared you will see fields for the following:
Assigned To: This works in the same way as other assigned to values in Workbooks. If you are assigning a record to another user, they will receive a notification in line with their preferences.
Type: This is the type of task; values here will match the Type picklist on your activity records.
Primary Contact: This is reasonably self-explanatory and should be the person that should be contacted about this activity record. If this is a To-Do then this is most likely to be set to yourself.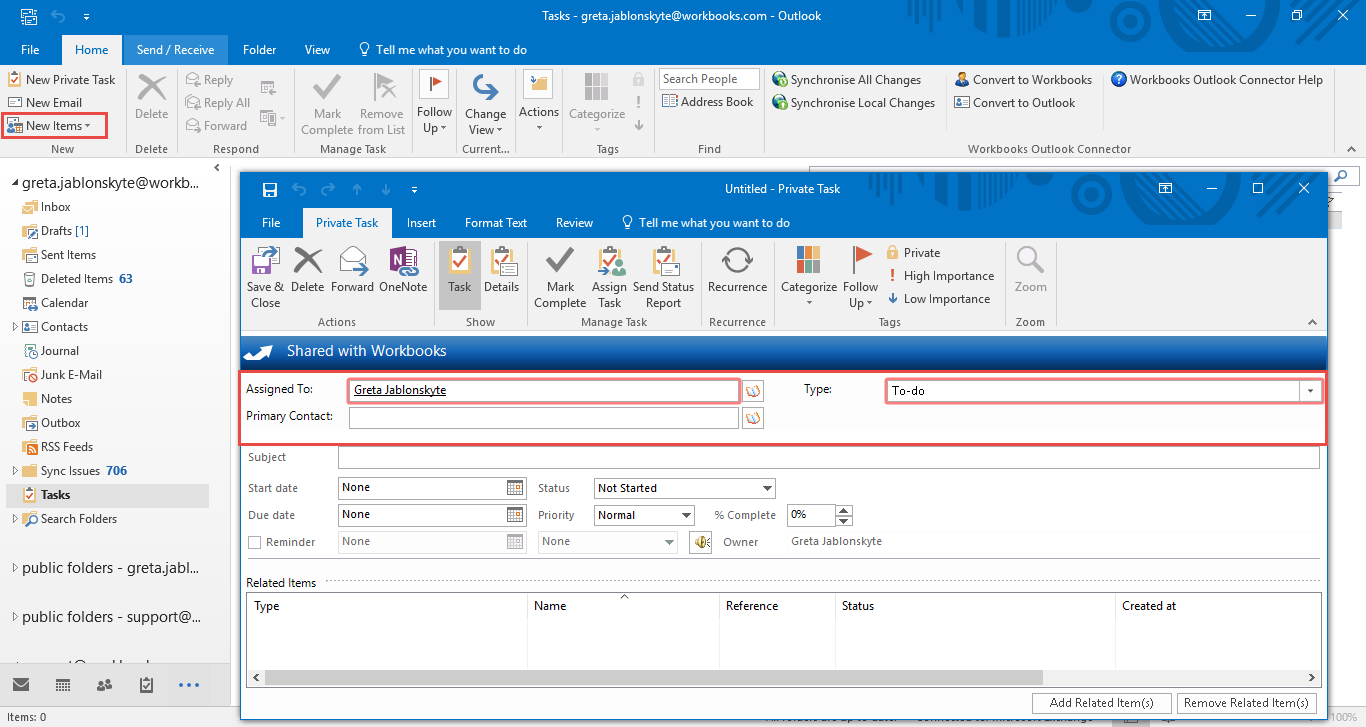 You'll notice from the screenshots above that clicking on the ribbon not only changes its colour but also opens up a Related Items window at the bottom of the email.

This enables you to link the item to other Workbooks records. The Workbooks Outlook Connector now allows a user to relate emails to all record types within Workbooks. You are also able to use a ''Live Lookup'' to find records that you haven't already synchronised down in your filter settings. You can link an item to as many Workbooks records as required.
To relate items, simply click the ''Add Related Item(s)'' button and choose the relevant records. You can remove them again by clicking ''Remove Related Item(s)'' as seen here: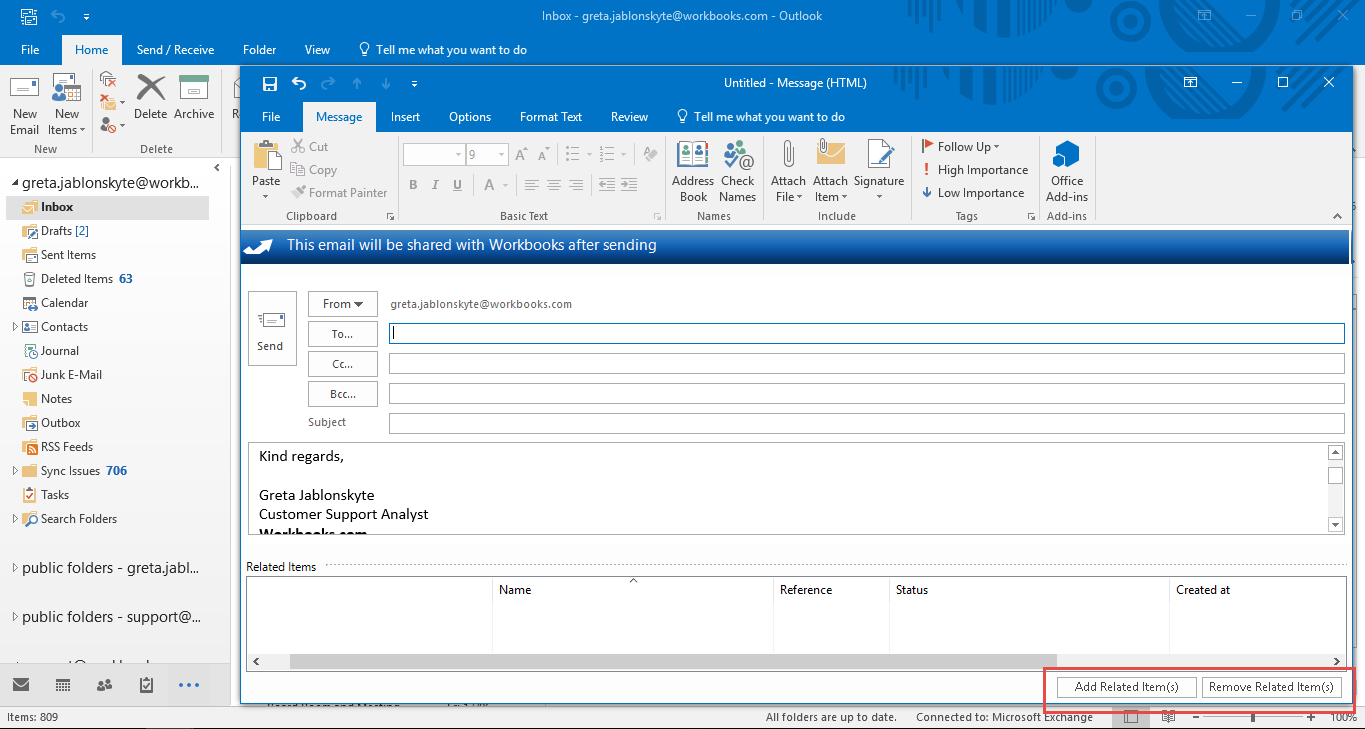 By default you'll see a list of Organisations but you can use the dropdown under Show to access records of different types. The Workbooks Outlook Connector allows you to look up records that you may not necessarily decide to synchronise down from Workbooks with your filter settings.
The feature allows you to relate an activity or email to a record that you may be working on for a specific time period and you do not wish to synchronise this down permanently with other records as defined in your filter settings. To make use of the feature, click Add Related Item(s). You will see a new dialog box open: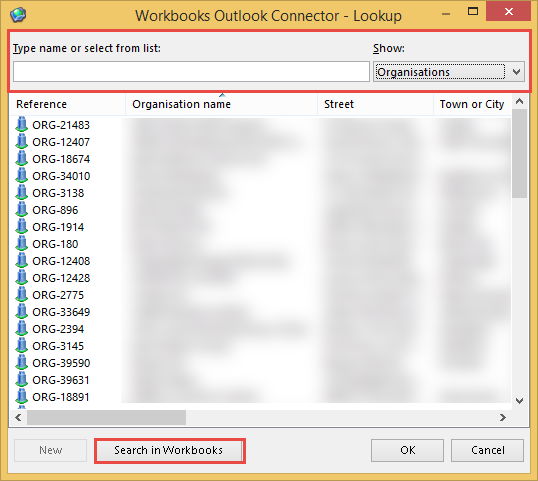 You can search by:
picking a name from the list manually
searching by typing in a name and changing the record type
clicking ''Search in Workbooks'' to use the live lookup if you cannot find the record you are looking for.
Within the live lookup dialog box, type in your search terms and click Search, if any records are found they will be displayed below. The search will return the first 100 results. Click OK to select the record.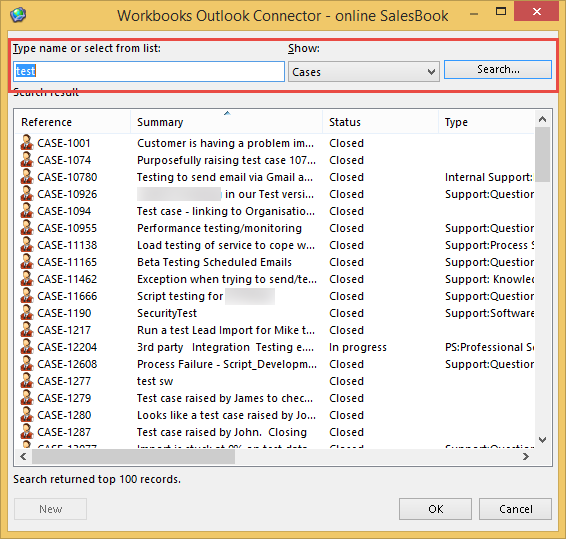 Once you've installed the Workbooks Outlook Connector the synchronisation will run in the background depending on the frequency you applied when working through the First Run Assistant. If you've configured the Connector to show progress you will see the following when the synchronisation is running: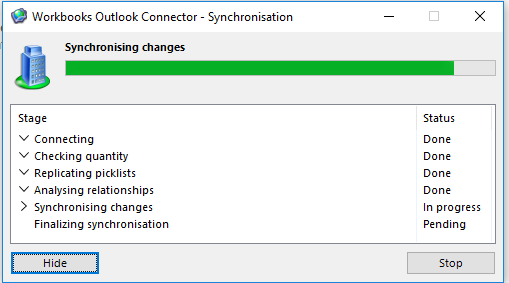 If you want to force a synchronisation at any other time, click on the Workbooks Outlook Connector icon in your system tray at the bottom right of your screen, which looks like this. The icon will only be present when Outlook is also running.

When you right click on the icon, you will be presented with a menu giving you the following options: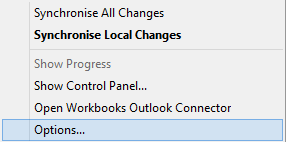 Synchronise all changes: This starts a bi-directional synchronisation between Workbooks and Outlook.
Synchronise local changes: This starts a one-way sync from Outlook up to Workbooks.
Show progress: This is initially greyed out but if a synchronisation is in progress, you can click this button to shown a dialog box of the sync progress.
Show control panel: Allows you to change your synchronisation filter settings.
Open Workbooks Outlook Connector: This option brings Outlook to the front of all open windows.
Options: Gives you multiple options to change the configuration of the Workbooks Outlook Connector.
Users are also able to run a synchronisation manually from within Outlook by clicking the Synchronise all changes or Synchronise local changes buttons found on the Outlook ribbon. You can also access the Workbooks Knowledge base by clicking Workbooks Outlook Connector Help.

If you want to change the filter settings that the Connector uses you can do this at any time. By right clicking on the Workbooks Outlook Connector icon from the Windows taskbar: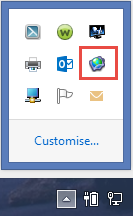 Click Options in the menu that appears.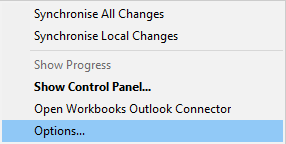 Click on Filters and then Customise...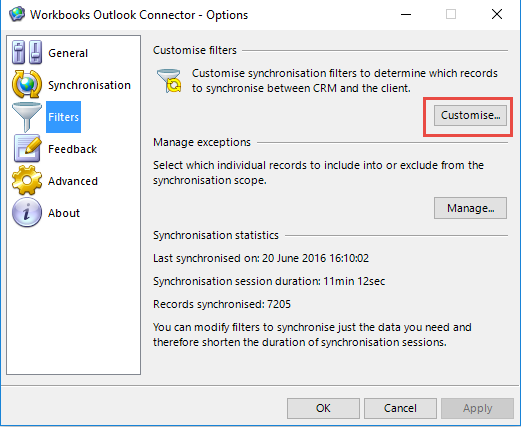 Here you can amend the filter settings that control which Workbooks items are synchronised with Outlook.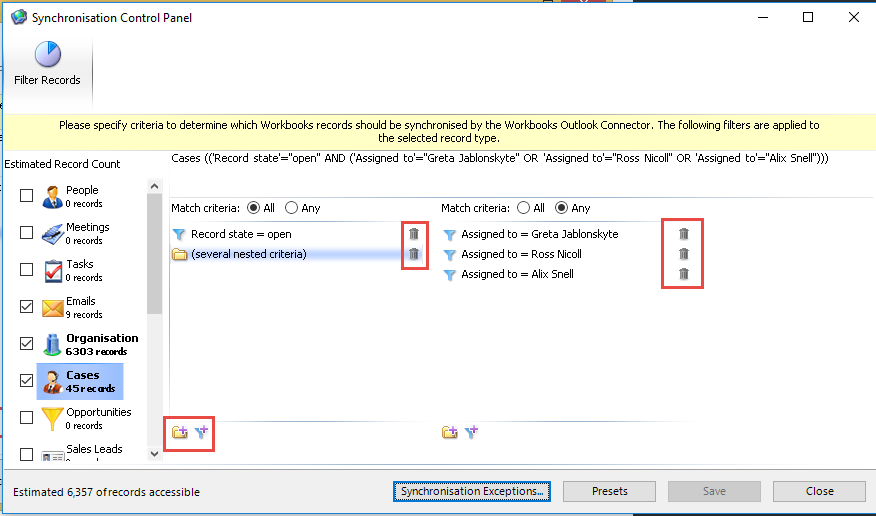 To change the default filters, simply click on the record type icon, and add or remove criteria as required by clicking the associated buttons. Users have the option to add nested criteria to provide AND/OR filtering enabling the user to be more precise with records that are synchronised down.
The example shown in the screenshot above for meetings says that the record state must be open AND assigned to ''Greta'' OR ''Ross'' OR ''Alix''.
NOTE: The filter 'Record state = open' on Tasks and Meetings means that any Activities that you Complete in Workbooks will then have a state of 'closed' and so will be removed from your Outlook; removing this filter will stop that from happening.
Clicking the add button shows another dialog box allowing you to select from a list of fields on that particular record type in Workbooks. You can choose a condition from a selection of equal to, like, not equal to, null, and not null. In the value box you can free type the value of the field that you wish to search for.

The default filters should be sufficient for most users, but these can be changed to suit your needs. The default filters will synchronise records which are assigned to you or are marked as being watched by you.
Tasks and meetings are slightly different and include an additional filter which is anything where the record state is ''Closed''. The Workbooks Outlook Connector will also only synchronise meetings and tasks where the due date is up to a maximum of 180 days in the past. There are no limitations with records in the future.
NOTE: If you use the Adobe Sign Integration, make sure that you exclude the Adobe Sign Tasks from the synchronisation. The Outlook Connector could incorrectly mark the Workbooks Task as complete before the document has been signed.
From time to time, the Workbooks Outlook Connector might prompt a user that it encountered collisions after a synchronisation has completed. A collision occurs if a record has been updated in both Workbooks and Outlook since the last synchronisation.

These are relatively simple to resolve and best practice is to correct them as they arise to prevent a backlog and to ensure that your records are kept up to date. The screenshot below shows the Connector icon if there are any collisions:

To resolve, double click on the icon to open the synchronisation control panel then click ''Collisions''. You will see a number in brackets beside this showing how many collisions were detected during the last sync.
From here, you can choose whether the Workbooks record wins or the Outlook record wins. You are able to toggle between a simple view to list the records or show an advanced view to see exactly which field on a particular record was detected as a collision.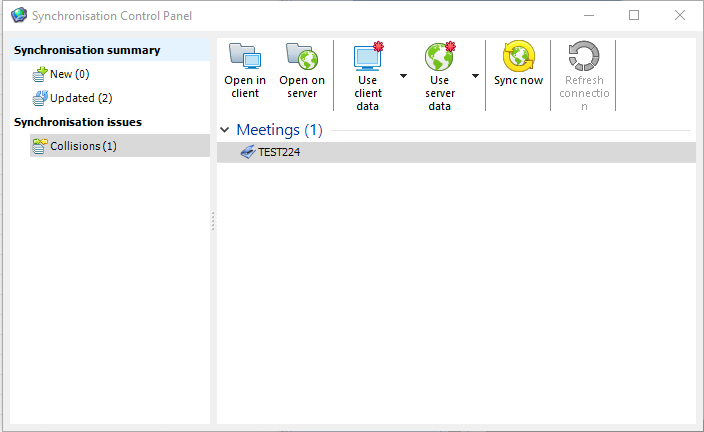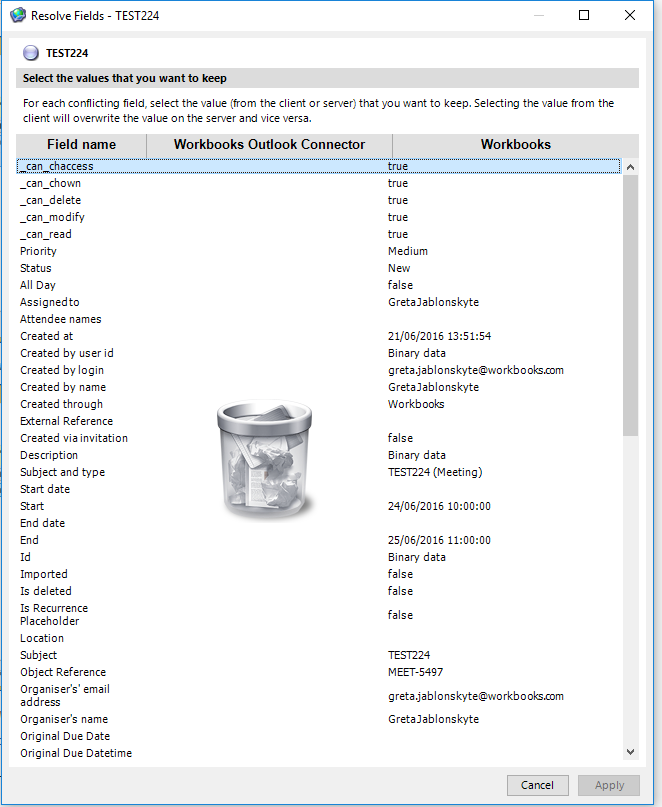 Duplicates are very similar to Collisions in the Outlook Connector; the main difference is that Duplicates are detected on new records rather than changes to existing ones.

Duplicates do not prevent a synchronisation from completing, it will just stop the affected record from being updated until the Outlook Connector has been told which values are correct. You can resolve Duplicates in the same way as you would resolve a Conflict (see above). Opening a Duplicate will show you the field values in Workbooks and the field values in Outlook; you simply have to determine what values overwrites.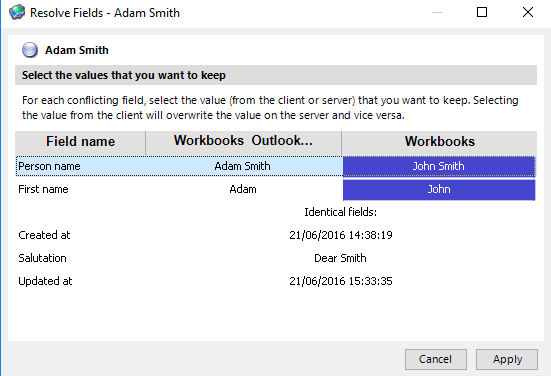 When you use the Live Lookup functionality, records that are not normally synchronised down to Outlook will show up under the additions menu. In the dialog box that appears, a grid view will be shown with each record listed: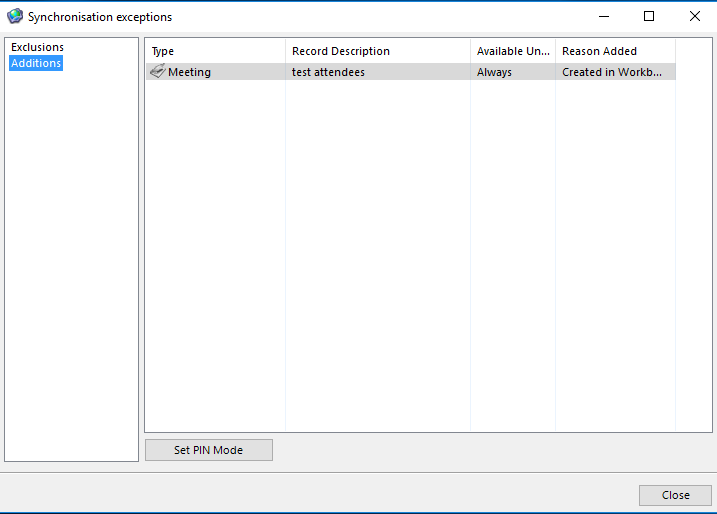 Under the additions option, users are given the option to Pin records for a set period of time which is particularly useful if you are working on a record but do not want to synchronise this down within your filter settings.

You cannot currently choose which records to pin as they are pinned automatically when you use the live lookup functionality and will appear here for 1 month by default. You can change this duration by clicking the Set PIN mode button to reveal the following options.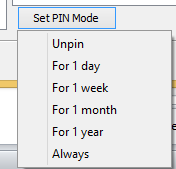 Exclusions are managed automatically by the Workbooks Outlook Connector and the user currently has no control over this section of the software.
This feature of the Workbooks Outlook Connector has been designed to make the task of saving correspondence (i.e. emails) with Workbooks against contact records easier for the user.
Within the Contacts view in Outlook, select a contact that is in ''Shareable'' state gives you access to an additional button on the Outlook ribbon titled ''Correspondence''. This can be found below the ''Convert to Workbooks'' and ''Convert to Outlook'' buttons: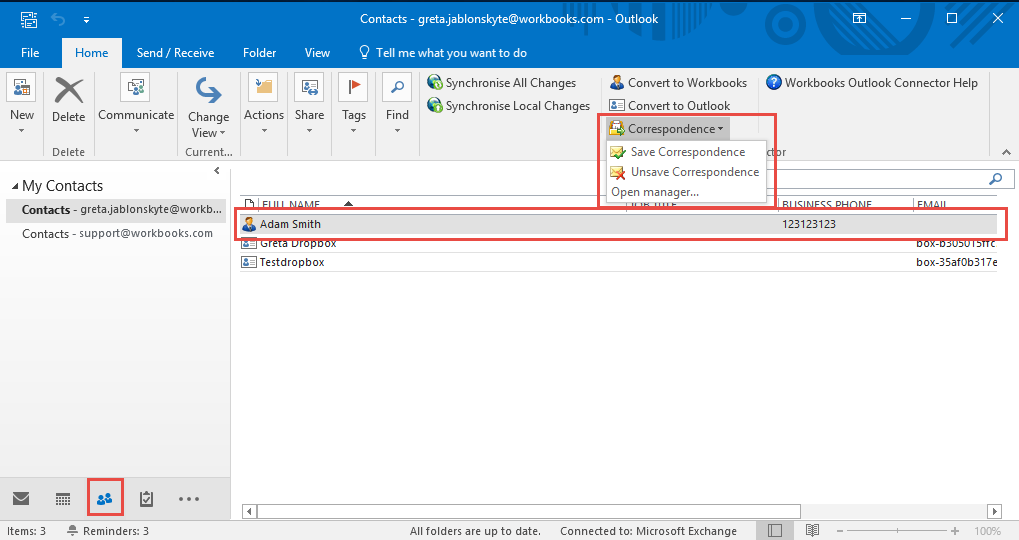 NOTE: This button is only available if the selected contact is in a shareable state i.e. it has a blue or grey person icon beside it.
Clicking the dropdown arrow provides three options:
Save Correspondence: This will save all emails for the highlighted contact.
Un-save Correspondence: This will turn off the feature to save all correspondence for the selected contact.
Correspondence Manager: This option opens up another dialog box to manage all contacts on a bulk basis.
The manager will only display records that are have a ''Shareable state'' and therefore is much easier than selecting each person on the contact grid view where Outlook will display private Outlook contacts and Workbooks contacts that have not been shared.
To use the correspondence manager, simply highlight a contact by clicking it then use the arrow keys to move each contact between a ''Do not save correspondence'' or ''Save correspondence'' state.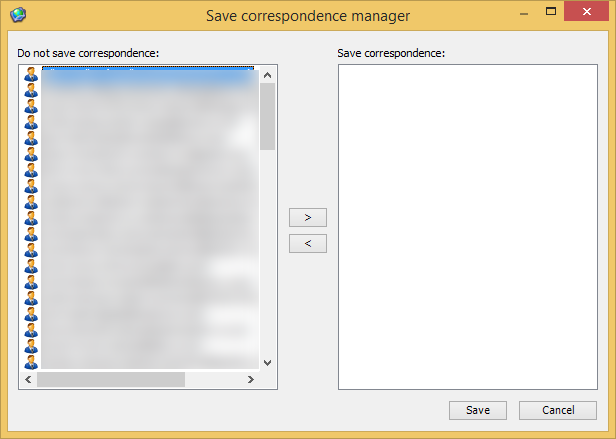 Click ''Save'' when you are finished or ''Cancel'' to discard any changes. Any emails created involving contacts where ''Save Correspondence'' is enabled will automatically be shared with Workbooks during the next synchronisation.
To change the way in which the Workbooks Outlook Connector is configured, right click on the icon and choose ''Options''. From here you can:
Change the account that is being used to login to the Workbooks Outlook Connector.
Amend the frequency with which the synchronisation takes place.
Switch on/off the automatic sharing of new Outlook appointments, contacts and tasks.
Configure logging for resolving errors.
Send over log files via your email client.
Find out your current Workbooks Outlook Connector version.
NOTE: Any changes that are made here will need to be applied before they will take effect. Click Apply then OK to commit any changes to your settings.
Login information can be changed by clicking on General from within Options.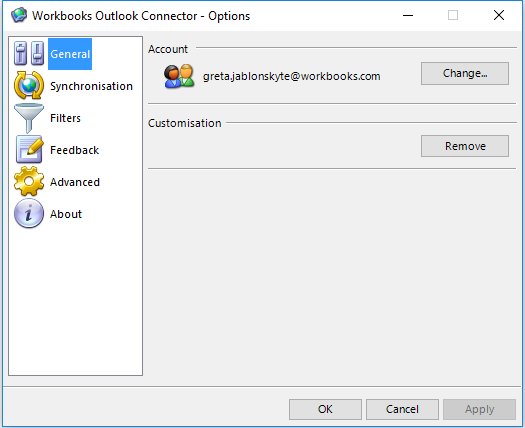 From here, you will see the currently logged in account. You can click Change which will present you with a login screen as shown below: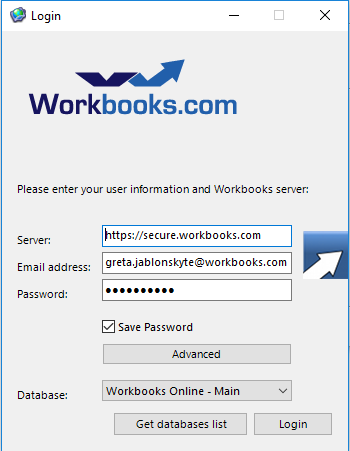 NOTE: The change button is greyed out once clicked and while the login dialog box is open.
From the general tab, you can also remove your account completely by clicking the remove button. All data that is not synced with Workbooks but in a ''Shareable'' state will be lost if you choose this options. You will be prompted to confirm this change but please use with care.

From the synchronisation tab, you can change how frequently the Workbooks Outlook Connector will sync records. As per the First Run Assistant, users have the option to set up an automatic synchronisation for a bi-directional synchronisation (Outlook to Workbooks and vice versa) or a one way synchronisation (Outlook to Workbooks only). The frequency can be set to the following:
Bi-Directional -> Every half an hour, Every hour, Every 12 hours, Daily or Weekly.
One way -> Every 2 hours, 4 hours, 6 hours or Daily.
Alternatively, either can be disabled from this screen and you also have the option to show the synchronisation progress if you wish. By default, all three options are enabled. Click ''OK'' when you are happy with the settings.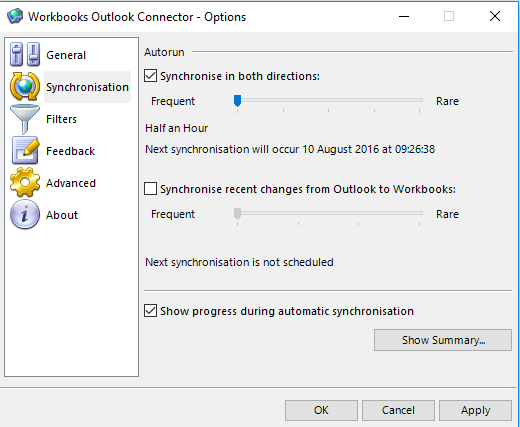 From the Advanced tab, you can configure the Workbooks Outlook Connector to ''Always share new appointments, contacts and tasks''.

Also under the advanced tab, you can configure additional logging for the Workbooks Outlook Connector.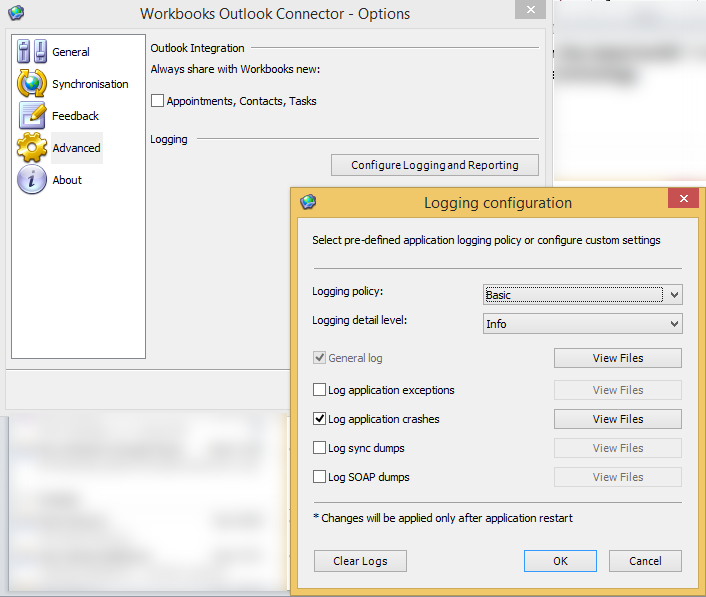 By default, general logging and application crash logs will be enabled. This is sufficient in most cases. Should you have an issue the Workbooks Support team will be able to give detail as to which additional logging should be switched on. It is advisable to leave logging switched off (apart from the defaults) to provide optimal performance.
From the Feedback tab, you are able to send log files over to the Workbooks support team for investigation if you are experiencing issues.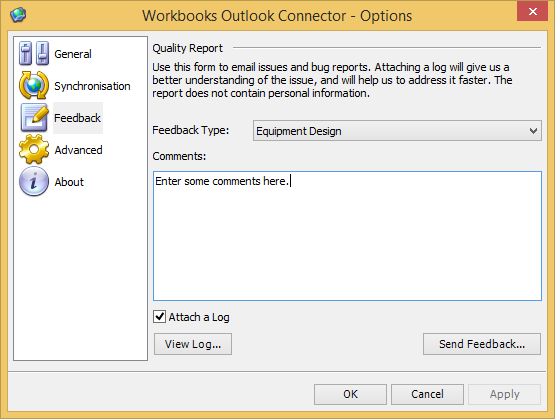 Feedback type
This picklist makes up the subject of the email that is sent to the support team.
Comments
This is the message that will be sent to the support team.
Attach Log
A simple checkbox for enabling/disabling an attachment of a text file containing logs.
View Log
This file may not be legible to the standard user but can be very beneficial in diagnosing problems if they arise.
Send Feedback
This opens up an email in your client taking into account the settings chosen above.