Creating Phone Call Activities
The Ring Central Integration is a call logging functionality that is made available to all users. It creates Inbound and Outbound Activity calls which can be then used to report on and is available across any app device such as desktop, phone, Chrome etc.
When a phone call is made or received, Workbooks receives a webhook request with the call details via the Ring Central Receiver web process. When these requests are received, the details of the call are stored in API data.
The call details stored in API data are then extracted from the webhook message and stored in an activity of type Phone Call.
When the activity is created, it is assigned to whoever made the call. It will set the Primary contact on the Phone Call Activity based on the phone number on the account and populates the call length and provides a URL link to the recording.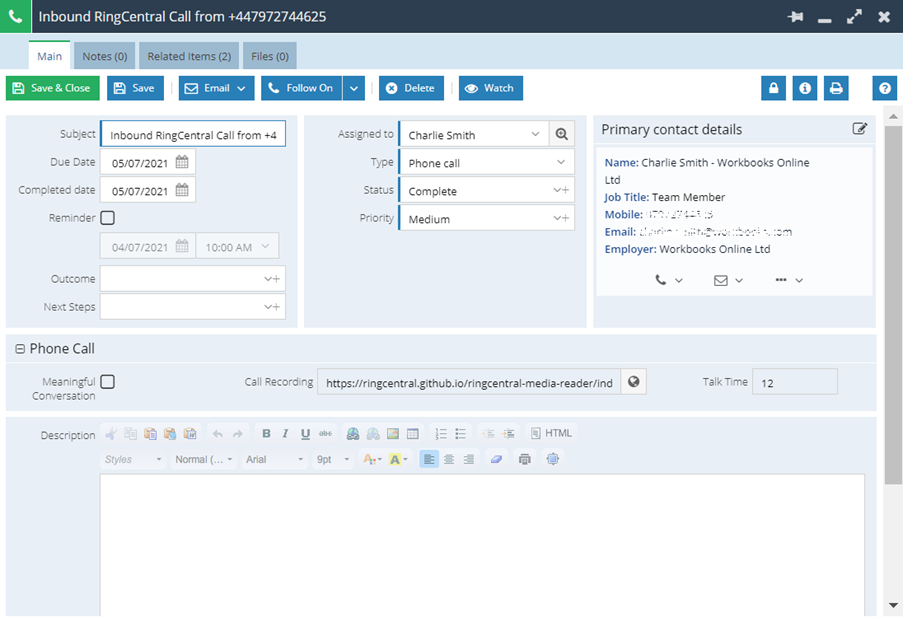 In addition to this, it will also populate the following fields for Inbound and Outbound Calls:
| | | |
| --- | --- | --- |
| Workbooks Field | Data Type | Workbooks Field Value |
| Subject | Text | Inbound calls will be concatenated with 'Inbound Ring Central call from + Number'. For Outbound calls, it will be the same but instead concatenated with 'Outbound'. |
| Due Date | Date | Date of when the call is received. |
| Completed Date | Date | Date of when the call is received. |
| Type | Picklist | Set to type Phone Call. |
| Status | Picklist | Set to Complete. |
| Priority | Picklist | Set to Medium. |
NOTE: No Phone Call activities will be created for any missed calls.
The Primary Contact details on the call activity will only be populated if that person exists within Workbooks. If the person does not exist in Workbooks, then these details on the activity are left blank.
Similarly, if a person does not exist in Workbooks and Ring Central, then the Assigned To of the activity is set to 'Unassigned'.