Once you have successfully installed the Workbooks Outlook Connector and open Outlook for the first time, you will be presented with the Workbooks Outlook Connector Assistant also known as the First Run Assistant (FRA).

The wizard will enable you to configure the Connector to your requirements and so the steps should be followed carefully to ensure they are correct. You can click the links below to skip to the step you require:
Step 1: Starting the First Run Assistant
Click anywhere within the grey box that appears to continue. This is how the wizard will look with an installation of Outlook 2010. Your environment may differ slightly to this screenshot if you are using a newer/older version of Outlook.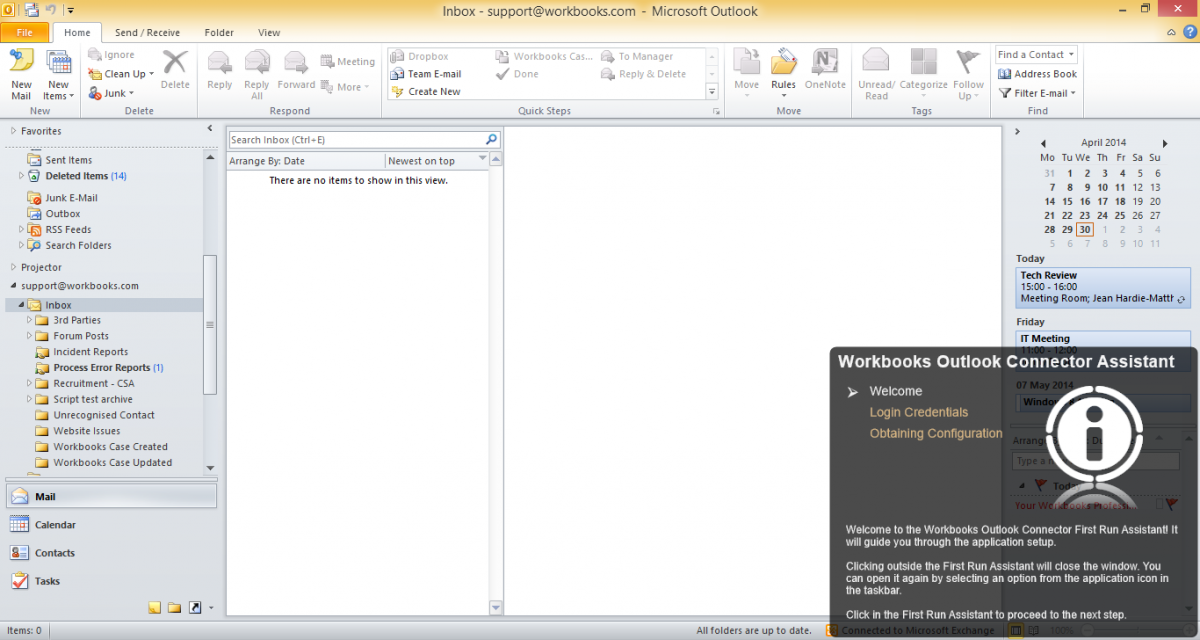 Step 2: Login
Enter your login details. These are the same credentials that you use to access Workbooks. It is recommended to click Save password to avoid having to enter this each time you open Outlook.
NOTE: If your Workbooks credentials change at any point then you will be prompted to update the connector credentials also as this is not an automatic process.
Once you have entered your login information, click Get databases list to retrieve a list of databases that you currently have access to ensuring that you choose the correct one from the Database picklist. You should select the database that you wish to synchronise records to & from Outlook.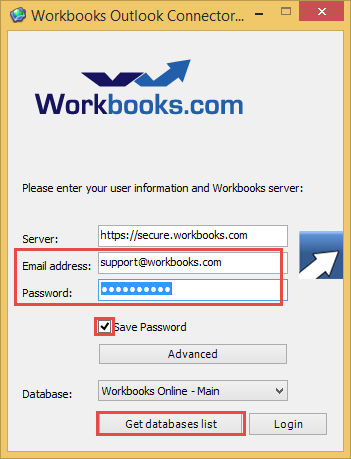 If you access the internet via a proxy service i.e. a web filtering service then you will need to configure these settings by clicking the Advanced button on the login screen shown above. If you are not sure, then your IT team will be able to confirm whether or not you need to enter anything here.
Once you are happy, click OK and then Login on the previous screen.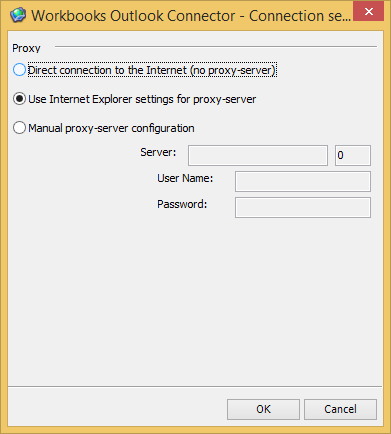 The wizard will then apply the configuration to your Outlook installation. While this is taking place, you will see a progress bar as shown below:

Click anywhere within the Workbooks Outlook Connector Assistant to continue.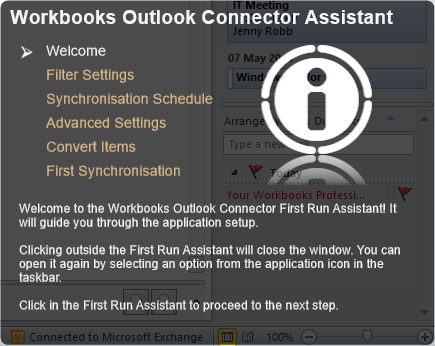 The next step allows you to configure which record types will be synchronised down from Workbooks when an automatic/manual sync runs.
The Workbooks Outlook Connector enables you to synchronise People, Organisations, Leads, Cases, Opportunities, Meetings and Tasks, Transaction records, Marketing Campaigns and Products.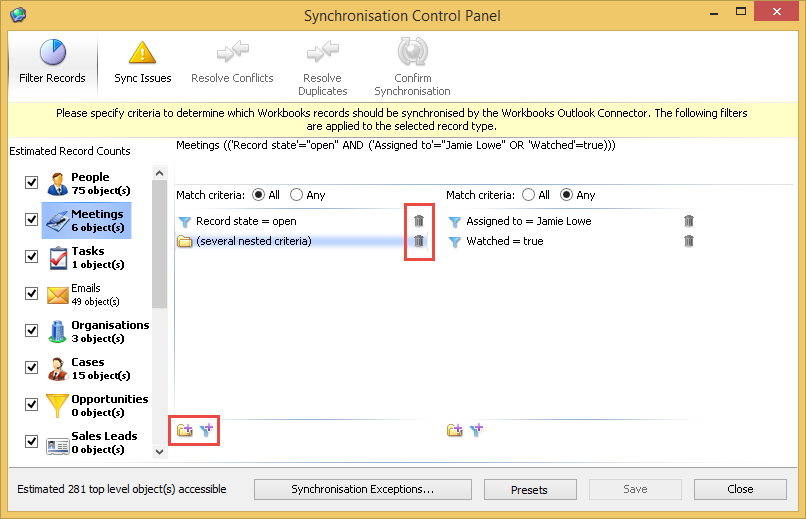 You can uncheck/check record types as required and also configure filters to only synchronise records that you are interested in. More information on changing filter settings can be viewed here within our Using the Workbooks Outlook Connector guide.
NOTE: Two filters that you probably want to remove at initial set up are on Tasks and Meetings. The filter 'Record state = open' means that any Activities that you Complete in Workbooks will then have a state of 'closed' and so will be removed from your Outlook Calendar; removing this filter will stop that from happening.
Filter settings can be changed at a later date by clicking Show Control Panel from the Workbooks Outlook Connector menu.
IMPORTANT: We would recommend that no more than around 5000 records are synchronised across in one go to optimise performance. Click Close when you are happy with the settings.
Further to configuring your filter settings, you can set up some default settings so that if a user does happen to change the configuration of the filters at any point they can be restored to their original values. Set up your filters as required then click the Presets button to manage this.
You'll then have the options to save the current settings as a preset, reset the filters to the system defaults or lastly you have the option to view all available presets which will be a selection of past filter settings.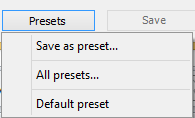 Clicking the All Presets shows the following screen: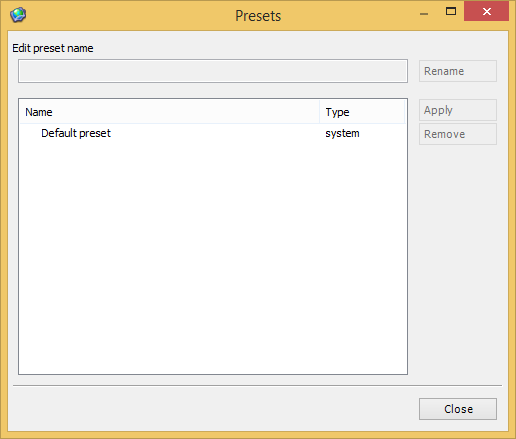 If you have previously configured some filters and saved them then they will be listed here for you to re-apply if you wanted to by clicking each one individually and then Apply.
You can also rename presets if you wish by typing the in the Edit Preset Name textbox then click the Rename button.
You can configure the synchronisation schedule as required on the next screen.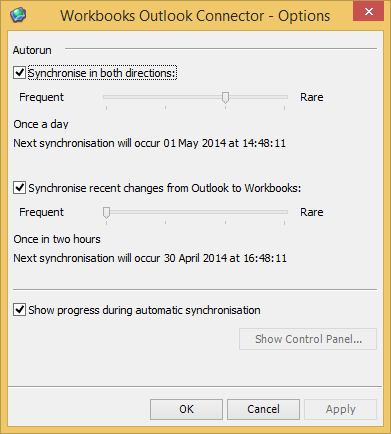 Users have the option to set up an automatic synchronisation for a bi-directional synchronisation (Outlook to Workbooks and vice versa) or a one way synchronisation (Outlook to Workbooks only). The frequency can be set to the following:
Every hour, Every 12 hours, Daily or Weekly.
Every 2 hours, 4 hours, 6 hours or Daily.
Alternatively, either can be disabled from this screen and you also have the option to show the synchronisation progress if you wish. By default, all three options are enabled. Click OK when you are happy with the settings.
You can configure the Workbooks Outlook Connector to automatically share new appointments, contacts and tasks by enabling the option to do so on this screen.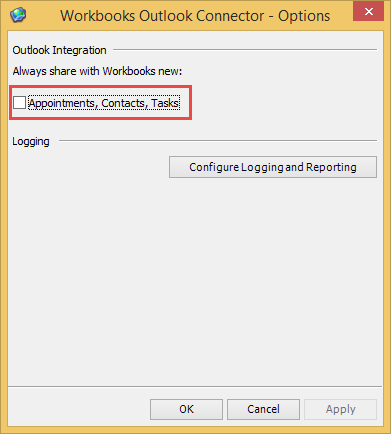 The Workbooks Outlook Connector will have general logging enabled by default. In the majority of situations, this is sufficient and this will not need to be changed. However, if you encounter issues the support team may require you to turn on additional logging so that the problem can be investigated in detail.

It is not recommended that you enable these unless instructed to by the Workbooks support team to ensure that optimal performance can be achieved and disk space is not used unnecessarily. More information on enabling logging within the Connector is available within our Using the Workbooks Outlook Connector guide. Click OK when you have finished.
The Workbooks Outlook Connector allows users to share existing Outlook records with Workbooks. To do this, the Connector will need to convert these records to a format that can be recognised by Workbooks. Select the checkboxes of records that you wish to convert by ticking the box beside the record type.

By default, Calendar Events and Tasks are converted. PIM stands for Personal Information Manager (i.e. Outlook). Click OK to progress once you are happy with the settings.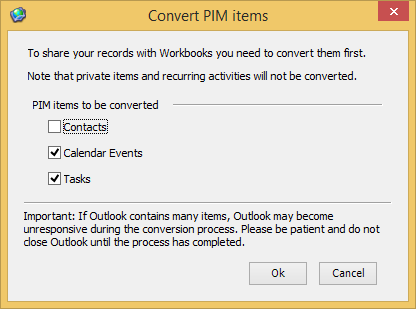 NOTE: These items will not be shared at this point, but rather will be converted into the state from which you can share them with Workbooks later.
Once all of the above steps have been followed, the first synchronisation of the Connector will begin. Depending on the number of records that you have chosen to sync, the amount of time taken will vary.
You will see the following screen while any sync is in progress, this can be hidden at any time by clicking Hide or cancelled by clicking the Stop button. If you choose to hide the progress window, the sync will continue in the background.